It's time for God's glory to be revealed:
In the midst of darkness; in the midst of the trial.
Even in the face of opposition, and though every feeling declares otherwise.
The splendor and brightness of God's glory is being seen upon you (Is 60:1)
"And the glory of the Lord will be revealed, and all people will see it together.
For the mouth of the Lord has spoken." (Is 40:5, NIV)
---
7 Reasons to Encounter God's Glory
1. Because in Seeking God's Glory, You Will Encounter God Himself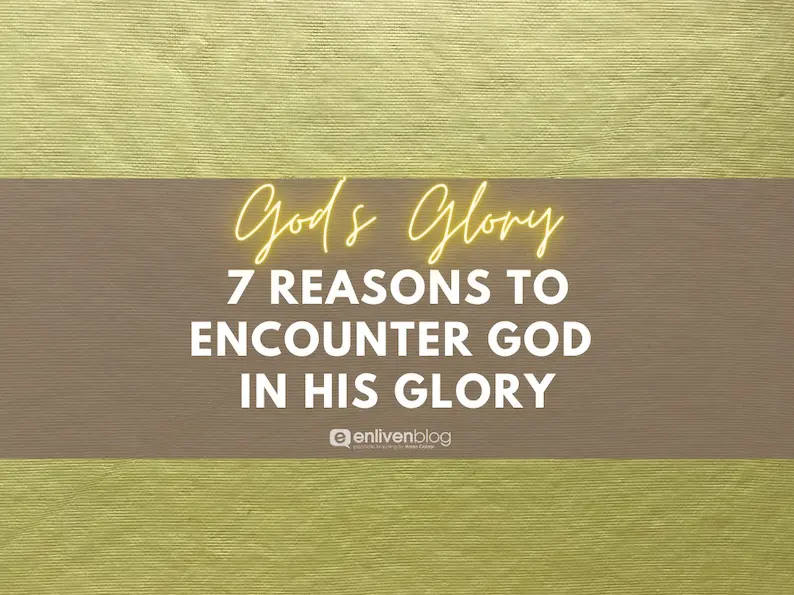 Moses had an intimate relationship with God. Yet he wanted more.
'Now, show me your glory', he asked.
And God's reply was, 'I will make all my goodness pass before you'. (Ex 33:18, 19)
Moses was longing for God to reveal more of Himself.
For glory is a Person:
'I Myself will be the wall of fire around you', declares the Lord. 'I will be the glory in your midst!' (Zech 2:5)
In the Old Testament, nations knew of God's glory by hearsay.
The Israelites knew of God's glory by observation.
But Moses had a relationship with the One Who is glory. [1,2]
The Holy Spirit is calling God's people to intimacy with Him, and so your desire for God's glory is growing.
He says, 'You will seek Me and find Me when you seek Me with all your heart.' (Jer 29:13, NIV).
---
2. Because You are Stepping into Your Divine Appointment
When Isaiah was confronted with the glory of God upon His Throne, he became instantly aware of his sin. The man cried out, 'woe is me, for I am ruined!' (Isaiah 6:5).
At that moment an angel came with a hot coal from the altar, touched Isaiah's lips, and said, 'your guilt is taken away and your sin atoned for'.
This is the extraordinary grace of God: that He—in all His holiness and majesty—continues to pursue you.
He doesn't wait until you have met certain conditions, or you feel ready, are free of weakness, or have escaped the trial.
The way to His Presence (represented by that hot coal) is the work of Jesus Christ, and Christ alone!
'Therefore, brothers and sisters, since we have confidence to enter the Most Holy Place by the blood of Jesus…let us draw near to God' (Heb 10:19)
The God of glory is a loving Father, Who is relentless in His pursuit of you.
Just as God revealed Himself to Isaiah because He had a commission for him, He has a work that only you can do.
And everything you need for the task ahead can be found in your appointment with Him—in the Presence of His glory.
---
3. Because You Are Filled with the Spirit
God instructed Ezekiel to go to the valley, to meet and talk with Him there (Ezek 3:22). When Ezekiel arrived at the place of appointment, he was confronted with the glory of the Lord.
God's glory stood in that place.
The power of that glory was such that Ezekiel fell on his face—and then, he wrote, 'the Spirit entered me'.
Glory is not an impersonal Heavenly substance. The 'glory' is the Person of the Holy Spirit.
In the Old Testament, prophets had a unique relationship with God
But now, because of the death and resurrection of Christ, there is no barrier between God's people and His glory
This is your inheritance!
You do not have to look at a distance to encounter the glory of God. You have the Spirit of glory in and with you.
Now, you are a carrier of God's glory. You are also clothed with His glory (Luke 24:49).
Know it, see it by faith. Don't let discouragement, insecurity, or condemnation tell you otherwise.
Where you walk, God's glory walks.
---
4. Because You Will be Transformed into His Likeness
'The Son is the radiance of God's glory and the exact representation of his being.' (Heb 1:3a)
Glory is a Person.
Peter James and John glimpsed the radiance of Jesus' Heavenly glory on the mountain, and it was written of that moment, 'His face shone like the sun' (Matt 17:2).
John saw the resurrected Christ in the fullness of His glory. He wrote, 'His eyes were a flame of fire' and 'His countenance was like the sun shining in its strength' (Rev 1:15, 16) And John 'fell at His feet as dead'. (Rev 1:17)
Jesus' glory is the extension of His Person, as sunshine is an extension of the sun.
And now, '…as He is, so are we in this world' (1 John 4:17b, NKJV).
'And we all, who with unveiled faces contemplate the Lord's glory, are being transformed into his image with ever-increasing glory, which comes from the Lord, who is the Spirit.' (2 Cor 3:18, NIV)
So, look into the mirror of Scripture, and pursue encounters with God's glory.
A transformed life does not come from behaving; it comes from beholding.
For the One you see is Holy.
---
5. Because God Will Receive Glory and Praise
The glory released upon us and conveyed through us to others can only return one place—to God Himself, in praise, in renown, and in worship.
David wrote,
'Declare His glory among the nations, His wonders among all peoples. For the Lord is great and greatly to be praise' (1 Chron 16:24-25a, NKJV)
We pursue God's glory because He is worthy of glory! And so we see the three Biblical directions of glory:
1. Downwards: God's glory upon us, in the Person of the Holy Spirit
2. Outwards: God's glory being revealed in and through us to others
3. Upwards: Glory being returned to God
Paul wrote of the spiritual gifts of the Holy Spirit that
'… to each one the manifestation of the Spirit is given for the common good.' (1 Cor 12:17, NIV)
When you operate in the gifts and ministry of the Spirit, you are revealing God's glory.
Glory results in miracles, signs, and wonders; in healing and deliverance—which in turn bring glory to God. (Luke 5:25-26)
---
6. Because God's Glory is Your Destination
Jesus prayed, "Father, I desire that they also whom You gave Me may be with Me where I am, that they may behold My glory which You have given Me; for You loved Me before the foundation of the world." (John 17:24, NKJV)
To live in God's glory is your eternal destiny.
Your home is Heaven—a place that shines with the glory of God (Rev 21:11) and needs no light other than God Himself (Rev 22:5).
This is why you experience a deep and compelling desire to know Him in His glory
You want others who don't yet know Jesus to have a place beside you in Heaven.
The desire for God's glory is in their very DNA, and when they see the Spirit upon you, they will be homesick for what you have.
They will want to encounter God for themselves. (Ecc 3:11)
---
7. Because Jesus' Glory Will be Known to the World
It's time to pursue God's glory, because this is the time Jesus' glory is appearing to the world.
And not just 'here a little and there a little', but like the rush of an incoming tide
Like the rising of the sun, that cannot be held back
'For the earth will be filled with the knowledge of the glory of the Lord, as the waters cover the sea.' (Hab 2:14)
"Arise, shine; For your light has come! And the glory of the LORD is risen upon you…the LORD will arise over you, And His glory will be seen upon you…" (Isaiah 60:1,2 NKJV)
---
Prayer
'Lord Jesus, We want to see You in Your fullness. Reveal Your glory, reveal Your splendor, Your brightness, Your majesty.
Remove every veil that has kept us from seeing you.
We cry, 'Show us Your glory!'
---
Notes:
[1] See Josh 2:9-11, Ex 20:18-19, 33:10
[2] The Hebrew word translated glory in relation to God's manifested Presence, is kabod (Strong's H3519), which means glory, honor and abundance. It is used of God's Presence, and also of wealth and of reputation. The word from which this is derived is weight, and so, there is a sense of weightiness and substance conveyed in this word.
It first appears in relation to God's manifested Presence in Scriptures such as Exodus 16:7, 10 and 24:16, 17
The Greek word translated glory is doxa (Strong's 1391). It similarly means glory, and honor, reputation and is used of Heavenly brightness.
[3] Strong's G5321, phanerosis. This Greek word translated manifestation, means 'exhibition' and comes from a word meaning to make manifest, to appear.
---
Discernment can Propel You Into an Encounter with God's Glory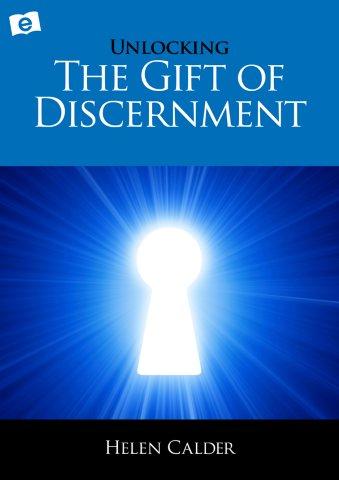 Many who have the gift of discernment have difficulty knowing what to do with what they are feeling or sensing.
In this recently updated third edition, I have added a chapter on five specific spiritual attacks discerners face and how to overcome each one. I have revised other chapters, added new content, and finished with an inspirational chapter on how the gift of discernment can propel you into an encounter with God's glory.
'Unlocking The Gift Of Discernment' incorporates wisdom from Enliven Blog as well as additional valuable material on how to be protected as a discerner in times of spiritual warfare.
Note: All transactions are secure and we do not pass your information on to third parties. Our store will convert to your currency.
---
Related Posts:
The Glory of God: Do We Know What We are Asking For?
---
© 2019 Helen Calder Enliven Blog – Prophetic Teaching
Enliven Ministries: Prophetic Ministry for a Revival Generation