Today, I believe God is ministering to those who have been working hard, or have faced trials over an extended period.
You may be wondering how you are going to get everything finished.
You may face challenges of faith.
Hear your Father say, 'I am turning the overwhelm into overflow!
---
Sometimes, a Miracle is Followed by a Trial
Matthew records a time the disciples had been busy with a lot of service and ministry (see Matt 14:13-36).
They had participated in the miracle of feeding thousands supernaturally, but there had been a lot of hard work
And then, Jesus pressed them to take their boat back across the lake.
It was dark. It was late. They were tired. And they were heading right into a storm.
We read that the boat was being buffeted about by the waves. And if you can relate to that in some way today, know this:
Jesus is still your answer. And your hope in Him is well placed.
---
At the End of Your Strength is New Hope
As Jesus' first disciples discovered, the life of faith is not always easy.
And even the privilege of serving Him can bring us to the end of our strength
If, like the disciples, you find yourself engaged in a struggle you never expected, know that Jesus is in control!
Your dependence upon Him is going to result in praise.
---
In the Moment You Can't See, Jesus is There
The disciples cried out in fear when they saw Jesus walking to them on the water.
Sometimes, the Lord allows us to be in a space of time where we are operating in the dark.
 Jesus is visiting us, but our vision of Him is distorted by the storm.
For a time as our faith is tested, we feel unsafe and vulnerable.
We can't see clearly, but He has a plan. One that will take us to the other side and give glory to Him!
When Jesus entered the boat, the wind calmed.
The disciples' cries of fear turned to exclamations of worship.
Today, call on Jesus.
Jesus is turning your overwhelm into overflow. He is transforming worry into worship.
---
A Move of God Awaits You
The disciples' boat safely landed on the other side, where they could rest.
And they were about to experience a powerful move of God bringing an overflow of healing to many
Whatever is taking place in your world, you can trust Jesus to safely bring you to your destination.
He is your Deliverer in the storm. And He is Lord of the wind and waves.
He is full of grace.
Lift up your eyes, for your King is here—and great things are up ahead.
---
Prayer and Declaration
Jesus, I bring every care and pressure to You. And I call out to You, both for myself and for others who are in the midst of a buffeting and trial.
Right now, I declare to the wind and the waves, be stilled in Jesus' Name! All oppression and pressure must go. Every conflict must be turned back. Darkness, be rolled away. I declare my God is faithful. He is at work, fulfilling all of His promises.
Lord, I choose to trust You for what I don't understand with my natural mind. You are Lord of my life and my circumstances. I choose to turn my heart to You in worship. I receive your fresh anointing now, in Jesus' Name.'
---
I've just shared a Testimony on the School of Intimacy and Prayer
Last week, I recorded some testimonies about a recent move of God in our lives, and I'm excited to share these with you! I've uploaded these in the section, 'Angels, Signs and Encounters'.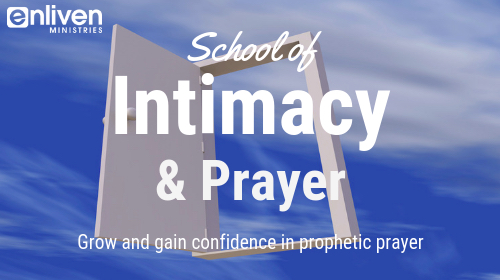 The first series of topics is available on the Enliven School of Intimacy and Prayer, and I extend you a warm welcome to join me.
Currently on the Prayer School are self-paced video lessons on:
Intimacy with the Holy Spirit
Introducing Prophetic Prayer
Praying the Mysteries of Heaven
The Gift and Ministry of Prophetic Intercession
Angels, Signs and Encounters
Also included are bonus e-Books and downloadable PDFs and worksheets.
During January and February I will be adding more lessons on: intimacy with the Holy Spirit, the prayer of travail, angelic intervention, the power (and how to's) of weighing up encounters and prophetic insights received in prayer.
You can find out more or enroll in the School of Intimacy and Prayer here. Begin with me at the special price or view all online courses, including the Prophetic School here.
---
Christmas Greetings 2018
Warm Christmas greetings from us in Melbourne, Australia! We pray that you and those surrounding you may be touched by wonder, at the kindness of God Who sent His Son Jesus.
Thank you for sharing with us this year on Enliven Blog.
From our home to yours,
Malcolm and Helen Calder
Enliven Ministries
---
Related Post:
Would you like more prophetic insight from this passage? Read about Peter stepping out of the boat to meet Jesus here:
The Miracle is in the Stretch
---
If you are in a situation where you can relate to this right now, let's agree together in this prayer. Let me know in the blog comments section below, or on Facebook or Instagram.
© 2018 Helen Calder Enliven Blog – Prophetic Teaching
Enliven Ministries
In the David McCracken Ministries family