I believe God is speaking to those who have been struggling to stay in a position of faith.
You may have had trials or delays in relation to your prophetic calling, destiny, or promise from God.
Hear your Father say, "Do not give up! Lean upon Me, for I am faithful to My promises and My grace is abundant towards you".
---
4 Signs Your Trial Is Producing Great Faith
1. Issues in Your Life Have Been Surfacing
The same promise that Jesus gave to Peter, He gives to you.
"But I have prayed for you, Simon, that your faith may not fail." (Luke 22:32 NIV, see also Heb 7:25)
Jesus is praying for you, that your faith may not fail.
Peter had just boasted of his faith and ability to follow Jesus. He didn't understand that as long as his trust was in his own strength, he was in a vulnerable position.
Peter later emerged, forgiven and restored, with a different kind of faith.
A faith that trusted in Jesus alone for sufficiency
Gold Tried by Fire
Years later, as an apostle, Peter wrote: 'These [trials] have come so that the proven genuineness of your faith—of greater worth than gold, which perishes even though refined by fire—may result in praise, glory and honor when Jesus Christ is revealed.' (1 Peter 1:7 NIV)
Be assured that if a trial has brought a personal problem to the surface, it has become visible to be removed. Hear God saying:
'Give that doubt, fear or discouragement to Me. Confess that sin and turn to Me. Receive My resurrection power.'
You are not struck down. You are not without hope. You are not stuck!
Your Faith has Not Failed!
Real faith, gritty faith, is not having an unblemished record. It is picking yourself up, after stumbling and falling over.
It is not the absence of 'baggage', but the casting aside of it (Heb 12:1)
And maybe there were days when you failed to show up at the roll call of faith.
But those are the times Jesus is seeking you out.
Personally.
As He did with Peter, Jesus is inviting you to step back into His grace.
He wants you to know that your faith has not failed.
---
2. You Have Struggled to Maintain Feelings of Faith in Adversity
'In all this you greatly rejoice, though now for a little while you may have had to suffer grief in all kinds of trials.' (1 Peter 1:6 NIV)
The Greek word translated 'suffer grief' is lypeo (Strongs G3076), and means to be sorrowful, in heaviness, distressed.
These are feelings and experiences that seem to be in contrast to feelings generally associated with faith!
Being weak, or feeling sad, are not symptoms you are lacking in faith!
They may be signs your faith is in the process of being tested.
They are a reminder that you have a Comforter to lean on.
Faith is not a feeling. Faith is when you still say 'yes' to Jesus, no matter what you feel like.
Hear Him say, 'I've got this. I am the Author and Finisher of your faith' (Heb 12:2)
---
3. You Wonder Why Your Journey is Different to Others
The writer to the Hebrews recalls those who demonstrated great faith in the Old Testament (Heb 11).
And none were alike.
Each one of them had a unique promise to pursue. A different calling. And individual challenges.
They each struggled with weakness and made mistakes along the way.
When Peter wrote, '…for a little while you may have had to suffer grief in all kinds of trials', the Greek word translated 'all kinds' is poikos, (Strongs G4164), meaning 'of many colors', 'various', or 'manifold'.
No one else has the same combination of problems, or physical and emotional challenges you do.
So, don't compare your faith journey to someone else's.
But do be encouraged by what you have in common.
You have the same God.
You have the same opportunity to obey—to continue saying 'yes' to Jesus in the face of great opposition.
---
4. You Don't Deserve the Breakthrough (Jesus Does)
God commended Abraham and Sarah for their faith (Heb 11:8-11).
Yet an examination of Genesis reveals that the couple did not always respond in a faith-like attitude.
Sarah laughed in mocking unbelief, before she laughed for joy at the fulfilment of the promise (Gen 18)
When bearing a child personally seemed impossible, she presented her maid to her husband—an act of rebellion and unbelief (Gen 16)
And Abraham did not have an untarnished history, either:
He received Sarah's maid (Gen 16)
When put under pressure, he placed his wife in a compromising position. Without God's intervention, Sarah could have borne the son of a heathen king! (Gen 12, 20)
Abraham and Sarah did not walk perfectly, but they had a perfect God. And they trusted Him.
They kept following God and His purposes.
And ultimately, God pronounced their faith pleasing to Him.
So if, when a breakthrough finally happens, instead of the sense of personal triumph you anticipated, you battle feelings of unworthiness—stop right there.
The triumph of genuine faith is not that you have run the race perfectly. It is not that you have maintained an attitude of faith in your own strength.
Your faith is proved genuine when you have learned, through trial, to depend only upon Jesus.
That is great faith.
And after the great struggle—the one in which you stumbled and fell over, but still, you said 'yes!'
Limping, then growing stronger, as you run towards the finish line of your promise, you realize that Jesus' has taken your imperfect score card.
You are astounded by favor. And you know you've come home.
---
Pass on the gift of grace to others
Now, realize the gift God gives to you, He also gives to others. So, if you see others around you who are struggling in their own faith journeys, extend them grace. Do not judge them. Take them by the hand and help them get back on their feet.
And cheer them on.
---
Prayer Warriors! The School of Intimacy and Prayer is Open
When I began to experience a significant anointing of the Holy Spirit for prayer 20 years ago, I did not know how to navigate many of the encounters with God I was having.
I saw miracles and breakthrough in answer to prayer, but I also made mistakes, and had a lot of growth pain as a prophetic intercessor.
Since then I have been a prayer leader, have been a minister on a prophetic team, and by God's grace have developed in ministry as a prophetic writer and teacher.
Now I'm passionate about helping others on the same journey I've been on. And this week, a long-held dream has come to reality.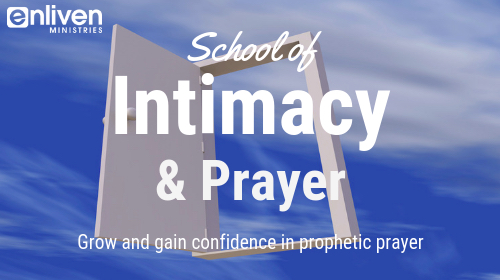 I've just launched the Enliven School of Intimacy and Prayer with the first series of topics, and I extend you a warm welcome to join me!
Currently on the Prayer School are self-paced video lessons on:
Intimacy with the Holy Spirit
Introducing Prophetic Prayer
Praying the Mysteries of Heaven
The Gift and Ministry of Prophetic Intercession
Angels and Encounters (started)
Also included are bonus e-Books and downloadable PDFs and worksheets.
Over the next few weeks I will be adding more lessons on: intimacy with the Holy Spirit, the prayer of travail, angelic intervention, the power (and how to's) of weighing up encounters and prophetic insights received in prayer.
You can find out more or enroll in the School of Intimacy and Prayer here. Alternatively, you can view all online courses here.
---
Which of these signs do you most relate to right now? Share it with us in the blog comments section below so we can agree with you in prayer, or on Facebook or Instagram.
---
© 2018 Helen Calder Enliven Blog – Prophetic Teaching
Enliven Ministries
In the David McCracken Ministries family