The following study is an excerpt from the Enliven Prophetic School Master Class on the topic of discernment and prophetic warnings:
A prophetic warning is an insight given by the Holy Spirit about a negative event that's may happen, or is going to happen, in the future.
As we think about prophetic warnings, it is important we remember that our God is a Redeemer, a Saviour and a restorer—and that a prophetic warning given by the Holy Spirit is a gift from God.
Knowing this, enables us to maintain Heaven's perspective in the midst of a trial.
Remember, Jesus said,
'Which of you, if your son asks for bread, will give him a stone? Or if he asks for a fish, will give him a snake? If you, then, though you are evil, know how to give good gifts to your children, how much more will your Father in heaven give good gifts to those who ask him!' (Matt 7:9-11)
So as we are weighing up a prophetic warning and determining what to do with it, this is the first thing to remember:
The purpose of a prophetic warning from the Father is for good, just as He is good.
There is a benefit in receiving a prophetic warning, even if we don't initially see it.
---
With that in mind, here are 5 things God may be up to in sharing a prophetic warning with us, from a New Testament perspective:
1. The prophetic warning may be a means of protection—e.g. to warn of danger and prevent harm
In Matthew 2, an angel appears to Mary's husband Joseph in a dream with a warning that Herod is about to search for the child Jesus to kill Him, and telling him to relocate his family in Egypt. (Matt 2:13)
2. God may send a prophetic warning to direct or redirect our actions in accordance with His will
This may also be related to protection. For example, we see in Matthew chapter 2 that God warns the wise men in a dream not to return to Herod. (Matt 2:12)
3. It may be given to help us prepare for an incident before it happens
In Acts 11, the Prophet Agabus prophesies about an upcoming famine and the church rallies to provide financial support. (Acts 11:27-30)
This is a reminder that a prophetic warning doesn't always mean God is going to rescue us from a trial. The Apostle Paul had many warnings from the Holy Spirit about persecution—these helped prepare him in his resolve to face what was ahead.
4. It may be in order to call us to partner with Him in prayer or spiritual warfare
In Acts 20, Paul tells the Ephesian elders, 'I only know that in town after town the Holy Spirit warns me that chains and afflictions await me.' (Acts 20:23) God was preparing Paul for a future time of trial, and through that, He was also calling the churches and Christians to pray for Paul.
Prayer can be used of God to bring Divine intervention.
In 2 Corinthians 1, Paul says,
'He has delivered us from such a deadly peril, and he will deliver us again. On him we have set our hope that he will continue to deliver us, as you help us by your prayers. Then many will give thanks on our behalf for the gracious favor granted us in answer to the prayers of many.' (2 Cor 1:10-11)
5. The purpose of a prophetic warning may be to reconcile people to God
God's great passion is reconciliation. This is the reason for the cross! A prophetic warning given to a person, or groups of people about the consequences of sin, is going to be with the aim of reconciling them to the Father. God's motivation is one of love and Redemption.
A great example of this is the prophetic warning given through the Apostle John to the Church in Laodicea in Revelation chapter 3. After warning the church of the dire consequences of their spiritual luke-warmness, Jesus says this:
'Behold, I stand at the door [of the church] and continually knock. If anyone hears My voice and opens the door, I will come in and eat with him (restore him), and he with Me.' (Rev 3:20 AMP)
God's passion is always to restore and reconcile.
---
When the Holy Spirit gives us a prophetic warning, then knowing our Father's nature is that He's a Redeemer, and trusting in His goodness, we can have confidence that His purpose in sharing a warning to us is ultimately good, and a gift from Him.
A prophetic warning is going to be based in love, not fear.
And this helps us to weigh up…firstly, whether the warning we are receiving is in fact from God, and secondly, when it is from the Holy Spirit, how He may want us to share it, or respond to it.
---
Enliven Prophetic School: Discernment and Prophetic Warnings Master Class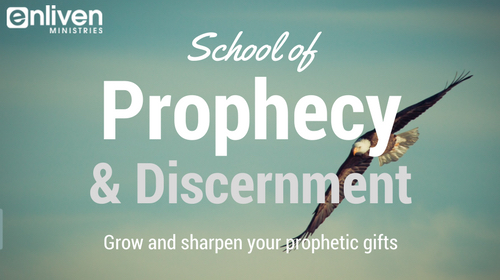 The Enliven Prophetic School is now open!
This school is for anyone who would like to learn and grow in the gift and ministry of prophecy and includes classes for discerners as well.
Modules currently include:
Foundations of prophetic ministry
How to hear God's voice, begin and grow in prophecy
The Seer gift: how to grow in pictures and visions
Discernment and prophetic warnings: how to respond and share a prophetic warning
Prophetic Guidance: Hear clearly, process wisely, obey boldly
This is the best mentoring I can give, all rolled into one place! You can currently join the school for as little as $6.95 USD (monthly subscription) or make a single payment to join with no end date.
I will be adding more master classes regularly. Visit the Enliven Prophetic School here.
---
Related Posts:
5 Insights About Prophetic Warnings and Dark Prophecies
---
© Helen Calder Enliven Blog – Prophetic Teaching
Enliven Ministries
In the David McCracken Ministries family