A prophetic decree is a declaration that has the weight of Kingdom authority behind it. [1]
'Prophetic' means that we make it in accordance with God's will.
The Holy Spirit has made known Father's intention and you are speaking out what He has revealed to you in the form of a proclamation.
The Bible says that what we speak is powerful—Proverbs tells us, 'Life and death are in the power of the tongue.' (Prov 18:21)
Armed with insights you have received in your relationship with God, you can make life-giving declarations that release resources and unlock supernatural breakthrough.

---
7 Steps to Making a Prophetic Decree
1. Step into Your Royal Status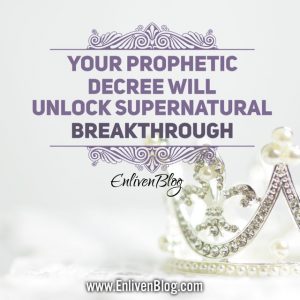 'For God knew his people in advance, and he chose them to become like his Son, so that his Son would be the firstborn among many brothers and sisters… And having given them right standing, he gave them his glory.' (Rom 8:29-30, NLT)
A decree is a royal command, so the starting point for making a prophetic decree is to recognize you are a son or daughter of the King of Kings. In order to make a faith-filled declaration, you need to know who you are and Whose you are.
If this is something you still find difficult, take the step of faith to begin speaking and acting as royalty, regardless of how you feel. Meditate upon what God's Word says about you. As you do so, old mindsets and doubts will fall away, for you are a child of God and royalty is in your spiritual DNA.
---
2. Discover Father's Intention
Jesus taught His disciples to make this declaration in prayer: 'Your kingdom come, your will be done, on earth as it is in heaven.' (Matt 6:10) or as the phrasing is put in the original Greek, 'Come, Your Kingdom, be done Your will!'
We can only pray such prophetic prayers as we have listened to what our Father is saying. This comes from our intimate relationship with God and sensitivity to the Holy Spirit.
Once you have comprehended what is on God's heart and mind, you have the authority to make a prophetic decree: you can declare those things into being, in Jesus' Name.
---
3. Align Your Prophetic Decree with Scripture
'Your word, Lord, is eternal; it stands firm in the heavens' (Psalm 119:89, NIV).
As Jesus demonstrated, the words 'it is written' can be the most powerful, authoritative, and life-giving words we speak. (Luke 4:4) God's Word has authority and when you wrap your insight concerning God's intention with Scripture, your prophetic decree will be more powerful.
---
4. Realize Prophetic Decree Comes from Your Position, not a Formula
 'And God raised us up with Christ and seated us with him in the heavenly realms in Christ Jesus.' (Eph 2:6, NIV)
'Seated in Heavenly Places' refers to spiritual authority and the throne of God.
Making a prophetic decree is not about getting the words right or using a formula. It comes from knowing your standing, encountering God in relationship—and speaking from that.
So it doesn't matter if you use the words decree, declare, or make a command. The words God used to create the earth, the heavens, and the stars—the most powerful words in the universe—were simply 'let there be' (Gen 1).  The authority is not in the wording—the authority is in your position, being seated in Heavenly places in Christ. (see also Col 3:1-3)
---
5. Use Jesus' Name in Your Prophetic Decree
'Then Jesus came to them and said, "All authority in heaven and on earth has been given to me.' (Matt 28:18, NIV)
We do not exercise Kingdom authority in our own name but in Jesus' Name. All authority in Heaven and on earth has been given to Jesus and He commissions us with His delegated authority. We are His co-heirs and His representatives on earth, speaking a 'now' word of Father's intention. So when you make your prophetic decree, do so in Jesus' Name.
---
6. See with the Eye of Faith
'Now faith is the substance of things hoped for, the evidence of things not seen…By faith we understand that the worlds were framed by the word of God, so that the things which are seen were not made of things which are visible.' (Heb 11:1,3)
As you speak your prophetic decree, see what you are declaring taking place with the eye of faith. Know that at the words of your mouth, God is releasing Kingdom resources, and earthly circumstances are coming into alignment.
---
7. Make Your Declaration
'You will also decree a thing, and it will be established for you; and light will shine on your ways.' (Job 22:28, NASB)
When you have prophetic insight concerning a situation, you can partner with God to release His purposes. So go ahead, make that Heavenly declaration, your prophetic decree in Jesus' Name, and watch the breakthrough take place.
'For the Son of God, Jesus Christ… was not "Yes" and "No," but in him it has always been "Yes." For no matter how many promises God has made, they are "Yes" in Christ. And so through him the "Amen" is spoken by us to the glory of God.' (2 Cor 1:19-20)
---
Notes:
[1] A decree is 'an official order that has the force of law.' For more information and a Bible study on decree, see 'The Power of Your Prophetic Decree'

---
My Recommended Posts:
---
© Helen Calder Enliven Blog – Prophetic Teaching
Enliven Ministries – Prophetic ministry for a revival generation