Have you ever been waiting on something from God—an answer to prayer, a Divine intervention, or the next step forward in the fulfilment of His promise—and instead of the large breakthrough you are anticipating, you get one, teeny, small sign?
What is God up to?
Small signs can be powerful when you know what to expect and how your Heavenly Father uses them as He brings about your breakthrough.
---
Pray in Anticipation of God's Action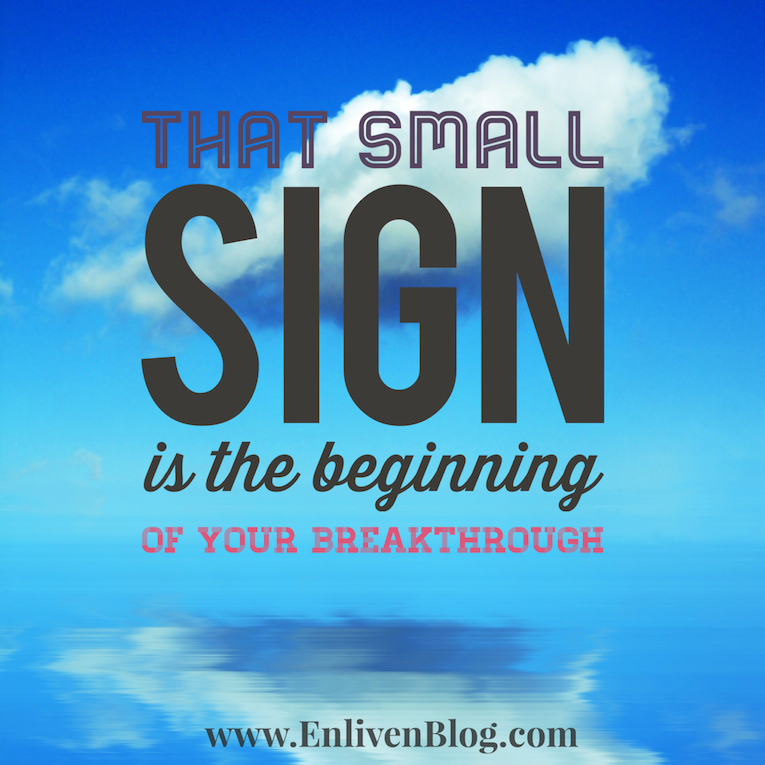 Elijah announced to King Ahab, at God's instruction, that an abundance of rain was on its way to break three years of drought (1 Kings 18:41).
The Hebrew word translated 'abundance', hamown (Strongs H1995) means tumult, noise, sound, multitude.
Not just a trickle. Not a light shower. Elijah committed by the word of his mouth that God was sending a heavy rain.
It was time to pray—for God's prophetic promises are birthed through prayer.
---
PUSH: Pray Until Something Happens
Take Elijah for example.
Elijah went into the birthing position to pray for rain. Six times he prayed and in anticipation, each time sent his servant to the horizon to seek the answer.
On the seventh time, his servant returned saying, 'I see a small cloud, the size of a man's hand.'
It was far from the heavy rain that Elijah was waiting for, but the small sign was enough. Elijah told his servant to go meet the king—and himself ran on ahead in the power of God. As they went, the heavy clouds started to gather and the first drops began to fall. (1 Kings 18)
---
Small Signs both Test and Strengthen your Faith
Small signs test your faith because they are small in size—the large breakthrough you need is still ahead.
However, that small sign is an indicator sent from the throne of God. It is a message that the breakthrough is on its way.
A small sign will build your faith because it is something tangible. It is a signal that the fullness of what God has is imminent.
---
Signs can be a Signal for us to Act in Faith
The small cloud was the sign Elijah needed to move. It was time to move from waiting to action, from praying to running.
When God gives you the sign, it is time to rejoice. Lift up your voice and praise Him. Get on your feet and celebrate.
Now, let the Holy Spirit guide your next steps. That sign may be the time to act and take the next step by faith.
---
Your God is the Master of Breakthroughs
David named one of the places God enabled him to overcome his enemies 'Baal Perazim', meaning 'The Lord who breaks out.' (1 Chron 14:11)
In that place named Baal Perazim, David had a fresh revelation of the nature of God: 'Master of Breakthroughs'.
Shortly afterwards God gave David a new set of instructions regarding his enemies, the Philistines.
"Do not go directly after them, but circle around them and attack them in front of the poplar trees. As soon as you hear the sound of marching in the tops of the poplar trees, move out to battle, because that will mean God has gone out in front of you to strike the Philistine army." (1 Chron 14:14b-15)
The sound of marching in the tops of the trees—it was a small sign from God, that signaled it was time to move.
Has God given you a small sign? It may be a word or prophetic insight. It may be a trickle—but it has the touch of the supernatural on it. You know that sign is from God.
That sign is a trigger. It is an opportunity.
So raise your hands, lift up your feet, and march. Your God, the 'Master of Breakthroughs' is working on your behalf.
---
My Recommended Posts:
---
© Helen Calder Enliven Blog – Prophetic Teaching
Enliven Ministries: In the David McCracken Ministries family