Do you desire to share prophetic insights and words from God in such a way that you communicate clearly and accurately the things that are on His heart?
When it comes to prophetic ministry, this word is true:
'Above all else, guard your heart, for everything you do flows from it.' (Prov 4:23)
---
One day, I turned on my tap at home and the water was brown and dirty. I phoned our local water providers, who explained that a pipe had been fixed just down the road from where we live.
The customer service representative instructed me to turn our outside tap on for 30 minutes, running the water until it became clear, and that should fix the problem. And it did.
Later, when I was praying about upcoming prophetic training, the Holy Spirit reminded me of this incident.
Water can be pure at its source, but become tainted by a break or crack in a pipe. In the same way, a prophetic revelation may be sourced in the Holy Spirit, but if our ability to love has been damaged, the prophetic word, discernment or message can become tainted in our delivery of it.
---
Our Partnership with the Holy Spirit
Prophetic ministry is a partnership between the Holy Spirit and us.
Often the Holy Spirit speaks in fleeting and spontaneous ways, such as through a Scripture, a word, idea or picture, a prophetic dream. Our part is to discern what He is saying, and then share it with others in such a way that they receive and understand it as the Father intends.
It is important to allow the Holy Spirit to have complete access to our heart, and to prompt us concerning any issues that may act as breaks or cracks that may affect our lives, such as:
Ministering out of Motives Other than Love
'If I have the gift of prophecy and can fathom all mysteries and all knowledge, and if I have a faith that can move mountains, but do not have love, I am nothing.' (1 Cor 13:2)

Judgments, Criticism, or Negative Opinions
'…He will not judge by what he sees with his eyes, or decide by what he hears with his ears' (Isaiah 11:3)
Our desire in prophecy and spiritual gifts should always be to see what God sees and to hear what He is saying—not be distracted by what we are seeing with our natural eyes or by the opinions of ourselves or others.
Ungodly Things that Distract our Attention
'I will be careful to live a blameless life…I will lead a life of integrity in my own home. I will refuse to look at anything vile and vulgar.' (Ps 101:2a,3a, NLT)
In prophetic ministry, the mind of the Spirit flows through our thoughts and our imaginations are anointed to see what is on the Father's heart.
Hurts in our Lives that have not Been Healed
'He heals the brokenhearted and binds up their wounds.' (Psalm 147:3)
Unhealed wounds, hurt and disappointment can act as cracks that affect our ability to minister purely, until we begin the healing process through forgiveness.
---
Healing from Brokenness
The first time I shared the illustration about the pipe was with our business manager, Rosie. We were going over my material for our upcoming 'Growing in the Prophetic' seminar.
As we walked out of her office, we were amazed to see a cracked, dirty piece of pipe sitting on our kitchen bench.
While we had been discussing prophetic training, a plumber was working on our drainage. He discovered that the source of water accumulating at the front of our ministry property was a broken pipe. He left the faulty piece of pipe on the bench with the note and invoice, to prove the work had been done.
It was a remarkable confirmation from the Holy Spirit and served to underline the importance of this message.
This does not mean that we become introspective or self-searching. That is the Holy Spirit's role. (Ps 139:1,23) Our focus is Jesus, His love and His grace.
However, there will be times when, like the plumber with the pipe, the loving hand of God exposes that which has been hidden and covered in our lives, in order to bring us further into wholeness.
---
Walking in the Light as Prophetic Ministers
Our responsibility is to always be a clean and consecrated vessel through which the Holy Spirit can minister. (2 Tim 2:20-21)
'For you were once darkness, but now you are light in the Lord. Live as children of light.' (Eph 5:5)
Walking in the light is very practical. It means having a safe place—a leader, mentor or counselor—to be open about any problems you are having that may be affecting your heart and ministry. It means not having issues of personal pain or sin that are known to you, but hidden or kept secret from others. It means being accountable for your integrity and your gifts to spiritual oversight.
Yes, our walk with God and our ministry is based in grace and upon Jesus' finished work on the cross—but He calls for us to receive and 

apply

His grace.
Therefore confess your sins to each other and pray for each other so that you may be healed. (James 5:16)
I am grateful to Father for strong, Godly leadership in my local church and ministry, and that I am journeying with a team of people who love me enough to help me identify my blind spots and to have confronting conversations when necessary.
In our journey, there may be occasions we need to step aside for a time in order to focus on becoming healed or stronger. I had a season like this in the late '90's. I know from experience that my loving Father is a Redeemer and Restorer. [1]
However, as we desire to honour God in our life and ministry, such times of being set apart for healing become the exception.
As we are faithful to walk in the light and with accountability [2], God calls us to step out in faith to minister—conscious of the complete and finished work of Jesus and of our dependency upon the Holy Spirit. And then, we watch as He does what He loves to do.
---
Notes:
[1] I tell my story in the book, 'Prophetic People in a Changing Church' which is also available from our online store.
[2] See more about prophetic accountability here: The Power of Prophetic Accountability
---
Enliven Prophetic School: Take Your Prophetic Gift to the Next Level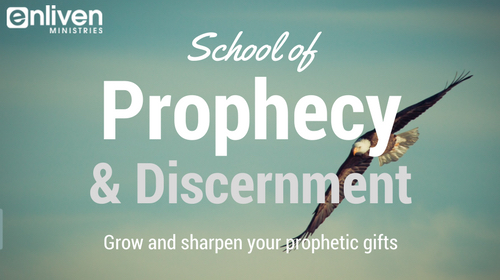 The Enliven Prophetic School is now open!
This self-paced, video lecture school is for anyone who would like to learn and grow in the gift and ministry of prophecy and includes classes for discerners as well.
Modules currently include:
Foundations of prophetic ministry
How to hear God's voice, begin and grow in prophecy
The Seer gift: how to grow in pictures and visions
Discernment and prophetic warnings: how to respond and share a prophetic warning
Prophetic Guidance Master Class
Bonus PDFs
You can currently join the prophetic training school for a small monthly subscription or make a single payment to join with no end date.
Visit the Enliven Prophetic School here.
---
Related Posts:
Break Free of Hurts that are Blocking Your Prophetic Gift
---
© 2015 Helen Calder Enliven Blog – Prophetic Teaching

Enliven Ministries: A part of the David McCracken Ministries family