Today I am excited to share with you a guest post from Dr. Clayton Coombs, who was formerly on the team at David McCracken Ministries. He is now Academic Dean at Planetshakers College, here in Melbourne Australia. Clayton is a prophetic theologian with a Doctorate from Wheaton College. Clayton and his wife Angela are the parents of 5 delightful children [at the time of writing this article, aged from 10 months to 11 years old.]
Today Clayton is answering a question from our 'Growing in the Prophetic' course last year, when a young mother asked:
'My son who is 4 has shared a prophetic revelation with me, how can I help sharpen his gift as a parent?'
5 Ways to Disciple The Prophetic Gift In Your Child
Before I begin, I want to commend you for recognising and calling out the prophetic in one so young. Your son is indeed blessed to have you as a mother.
1. Recognise it.
And this you have already done. Recognize that God wants to encounter our kids and that God does indeed speak to children.
2. Encourage it.
Make it normal and ask your son to pray and ask God what He would say in particular situations.
3. Test it.
As a parent God has placed him under your authority. You are his direct 'oversight'. You can (prayerfully) expect God to honor that.
I have a good pastor friend who, like you, identified a prophetic gift in his young son. One morning his son said to him, "Dad, Jesus said I don't have to eat my weetbix." [1]
My friend's response is instructive. He said: "Jesus also says in the Bible that children have to obey their parents and I said you do have to eat your weetbix."
He did not discourage his son by dismissing the word.
He allowed for the fact that the child could have heard from God and thus encouraged him to keep listening.
But he also gave his son a rare gift by demonstrating to him the need to submit a word to oversight for testing and not allowing him to get away with what was, in all probability, a 'word' from the flesh.
Wise dad. And that leads me to the next point:
4. Teach him to obey you.
God has given him the blessing of believing parent(s) who are committed to training him up in God's ways.
One of the most important things I believe we can teach our kids is 'hear and obey.' And they learn this first from us.
I had a heart-to-heart with our ten-year-old a week or so ago at bedtime. I had given him an instruction that he had not seen as important and then disciplined him for his disobedience.
My clarification to him went something like this: "Son, your Dad is human and I don't always get things right. I admit that. The issue is not whether or not you were right, but your obedience. If you learn to obey your earthly father's commands when you are a boy, even if you don't understand why, then when you're a man, you will know how to obey your heavenly Father's commands without question. And there is nothing that God can't do with your life if he knows that he has your unconditional obedience."
5. Teach him to love the Word.
Ensure that he hears the Bible, and hears it talked about often. Don't just leave this to your Church's Sunday School program. As he learns to hear God's voice through the Bible, his prophetic gift will not only be honed, but I believe, will be greatly multiplied.
Hope this helps. God bless you and give you wisdom as you raise this man of God.
---
Our team leader, Prophet David McCracken, added the following important point to this discussion:
If a child at any stage starts seeing or hearing things that cause concern, the parents should involve the wisdom of their own spiritual oversight.
The security for the child and the parent is that the parents are in good fellowship and have a healthy relationship with their own church leadership. If the parents are not under Biblical authority it allows for the child to become vulnerable, as their spiritual authority and covering as parents will have been compromised. [2]
---
Notes:
[1] Weetbix is an Australian (and New Zealand) breakfast cereal!
[2] You may have noticed that accountability is a recurring theme throughout Enliven Blog. For the benefit of newer readers, our core values include: prophetic accountability, honoring church leadership, the integrity of character, and prophecy being an expression of the Father's heart and sourced in intimacy with Him. We believe that these are essential aspects of the New Testament paradigm of prophetic ministry.
---
Enliven Prophetic School: Take Your Prophetic Gift to the Next Level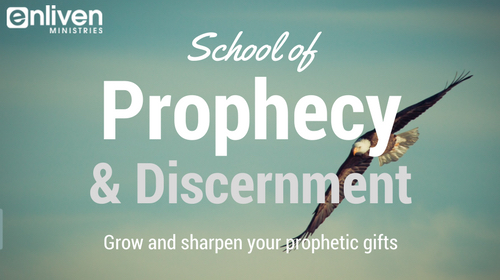 The Enliven Prophetic School is now open!
This self-paced, video lecture school is for anyone who would like to learn and grow in the gift and ministry of prophecy and includes classes for discerners as well.
Modules currently include:
Foundations of prophetic ministry
How to hear God's voice, begin and grow in prophecy
The Seer gift: how to grow in pictures and visions
Discernment and prophetic warnings: how to respond and share a prophetic warning
Prophetic Guidance Master Class
Bonus PDFs
You can currently join the prophetic training school for a small monthly subscription or make a single payment to join with no end date.
Visit the Enliven Prophetic School here.
---
Related Posts:
Differences Between Old and New Testament Prophetic Ministry
---
© 2015 Helen Calder Enliven Blog – Prophetic Teaching

Enliven Ministries: In the David McCracken Ministries family