Do you have a spiritual gift of discernment? Perhaps you are not sure, but you do know that you have a heightened spiritual awareness.
Every day, hundreds of people are finding Enliven Blog because of my articles on the gift of discernment.
Many Christians are troubled by fear of evil, or do not know what to do about what they are experiencing, and want it to stop.
I understand how this can occur. As a young child I was frequently afraid. Then as a teenager, I had demonic encounters that left a long shadow of fear over my life—one that lasted decades. I now see how unnecessary this was.
---
9 Ways to Banish Fear of Evil
Here is a checklist of 9 keys that have helped me break free of fear of evil, and I believe will help you live free of fear and anxiety in every part of your life.
1. Know God is With You
'Even though I walk through the darkest valley, I will fear no evil, for you are with me.' (Ps 23: 4a)
God's answer to His people who experienced fear was to remind them of His Presence with them.
Knowing God is with you is not about a feeling. You can believe God is with you, because He says so in the Bible and God's Word is completely trustworthy. When you begin to experience fear, choose faith: thank and praise God that He is with you.
---
2. Refocus on God
'The Lord is my light and my salvation—whom shall I fear? The Lord is the stronghold of my life—of whom shall I be afraid?' (Ps 27:1)
Feeling afraid of evil is an indication that your focus is not where it should be. When you are afraid, the Holy Spirit is inviting you to put your focus back on your Father God. In Him, you are completely secure.
See God as your stronghold and your shield and His Presence around you as impenetrable.
---
3. Use Jesus' Name
The name of the Lord is a fortified tower; the righteous run to it and are safe. (Prov 18:10)
Recognise that Jesus is with you to protect you (Matt 28:20) and His Name is powerful. The Name of Jesus is your badge of authority and with it you can address—and banish—both fear and the evil you are being confronted with. (Luke 10:17)
Know that Satan is already defeated at the cross of Jesus Christ. 'And having disarmed the powers and authorities, he made a public spectacle of them, triumphing over them by the cross.' (Col 2:15)
---
4. Be Filled with the Holy Spirit
'For the Spirit God gave us does not make us timid, but gives us power, love and self-discipline.' (2 Tim 1:7)
The Holy Spirit will never lead us towards fear (see also Romans 8:15), instead, He will remind us of who we are—children of God, with a loving and powerful Father.
Praying in the Spirit will help empower you at times of spiritual warfare. After Paul talks about spiritual warfare and the armour of God in Ephesians 6, he adds: 'And pray in the Spirit on all occasions with all kinds of prayers and requests.' (Eph 6:18)
---
5. Feed your Faith
 '…for everyone born of God overcomes the world. This is the victory that has overcome the world, even our faith.' (1 John 5:4)
Are you being tempted to feel anxious or afraid? Be aware of input that you are allowing into your mind. Set up a secure gateway by not viewing TV programs, videos and other media or choices that could promote fear.
Instead, be intentional about feeding your faith. Read and confess Scriptures. Listen to faith-building teaching that reminds you of who you are, Who your God is, and the authority you have in Jesus. You will be amazed at how much difference it makes! Then, speak and pray accordingly.
---
6. Use Your Authority and Check you are Under Authority
'Have confidence in your leaders and submit to their authority, because they keep watch over you as those who must give an account.' (Heb 13:17)
The Name of Jesus is powerful, and your badge of authority. Remember that there is also power and protection through being submitted to authority. Engage in a church community, where there are pastors and leaders who can support and pray with you.
---
7. Set the Atmosphere
'For the kingdom of God is not a matter of eating and drinking, but of righteousness, peace and joy in the Holy Spirit.' (Rom 14:17)
Even when you have entered a place where someone else has allowed evil to dwell, you still have the ability to set the atmosphere around your own life and carry it with you.
You don't need to be like a thermometer, going up and down according to the temperature around you. As a child of God, you can be like a thermostat: you can set the temperature, the atmosphere and the environment. Don't settle for less.
---
8. Adjust Your Perspective
'You, dear children, are from God and have overcome them, because the one who is in you is greater than the one who is in the world.' (1 John 4:4)
Fear is an indication that we have lost perspective, or wrongly believe that the demonic realm has more power than God does in our lives.
Here is the right perspective. God is greater! There is simply no comparison and no competition, God is all-powerful and the demonic realm only has the power that people allow it to have.
---
9. Be Aware of God's Heart for People
'When he saw the crowds, he had compassion on them, because they were harassed and helpless, like sheep without a shepherd.' (Matt 9:36)
Jesus felt compassion for the lost and broken. God loves that person who is bound by evil, or oppressed, or demonised. He has mercy towards those being used by the enemy to threaten you and others. The Father looks into their hearts and He sees the source of their own pain and the place that the enemy gained entry. God sees the bondage and atmosphere of evil as a cage from which He desires to set them free.
We need to see people with the eyes of the Father who loves them—and when we love, fear will lose its hold on us.
---
Related Posts:

8 Signs You May Have the Spiritual Gift of Discernment
What is the Spiritual Gift of Discernment?
Does Seeing Demons Mean that I Have a Spiritual Gift?
---
UNLOCKING THE GIFT OF DISCERNMENT E-BOOK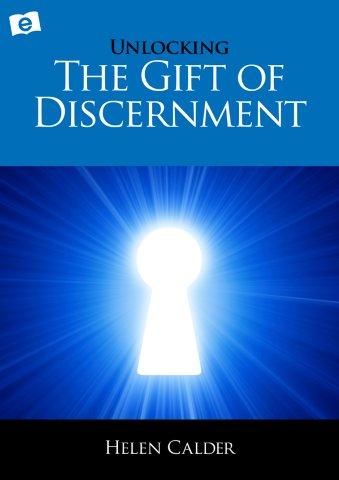 $5.95 AUD e-Book
Are you sensitive to what is taking place in the spiritual realm? Have you ever been adversely affected by a negative atmosphere?
You may have the spiritual gift of discernment.
The gift of discernment of spirits is a powerful weapon in times of spiritual warfare, and can be of great assistance when ministering freedom to individuals.
And yet many who have the gift of discernment have difficulty knowing what to do with what they are feeling or sensing.
'Unlocking The Gift Of Discernment' incorporates wisdom from Enliven Blog as well as additional valuable material on how to be protected as a discerner in times of spiritual warfare.
To view 'Unlocking The Gift Of Discernment' in our e-store, click here
---
© 2014 Helen Calder Enliven Blog – Prophetic Teaching