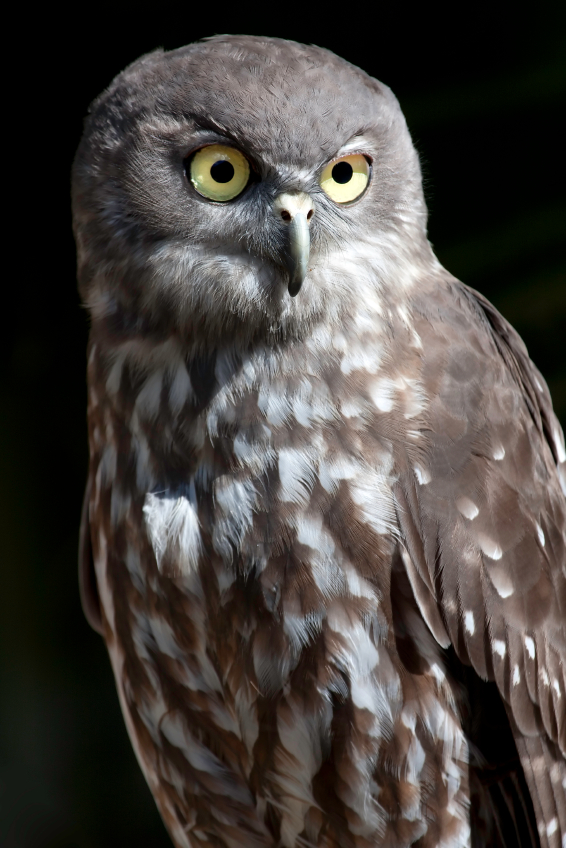 It was October 2010, and I was processing the call of God to join the David McCracken Ministries team. A question uppermost in my mind at that time was, 'Am I really called to the prophetic ministry on a full-time basis?'
One night while I was preparing dinner, I was listening to a podcast by Kris Vallotton in which he shared about a prophetic word God gave him. [1] It was:
"The prophetic mascot for this season is no longer the eagle, but the owl. Because the owl is nocturnal—the owl lives in the darkness, can see through the darkness and knows 'who's who.'"
He went on to talk about supernatural owl sightings that confirmed the word. As I was listening, two responses were happening on the inside of me.
Firstly, I was a little disappointed—the symbolism of the eagle for prophetic ministry had significant personal meaning for me. And secondly, as I was listening to Kris Vallotton's stories about the appearance of actual owls that confirmed this word about a shift of season, I thought (somewhat cynically), "Well, we have been living in Australia for 8 years and have never once seen an owl."
What happened next is a reminder that God has a sense of humor.
An hour or two later, our daughter returned home from visiting a friend after school. She came through the door and rushed up to me, excitedly saying, "Mum, Mum! I've just seen a whole family of owls!" There was a tree with a nest of them just outside her friend's home. She was particularly excited because she could not remember ever seeing an owl in her whole life.
And inside I'm thinking, "Well you nearly got me there, Lord, but I still haven't seen an owl in Australia!"
The following evening, my husband Malcolm and I were leaving a friend's birthday party late at night, and as we were driving up a road lined with trees I noticed a flutter of wings. I said to my husband, "I think that's a kookaburra!" I would have gone on but he said, "Back up." So I backed the car up, and right there was a huge owl on a branch, looking at us.
A few days later, my Mum visited us and she brought me a photo—of her own recent sighting of a native Australian owl.
---
And Then the Lights Turned out
Since I was very young, I have had a gift of discerning spirits. One aspect of this gift is the ability to see or sense any demonic spirits that may be operating in a person's life (as well as places, groups, and atmospheres)—and know quite clearly what these are. [2]
This gift was predominant in my ministry as an intercessor—but the season was changing.
Soon into my new ministry role, I noticed something unusual was happening. The gift of discernment of spirits that I had for most of my life was not functioning. It was as though Holy Spirit had turned the lights off, and I was operating in the dark.
What was even more interesting, was that as I ministered in personal prophecy during these early days, the Spirit was leading me to the very people whom I might previously have avoided, had I been seeing what was motivating or oppressing them. This happened over and over again.
I was embarrassed at first, but then I woke up to what God was doing.
He was teaching me to see people as He sees them, breaking down my former judgments and stereotypes. Teaching me to see as the owl does—in the dark.
---
Loving People and Seeing Treasures in the Darkness
The heart of our Father looks and reaches beyond what is seen by our natural eye, and even what we know presently through discernment.
He looks beyond a person's exterior and the interior condition of their soul
He looks beyond a person's history and He sees a much-loved child of God, someone who has a prophetic identity, and destiny in His Kingdom
As Kris Vallotton points out, the role of prophetic ministry is to look into the darkness and see the treasure in hidden places. (Is 45:3) He says, "An owl can look through the darkness and see a Rahab (a prostitute in the Old Testament) and know it's the great great great great… Grandmother of Jesus Christ." [1] (Josh 2:1, Matt 1:5)
Many times a word of love and affirmation from God will break down the barriers and bondages and hurts that a person carries. But even if it does not—He still loves them. He still desires to reach out and affirm them. And He takes great delight in demonstrating that love to them and others through His prophetic ministry.
The experience I have had of prophetic ministry—especially personal prophecy—these past few years I have likened to 'a baptism of love.'
And yes, I have recently noticed that the lights have turned back on—although perhaps not as strong as before. It seems Father trusts me with discernment again.
---
Notes:
[1] Kris Vallotton is from Bethel Church, Redding. This particular podcast is published by Kris and Kathy Vallotton Ministries, dated 30/9/2010, and entitled 'Becoming a History Maker.'
[2] When teaching on the discernment of spirits, I emphasize that the balance (and glory) of discernment is that this gift enables us to sense the Holy Spirit and His anointing. Our focus should always be primarily on what God is doing, not on what the enemy is doing.
[3] Would an owl be used as a prophetic illustration when it is an unclean animal in the Old Testament? 
There is always value in understanding what Scripture says and in what context.
The owl is listed as being unclean in the Old Testament (Deut 14:15-17). Peter's vision of the unclean animals now being edible is an example of the Holy Spirit bringing a prophetic revelation (vision) in a way that offends the minds of those who pay attention to the letter of the law. I personally love the way our Father loves people, and that He would use an 'owl' – a creature of the darkness, and also representative of sorrow and isolation (Ps 102:6, Is 34:11) to share His love for people, is a picture of His redemption. He has called us out of darkness into His glorious light! He calls us to see and perceive with His heart, and call others out of their dark places also.
---
Related Posts:
Prophetic Signs And Unusual Coincidences
---
© Helen Calder Enliven Blog – Prophetic Teaching
Enliven Ministries: in the David McCracken Ministries family