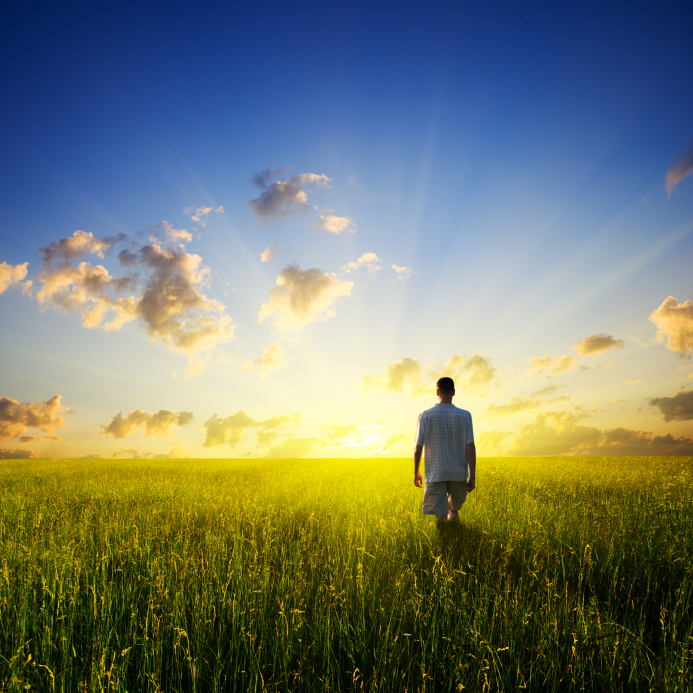 'Call to me and I will answer you and tell you great and unsearchable things you do not know.' (Jer 33:3)
I sometimes receive comments from people who are interested in prophecy but are having difficulties in hearing God's voice.
If you can relate to this, here is a checklist of possible barriers that could be hindering you, along with Biblical keys to help you overcome them.
4 Barriers to Hearing God's Voice
1. The Barrier of Doubt or Unbelief
'My sheep listen to my voice; I know them, and they follow me.' (John 10:27 NLT)
First thing we need to do is settle the fact that God is speaking to us and wants us to hear Him.
Some people think that they cannot hear God speak unless they have a prophetic gift, or some other spiritual gift or special ministry. But this is a misconception. God wants to have a relationship with us! This is why Jesus paid the price of His life on the cross. Communicating with our Father is the basic right of sons and daughters and the joy of our God.
It is what we are created for!
'For those who are led by the Spirit of God are the children of God.' (Rom 8:14)
Never be intimidated by someone else's spiritual gift, or the way another person hears from God. God has uniquely wired and created you to hear from Him.
2. The Barrier of Sin-Consciousness
'Therefore, there is now no condemnation for those who are in Christ Jesus, because through Christ Jesus the law of the Spirit who gives life has set you free from the law of sin and death.' (Rom 8:1-2)
Sometimes people allow shame, condemnation or a sense of unworthiness to make them feel as though they are separated from God—and therefore, unable to hear His voice.
We need to remember that for Christians, the barrier of sin separating us from God has already been dealt with on the cross.
Sin is not the problem – sin-consciousness is.
This is our inheritance as Christian believers: to live conscious of our righteousness in Christ, rejoicing in the power of God's grace and forgiveness, and to know the cleansing power of Jesus' blood. (Heb 9:14, 10:19-22)
Rather than view sin or temptation as a barrier between God and us, God wants us to take the very issue that is troubling us into that place with Him. (Heb 4:15-16)
Sin loses its power when we bring it into the light.
In James, we are instructed to 'confess our sins to one another.' (James 5:16) If an issue of sin, addiction or temptation is continually troubling you, in addition to prayer, find a safe place to share and be accountable—for example to a Christian mentor or leader.
But if we walk in the light, as he is in the light, we have fellowship with one another, and the blood of Jesus, his Son, purifies us from all sin. If we claim to be without sin, we deceive ourselves and the truth is not in us. If we confess our sins, he is faithful and just and will forgive us our sins and purify us from all unrighteousness. (1 John 1:7-9)
3. The Barrier of Fear
But solid food is for the mature, who by constant use have trained themselves to distinguish good from evil. (Heb 5:14)
Some people are fearful that what they are hearing may not be from God.
It's true that there are many voices around our lives, and that we need to weigh up what we are hearing to ensure it is from God. Maturing in discernment is a process, so weighing up what we hear is important. Remember:
God's voice will never contradict what the Bible says (2 Tim 3:16)
In church life, God's word will build the church and promote unity (1 Cor 14:3)
What we are hearing from God will be in accordance with His nature – e.g. the fruit of the Spirit (Gal 5:22-23)
What you hear from God will withstand the accountability of oversight (1 Thess 5:19-22)
The antidote to fear is a love relationship. (1 John 4:18) Think about when the phone rings and you pick it up. How different are your responses when the caller is:
A telemarketer
Someone you love
You see it's not about the fact that someone is speaking—but recognising the Person behind the Voice. As you grow in your love relationship with God, you will get to know His voice. You can trust that what He has to share with you is good, and from His Spirit. (Luke 11:11-13)
4. The Barrier of Misunderstanding how the Holy Spirit Speaks
But when he, the Spirit of truth, comes, he will guide you into all the truth. He will not speak on his own; he will speak only what he hears, and he will tell you what is yet to come. (John 16:13)
When we talk about 'hearing God's voice,' we are using an earthly expression to describe a spiritual concept. You and I use words, speech and body language to communicate. However, the Holy Spirit has many creative ways that He can communicate with us.
We hear God's voice, not with our physical ears, but with our heart and our spirit. For example, here are some ways in which the Holy Spirit can speak to you in a prayer or devotional time:
You are reminded of a Bible verse or story—or one is highlighted to you when you are reading the Bible (Scripture is the primary way God speaks to us—and also the primary way we weigh up what we believe God is saying)
You 'see' a picture in your mind's eye
An idea or impression comes to mind
You feel something emotionally or physically
A word comes to mind or you 'see' a written word in your imagination
Other ways God can speak are through:
Leaders, e.g. preaching or personal instruction
Dreams
Waking visions (like a movie in your imagination)
The insight of another person
Circumstances
In the book of Acts alone, we see God speaking through prophecies, dreams, visions, angels, leaders, signs, and the inner voice of the Holy Spirit.
The Holy Spirit often speaks in light, spontaneous impressions and we need to be intentional about listening.
Have you ever been speaking to someone and it is as though they have 'zoned out'? It is not that they are out of hearing range, but they have momentarily been distracted, either internally or externally. We can zone in to God by having an expectant and listening attitude and being open to the many ways He can speak to us.
---
Do you have any insights about hearing God's voice that you would like to share? Leave a comment in the box below. If the comments box is not visible, click on this link and scroll down.
---
Related Posts:
3 Simple Keys to Hearing God's Voice
10 Ways You Can Hear God's Voice
How to Recover the Wonder of Hearing God's Voice
Has hurt or disappointment affected your ability to hear from God, your spiritual gift or ministry? The following article may help:
Break Free of Hurts that are Blocking Your Prophetic Gift
---
© Helen Calder Enliven Blog – Prophetic Teaching
On team with David McCracken Ministries: Prophetic Ministry That Empowers The Church
Did you receive this from a friend? Read more from Enliven Blog or sign to receive our weekly prophetic teaching updates at https://www.enlivenpublishing.com/blog