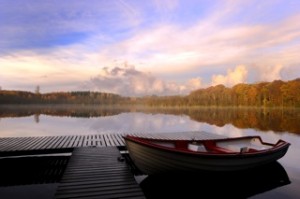 One of the things I am passionate about is helping people to grow in their spiritual gifts—especially prophecy. [1]
People regularly share with me that they believe they have a gift of prophecy, but are not sure how to begin developing it.
Sometimes they express fear or embarrassment about stepping out with a prophetic insight, because they lack confidence.
I also come across prophetic people who tell me that they used to flow in the gift of prophecy but feel it has become blocked or closed down in comparison to how it used to be.
These Christians long for the 'good old days,' when they felt released in their gifts and saw miraculous things happen as a result.
This is why, over the next little while, I am going to be producing some articles on how to move forward and break through limitations in relation to prophetic gifts and ministry. [2]
Identifying a Limitation is Good News
Identifying a potential barrier to the growth of your gift or ministry is good news—for it is the first step to empowering you to break free and enter into the 'more' that God has for you.
In fact, in God's Kingdom there is always more!
And you can turn that seeming obstacle into a stepping-stone to greater growth and fruitfulness.
Signs that you are Being held back in Your Prophetic gift
Here are eleven signs that there may be a limiting factor holding you back in your prophetic gift or ministry.
If you do not have a gift of prophecy, replace the words 'prophecy' or 'prophetic ministry' with the name of your gift or ministry.
See if you can identify with any of these:
1. You used to believe you were called to prophetic ministry [3] but now you are not so sure

2. You are wondering why your prophetic gift seems to be hidden and not recognised by other Christians or by leaders in the church

3. It is a long time since you stepped out, took a faith risk, and did something new in the use of your prophetic gift

4. You are drifting and have a lack of direction in your prophetic gift or ministry

5. You feel barren and are wondering where the fruitfulness is that you were promised or initially experienced when you started out

6. You recognise that difficulties in the use of your prophetic gift began with an event that occurred in your past

7. You are not sure what to do to get to the next level of growth in your gift of prophecy

8. You have been hurt or wounded in relation to your prophetic gift and haven't gotten over it

9. You are not receiving opportunities to use and bless others through your gift that you would like to have

10.You are content with your current level of experience and do not have the motivation to press through for growth in your prophetic gift

11.You do have opportunities to use the gift of prophecy, but it is not flowing as smoothly or as accurately as you would like, or have known in the past.
---
Over the next little while we will be looking at how to overcome some barriers to growth in your gift. Many of these will apply to other gifts, not just prophecy.
Some of the things I will be considering include:
Fear
Not knowing where to start
The effect of past hurts
Apathy
Not being released or given opportunities
Feel free to forward or share these articles with others who may be helped by them.
---
Notes:
[1] The gift of prophecy is the Spirit-empowered ability to receive and convey a message from God—to make known the Father's mind, intention and purposes.
[2] If you are interested in developing your gift, the e-book 'Grow Your Prophetic And Prayer Gifts' is a tool to help you identify which stage of development you are in and move to the next level.
[3] By prophetic ministry, I do not mean a role or position. Prophetic ministry occurs when you use your prophetic gift to love and help people in a way that brings them closer to God and releases them into His purposes. As Paul says, 'the one who prophesies speaks to people for their strengthening, encouraging and comfort.' (1 Cor 14:3)

---
Related Posts:
Why Is My Spiritual Gift Or Ministry Not Being Released?
Break Free Of Hurts That Are Blocking Your Prophetic Gift
4 Barriers to Hearing God's Voice – and Biblical Insights for Breakthrough
---
© Helen Calder 2011 Enliven Blog
Enliven Ministries:  In the David McCracken Ministries family