Recently, my husband Malcolm and I were leading a training session on spiritual warfare, when one of the participants asked a very insightful question. He said,
'How can you tell the difference between spiritual warfare and God testing you?'
That was such a great question that I wished I had thought of it beforehand! We were running short of time, but I have since given this a lot of thought, and this is what I've come up with so far:
It's very difficult to tell the difference between spiritual warfare and God testing you because both are generally taking place at the same time! The key is to know what God's purpose is and embrace it, and what your adversary's purpose is, and turn the tables on it! This is, of course, easier said than done.
God's purpose in spiritual warfare
God allows tests & trials and these do include seasons of spiritual warfare. In these times, His purpose in allowing the attack is to purify our faith and strengthen our spiritual authority (see 1 Peter 1:6-7, 5:8-9, Rom 16:20).
He also allows us to go through temptations that serve to highlight our weaknesses (we tend to have blind spots when it comes to our own 'stuff') so that He can show us MORE of His grace and love and transforming power.
For example, in Luke 22:31-32, Jesus said to Peter, "Simon, Simon, Satan has asked to sift you as wheat. But I have prayed for you, Simon, that your faith may not fail. And when you have turned back, strengthen your brothers."
Peter went through denial and failure, but he was a better, more humble man for it and was greatly used by God in leading people to Jesus.
The enemy's plan in spiritual warfare
Whilst God's plan in testing is for us to come through the trial as bigger and better people, stronger and closer to Him and each other, satan's strategy is that we get stuck in the trial.
He wants us to give up, hold back, remain hurt, and be afraid. He will mask his messages with our own thoughts. We need to be especially aware of the battle that is taking place for our minds. It can be helpful to step back objectively and review the 'tapes' that are playing in our thoughts. It is only as we identify what these are that we can address them by wielding the sword of God's word—Bible verses that speak God's truth into our situation.
As prophetic people, it is vital that we understand the difference between God allowing us to go through a season of testing, and the enemy seeking to rob us of our prophetic gifts and ministry call. Both usually happen at the same time. But we can definitely turn spiritual warfare to our advantage because Jesus has already won the battle for us.
I dislike spiritual warfare, especially when it's affecting those I love, and who would enjoy personal failure? However, I've learned to see the benefits in both.
I've just skimmed the surface here, but if you have any more thoughts in response to this question, I would love to hear from you. Leave us a comment!
The information in this post is excerpted from the e-book, 'Grow Your Prophetic and Prayer Gifts.' If this post has ministered to you and you would like further help in the development of your prophetic gifts, click here to review the book.
---
Spiritual Warfare Online Course
I have just launched my first new online course, 'Spiritual Warfare 101: How to Identify and Overcome Spiritual Attack' and I warmly invite you to join me!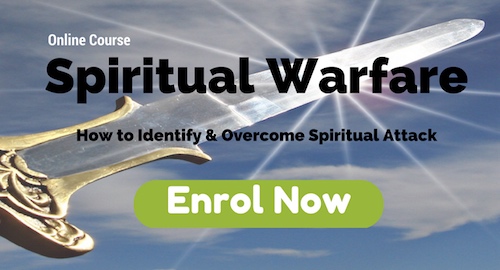 This course includes around 30 mini-lectures on video and is full of Biblical wisdom and strategies to help you overcome in time of battle. There is also a downloadable full transcript in PDF version.
And once you're in, there is no expiry date, so you can continue to journey with me through upgrades and increased course content in the future.
The Bible has great news. If you have discerned signs of spiritual warfare, you do not have to be weighed down by spiritual oppression or put up with pressure and attack! Find out more about the course, 'Spiritual Warfare 101: How to Identify and Overcome Spiritual Attack' here.
---
See also Prophetic People and Spiritual Warfare in the Church and Prophetic People in Testing Times: Signs of Trial
©  Helen Calder   Enliven Blog
In the David McCracken Ministries family