Are you hungry to know the power of God flowing through your life?
Perhaps you are facing a situation or need right now, in which you are seeking God's intervention.
It may be healing, freedom, or a release of provision.
Today, know that God has created and designed you to be a "power conductor" for the Holy Spirit—a vessel through whom His power can flow.
And His power is available to you right now.
---
A Prophetic Dream About the Power of God
Twenty years ago, my husband and I were about to move permanently, with our children, from New Zealand to Australia. And just before our departure, I had an unusual dream.
I was standing in front of a table, and on it was a large book.
It was a huge scientific manual on the topic of electricity!
Then, I flipped the book over, so that it was both reversed and upside down.
Now, the same book was the Bible. And I knew that what I was about to learn, was the key to the huge manual on the other side—with all of its scientific knowledge about power.
A single reference stood out—it was John 15:5.
---
The Dream Resurfaces
The years passed—twenty years—and I forgot about the dream. Until, in the midst of a difficult week, I was struggling to complete a blog post.
Finally, the last word was in place when suddenly, I remembered that dream from a long time ago!
And I turned to find Jesus' words:
"Yes, I am the vine; you are the branches. Those who remain in me, and I in them, will produce much fruit. For apart from me you can do nothing." (John 15:5, NLT)
What follows are the words I wrote—this week—before I remembered the dream.
---
A Key to the Flow of Electrical Power
What does it take to be a power conductor?
Power in the form of electricity can be present—it can reside somewhere—but in order to flow, it needs a conduit.
A conductor.
An electrical conductor is a substance or material that allows electricity to flow through it.
And while most metals (like copper) are known to be good conductors of electrons—nonmetals are considered bad conductors! [2]
Likewise, God uses sensitive, believing hearts, to be conduits of His power and those who have faith—who are willing to be moved by his Spirit and His Word.
God also uses our hunger for Him, because hunger produces motion
---
Power Flowed from Jesus
For example, think about the woman who makes her way through a crowd, to touch Jesus' robe (Luke chapter 8).
As she touches the hem of Jesus' garment, she is miraculously healed.
At that moment, Jesus is aware that power has been released from Him. So, He asks, "Who touched Me?"
He is in the middle of a jostling crowd, so Peter says, "Master, the people are crowding and pressing against you." But Jesus says: "Someone touched me; I know that power has gone out from me." (See Luke 8:45-46)
---
"Someone Touched Me"
Recently, I read this, and it struck me, that we often sing that song,
"He touched me, oh, He touched me, and oh, the joy that floods my soul. Something happened and now I know, He touched me and made me whole". [1]
And yet here, Jesus is asking, "Who touched ME?"
Today, hear the calling and wooing of the Holy Spirit: "It's time to press in!"
Be like the woman who pressed through the crowd—who saw what an encounter with Jesus could do for her.
Just one touch of Jesus' robe released her miracle healing.
That day, many people crowded around Jesus, bumping into each other, and touching Him. But one woman was a conductor for the power of God.
---
How to Live as a Power Conductor
God's power is available and plentiful—because where the Holy Spirit is, there is the power of God.
The power is the working of a Person!
In the book of Acts, Peter reports: "God anointed Jesus of Nazareth with the Holy Spirit and power, and…he went around doing good and healing all who were under the power of the devil, because God was with him." (Acts 10:38)
When we realize that power comes from a Person, it shifts our priorities!
Now, we want to learn how the Spirit moves, and hear what He communicates
And to live in such a way that we are compatible with Him
It also takes the pressure off us. Because now we know that God's power is not reliant upon us, it is sourced in the Holy Spirit.
It is based on our relationship with Jesus and upon His Word
---
God's Power is Displayed in Your Weakness
When I remembered the dream, the Lord drew me back to Jesus' words:
"Yes, I am the vine; you are the branches. Those who remain in me, and I in them, will produce much fruit. For apart from me you can do nothing." (John 15:5, NLT)
And perhaps today, you need to hear the message I received.
"Beloved, do you think that you need to be strong to be a vessel for My power?
You only need one thing, and that is to be reliant upon Me.
For My power is best displayed in weakness" (2 Cor 12:9).
Today, you can experience the power of God in your life.
And you can be a conduit of God's power; someone through whom the Holy Spirit moves to touch others.
So, let's declare together:
"I am pressing in. I am touching Jesus as I have never touched him before!
And His power is flowing through me."
---
Note:
This article is based on a lesson from my course, "Prophetic Worship +Creative", where I have additional lessons including "11 tips on how to release God's power in your gift". For more on the topic see below.
[1] An excerpt of the song, "He touched me" written by William J.Gaither.
[2] Definition of "conductor": https://www.techtarget.com/whatis/definition/conductor
---
Do you love Prophetic Worship?
Be equipped, gain confidence, and go on a prophetic journey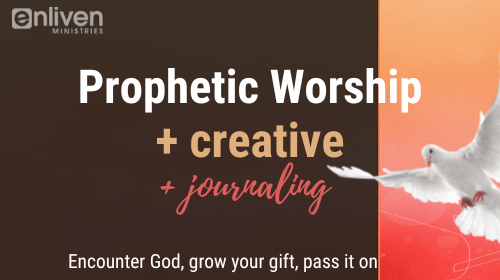 This course is for you, if you love worship, identify as being prophetic—or would like to be—and are creative.
So, if you are hungry for God and ready to go on a journey of personal renewal—welcome to the Enliven Prophetic Worship + Creative course.
This is a space where we value creative expression in worship, writing, and other art forms.
And above all—make room to encounter, worship, and honor Jesus.
Be equipped to convey a vision for prophetic worship confidently
Experience the power of prophetic worship at a personal level, and receive your "glory garment" of praise
Be inspired to break your art and creativity out of stuck places
Learn how to operate in the Holy Spirit's anointing in your gift
Find out how to gather the treasure of what God is saying to you through prophetic journaling
And be encouraged by prophetic words and grace-filled insights along the way.
+ includes entry to a private Facebook group
Suitable for beginners, with content for those who are advanced.
This is a self-paced video course ~ introductory price for a limited time ~ with more content on prophetic worship on the way!
Enroll or learn more about the Prophetic Worship + Creative course here.
What is your dream?
I dream of worshippers, writers, and creators, coming out of obscurity and into their destinies—to emerge filled with the Holy Spirit and dripping with the presence of God.
I dream of those who once felt their ministry was over, being rejuvenated, discovering fresh creativity…
And finding the sweet spot again.
---
© 2022 Helen Calder, Enliven Blog
Enliven Ministries: Prophetic ministry for a revival generation