Sometimes, we are wrestling about something that we could be resting in.
And perhaps, the Holy Spirit is bringing something to mind for you right now.
There may be a matter that seems to be out of control—but God has already given you a promise to hold onto.
I believe this is a timely word for many:
"Bless the Lord, O my soul, and forget not all His benefits:
Who forgives all your iniquities, who heals all your diseases, who redeems your life from destruction, who crowns you with lovingkindness and tender mercies, who satisfies your mouth with good things, so that your youth is renewed like the eagle's." (Psalm 103:1-5, NKJV)
---
A Vision of a Red Chair
In one of our church services earlier this year, I had an impression of a large red velvet armchair.
The chair was sitting on the ground in front of the stage, during the preaching.
It was vivid!
And I knew I was seeing a visual representation of the message preached that day—which was about Jesus' finished work.
Red represents the blood of Christ and redemption
And a "chair" speaks of being secure and at rest—of completion
Of being seated in that place of authority with Christ
So, when the altar area opened, I ran straight up and was amazed that—despite the gathering crowd—the very spot I'd seen the red chair was free! [1]
And as I walked into it, it was like I stepped into a glorious "truth encounter".
---
An Encounter Jacob Didn't Deserve
"Covenant" may not be a word we use every day, but I believe the Holy Spirit is bringing this truth to the forefront.
It's timely for right now!
No matter what conditions you face.
Conditions couldn't have been worse for Jacob, in Genesis 28.
The fallout from his personal failure was so bad, that he had to leave home. And his brother Esau was plotting to kill him (Gen 27).
Yet that night, Jacob dreamed of a staircase, reaching from earth to Heaven
What amazing grace—that on the very day Jacob fled his family's home, he found God's house.
Angels were going back and forth, and the Lord stood at the top. He was declaring His covenant and promise over Jacob!
So, Jacob worshipped God and named that place "Bethel", meaning "House of God".
---
3 Prophetic Insights About Covenant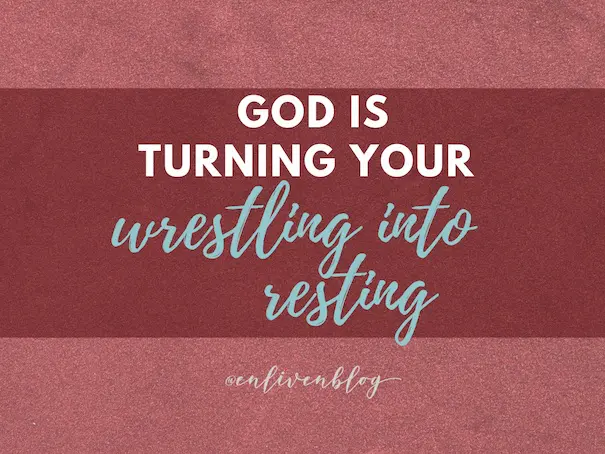 The symbol of the red chair is a reminder of the security of God's covenant with us—even when everything around us is shaken.
And Jacob's story, even though set in the Old Testament, speaks of the grace that is ours in Christ in the New!
For it is clear that Jacob was not a receiver of that covenant because he deserved it.
But because he was born into it.
And likewise, we are not receivers of God's covenant because we have earned it! We inherit it because we are BORN into it.
"But to all who believed him and accepted him [Jesus], he gave the right to become children of God. They are reborn—not with a physical birth resulting from human passion or plan, but a birth that comes from God." (John 1:12-13 NLT)
---
1. The Covenant is about a Person—Jesus
Jacob dreamed of the Lord, standing at the top of a great staircase
And this is a reminder—our covenant, the "Covenant of Grace" is centered in a Person.
In fact, Jesus referred to Himself as that stairway (John 1:51)
Jesus has fulfilled all the terms and conditions—which is how we can be seated with Him!
As the writer to the Hebrews says,
"But you have come to… Jesus the Mediator of the new covenant, and to the blood of sprinkling that speaks better things than that of Abel." (Heb 12:22a, 24 NKJV)
Jesus longs for you to know Him in this role as Mediator, and for you to realize, He has fulfilled all the terms and conditions. [2]
Now, He simply says, "Come to Me."
"Come to Me, all you who labor and are heavy laden, and I will give you rest." (Matt 11:28)
---
2. Declaring God's Covenant is a Powerful Weapon of Warfare
No doubt, the enemy hates it when we mention covenant—because covenant speaks of the blood.
"…[Jesus] also took the cup after supper, saying, "This cup is the new covenant in My blood, which is shed for you." (Luke 22:20, NKJV)
So, if you're facing some opposition right now, consider meditating on, praying, and declaring the power of the covenant.
And what Christ's blood has done for you—for this is a powerful act of spiritual warfare (Rev 12:11).
It will also build you, uplift you and strengthen your faith.
And then, declare your destiny, as God has revealed it to you! God's promise to Jacob included a word about his future:
"Behold, I am with you and will keep you wherever you go, and will bring you back to this land; for I will not leave you until I have done what I have spoken to you." (Gen 28:15)
---
3. God Declares You are Competent!
Jacob encountered God's covenant during a time of personal crisis—he found favor in the midst of failure!
And God wants you to know that His covenant with you brings security, even in the face of your weakness.
It is powerful and practical.
A few years ago, I struggled with technical issues relating to my online ministry.
It was very stressful, as every solution I tried to apply didn't work!
But then I heard the Lord say,
"…I am asking you to keep it by covenant, not by competence."
Now, competence is good—for excellence honors God. But you can't depend on human wisdom for Heavenly results!
And this was a word of adjustment concerning what I was relying upon.
Paul writes, "Not that we are competent in ourselves to claim anything for ourselves, but…
He has made us competent as ministers of a new covenant—not of the letter but of the Spirit; for the letter kills, but the Spirit gives life." (2 Cor 3:5a-6, NIV)
---
God's favor towards Jacob was not based on personal merit: but it was founded on covenant.
And you may feel as though you don't "have it all together".
There is a gap in your capacity, but Jesus' grace fills it—
And His covenant with you assures it.
---
Notes:
(Scroll down to see my Bible study notes and reflection points on "Covenant". I'd love you to join me! Leave a note in the comments below)
[1] (Planetshakers Church) When I describe a vision, it's usually a vivid impression in my mind's eye accompanied by a strong sense of God's Presence—not an "open" (physical) vision. I believe all prophetic words, encounters, and visions should be compatible with Scripture and need to be weighed up—if you'd like to know more see 8 Ways to Grow In Prophetic Visions and Pictures.
[2] John 6:44, Mediator, Strong's G3316 "one who intervenes between two, either to make or restore peace and friendship, or form a compact, or for ratifying a covenant"
---
Related Posts:
---
Study Online: Classes for Those Growing in Prophecy:
Would you like clear and easy-to-understand, Biblical teaching on the prophetic gift and ministry?
My own experience of struggling to find good mentoring in the early days is why I am extremely passionate about helping others learn how to hear God's voice, and grow in their gifts of prophecy and discernment.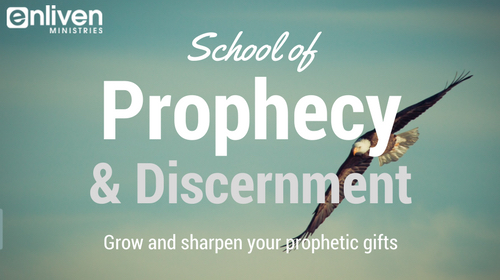 Now, the best mentoring and teaching I can give you is rolled into this one place, the Enliven School of Prophecy and Discernment.
Classes include: How to hear God's voice, Begin and Grow in Prophecy, The Character of the Prophet, The Seer Gift: How to Grow in Pictures and Visions, Prophetic Discernment, Discernment, and Prophetic Warnings, and the Prophetic Guidance Master Class.
You can view and sign up for my self-paced video lecture series in the Enliven Prophetic School here. Choose between a small monthly subscription or a one-off payment, with no expiry date.
I have just activated a 25% discount on the single-time payment – $37.50 USD until 15th July
---
Covenant: 4 Reflections for Further Bible Study

:

A "covenant" in the Bible has to do with a legal, binding agreement made between two or more parties. "Covenant" is like the hub of the wheel, upon which everything turns.
It is so important that the scriptures are sectioned into the Old and New Testaments (covenants). The new is the "Covenant of Grace". Find details and references in the Bible Gateway (Eastons) dictionary here.
---
1. Reflect on the distinction between the old and new covenants: See Galatians 4 and Hebrews chapters 7-9
2. Look up the "Jehovah" covenant names of God for reflection, prayer, and declaration.
Here are some of these:
Isaiah 49:26, The Lord our Redeemer
Jer 23:6, The Lord our Righteousness
Gen 22:4, The Lord will Provide
Lev 20:8, The Lord our Sanctifier
Exodus 17:15, The Lord our Banner (Victor)
Exodus 15:26, The Lord our Healer
Which is the Holy Spirit drawing you to meditate upon?
How do we see these in Jesus? How are these names related to the covenant "benefits" such as sanctification that are available to us?
Which name is a powerful resting place in the face of current contradictions, or spiritual warfare you face?
3. Through the power of covenant, you discover the Divine exchange that took place at the cross. (See Isaiah 53:4-6) Reflect upon what that means for you right now.
4. Finally, remember that the act of taking communion (The Lord's Supper) is a powerful declaration of covenant!
---
© 2022 Helen Calder, Enliven Blog
Enliven Ministries: Prophetic ministry for a revival generation