What if there is one type of prayer that demonstrates the fatherhood of God, more than any other—and it is the prayer of petition?
And what if that same type of prayer is being undervalued by us today, due to its seemingly humble approach?
---
An Encounter that Changed My Life
Many years ago, I had a life-defining encounter with God, which occurred when I simply asked Him to teach me about faith.
Immediately in my mind's eye, I saw a small boy standing in front of a shop window.
It was a candy store or lolly shop—and there was row upon row of good things on the shelves.
As I looked at this child, I could see his great desire for what was in the window. And somehow, I knew that he had in his back pocket one small coin.
Oh, how I felt the strength of his desire and the limitation of that coin!
Then suddenly, the Holy Spirit spoke to me, saying, "Same boy. The same amount of money in his pocket, but his father owns the store."
---
A Powerful Change of Perspective
Immediately, my perspective changed. It was no longer about how much pocket money the child had—or how much he had earned.
Now, it was all about his relationship with his father. And he could get up behind the counter, get up on his daddy's lap and ask for whatever his heart desired.
You see, bring the Father into the picture, and everything changes.
This is the greatness and the simplicity of the Gospel—and it is true also of prayer.
---
What We Can Ask God for
From a popular viewpoint, humble request-type prayers are not compatible with our spiritual identity, position, and authority.
Or—are they?
I do agree that asking for what God has already given is unnecessary! And this is where we need to know what the Bible says.
For we can receive what God has already given to us by faith, with thanksgiving.
But we can petition God that He bring about His plans, and ask Him for the resources that are needed for His will to be done (Matt 6:10)
We can ask Him about all of the things that concern us, and He delights to listen!
Paul wrote,
"Be anxious for nothing, but in everything by prayer and supplication, with thanksgiving, let your requests be made known to God; and the peace of God, which surpasses all understanding, will guard your hearts and minds through Christ Jesus." (Phil 4:6-7, NKJV)
---
8 Reasons Why a Prayer of Petition (Requesting in Prayer) is Powerful
The foundational keys of prayer are simple; Jesus gave them to us, and they've never changed.
Ask the Father (John 15:16)
Ask in Jesus' Name
Pray with thanksgiving (Phil 4:6-7 and 6. below)
Here are eight compelling reasons why a prayer of petition (requesting or "asking" in prayer) is powerful.
---
1. Your Prayer of Petition is Biblical
By making simple requests in prayer in Jesus' Name, we are following the instruction of God's Word.
There are numerous examples in the Old Testament—but let's jump straight to the Gospels. Jesus linked our destiny with the great privilege of asking the Father anything in his name!
"You did not choose Me, but I chose you and appointed you that you should go and bear fruit, and that your fruit should remain, that whatever you ask the Father in My name He may give you." (John 15:16, NKJV)
The verb "ask" here in the original Greek, can be translated to ask, beg, call for, crave, desire, require. [1]
Paul spoke of the joy of making requests:
"I thank my God upon every remembrance of you, always in every prayer of mine making request for you all with joy…" (Phil 1:3-4, NKJV) He also mentioned making requests to God that he could visit the church in Rome (Rom 1:10). [2]
So, if Jesus initiated petition and the apostles of the New Testament practiced it—then let us also honor it as a gift.
---
2. Your Petition can be Prophetic (Expressing God's Intention)
Jesus made it clear that we can ask God for His will to be done, on earth as it is in Heaven (Matt 6:10). John wrote, "Now this is the confidence that we have in Him, that if we ask anything according to His will, He hears us. And if we know that He hears us, whatever we ask, we know that we have the petitions that we have asked of Him."
(1 John 5:14-15, NKJV)
So, our petitions can be prophetic in nature—carrying with them the very power of fulfillment.
These are insights that we can gain simply:
from Bible study, through hearing His voice in our relationship with Him, prophetic words, or the timely input of others.
Knowing God is good and faithful provides us with a lens to see through (Heb 11:11). Thus, our prayers are emboldened with confidence!
---
3. Your Petition Releases the Resources of Heaven
Asking is powerful! Simply by asking, Heaven's resources—including angels—are released.
Jesus said, "Don't you realize that I could ask my Father for thousands of angels to protect us, and he would send them instantly?" (Matt 26:53 NLT)
We see this in action shortly afterward in Acts, when the church was praying for Peter—and an angel broke him out of prison.
Through prayers of petition, God releases His power, the Spirit moves upon hearts, and Divine orchestration takes place.
---
4. Prayers of Petition Reveal God as Your Loving Father
Jesus compared us making requests of the Father with an earthly child asking a father for food.
And He said, "…how much more will your Father in heaven give good gifts to those who ask Him." (Matt 7:12)
And here, Jesus reminds us that our requests are those of greatly loved children!
We are not asking from a position of poverty, lack, or spiritual abandonment (i.e., an orphan spirit).
No! Our Father is ever-present, ever-ready, and ever-delighting to give.
We ask from the revelation of our identity as loved children of God.
We know that what our Father has ordered is in the "pantry". It is in Heaven's storehouse, having already been set aside for us—and all we need to do is simply ask.
---
5. Bold Asking Demonstrates Your Close Relationship
Bold asking comes from familiarity, in a close relationship.
Jesus said, "I no longer call you servants, but friends". He added that friends know the master's business! (See John 15:15) And then He talked about asking the Father in his name!
It is the great outcome of Jesus' sacrifice on the cross that we can stand washed, and clean before a loving Father (John 3:16). And relating to Him as Father—making requests to Him—brings Jesus joy.
So, let's bring back simple petition into our prayer vocabulary and delight in it—because God does!
---
6. Thanksgiving Will add Power to Your Petition
When we thank God for answering our prayer before we have seen an outcome, we express our trust in God. Because as His loved child, we know that, in the very breath of asking, something good is on the way!
Jesus began His prayers to the Father with thanksgiving (Matt 11:25, Luke 10:21, John 11:41) and at times He simply thanked the Father and went on to exercise His power.
When He stood before Larazus' tomb, "Father, I thank You that You have heard Me…" (John 11:41b) implying He had already prayed—which of course, He had.
Thanksgiving is the voice of childlike faith—and the honor of a seasoned prayer warrior.
---
7. God Receives the Glory in Answer to Your Prayer
As God answers a simple prayer of petition, who receives the glory?
God does. The person praying does not receive credit—for they have simply expressed their dependence upon God.
In fact, they may have shared that prayer request with others.
Further, no credit is given to the "type" of prayer used.
And this is a reminder—our faith should not be in the type of prayer we are using!
It's true that those of us who have learned more about prayer over the years have many "tools" in our prayer closet.
Paul the Apostle refers to various types of prayer (Eph 6:18).
So, yes, we can step into declarations, and prophetic decrees, and release God's word of power. Or take a heavenly standpoint for something to be done—when led by the Spirit (and that's the key).
But let's always check where the glory or "credit" of answered prayer is going.
It should never be a type of prayer.
Only to Jesus. "Jesus is the only explanation for this amazing miracle that has taken place—we prayed in His Name!"
---
8. Your Petition is Simple ~ it takes away "Performance"
One of the things I love about this type of prayer is that even a brand-new Christian or a child can ask this way! No one is excluded.
No formula is needed, just a pure relationship and childlike faith. Our ability to "petition" represents the grace of God in a way no other kind of prayer can.
Plus, it removes fear and anxiety from our lives, as we hand over our needs to God (Phil 4:6)
Prayer is not mysterious. It is not "deep"—at its most powerful, prayer is simple.
So let's take care, not to fall from the glorious heights of simplicity (2 Cor 11:3). But instead, let's embrace prayer in its purest form.
For in our day, humble petitions, made in Jesus' Name will release great power.
---
Something Good is on the Way
Oh, dear one loved by God—no matter how brief, no matter how inarticulate—your prayers, even your tears, and cries for help—are heard by Him.
Perhaps you have been in a low place recently—or have been crying out to God on behalf of someone you love.
You can be assured, regardless of what it looks like right now. "Something good is on the way!"
Because your Father is in the picture of your life, and He is good.
Know that there is a storehouse, and it's open in Heaven.
There are supplies with your name on them!
And there is a provision available for you right now—all yours for the asking.
For your Father "owns the store".
---
Leave a Comment
Which of these reasons that petition in prayer is powerful, most resonates with you? This whole study has impacted me, but number 4 means the most to me. I'd love to hear from you, so drop down to the box below and leave your comment or prayer request.
---
Notes:
1. Strong's G154 aiteo. It also appears here in relation to prayer: Luke 11:9-13
A noun from this same root word, aitema (Strong's G155) is translated as "petitions" (1 John 5:15) and "requests" (Phil 4:6).
A Greek word translated as "supplication" in relation to prayer, G1162 deesis, implies "seeking from need, entreating" Eph 6:18, Phil 4:6
Paul's personal requests for prayer can be found here: 2 Cor 1:8-11, Eph 6:18-20, Col 4:2-5, Phil 1:19-20, Philem 1:22, Rom 15:31, 2 Thess 3:1
---
Related Posts
Prayer: When Your Cry Goes Up, Heaven Comes Down (The three directions of prayer)
How to Pray with Greater Faith: One Master Key
Pentecost and the Language of Hunger for God
---
My Invitation for You to Join Me in the Prophetic Prayer School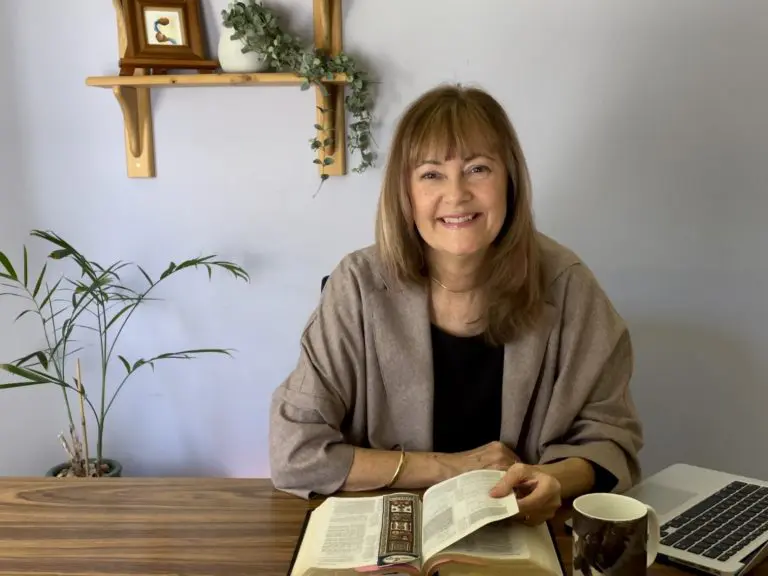 In this online course, I share personal stories about my own experiences, joys, and challenges along the way.
When I began to experience the anointing of the Holy Spirit for prayer 20 years ago, I did not know how to navigate many of the encounters with God I was having.
I saw miracles and breakthroughs in answer to prayer, but I also made mistakes and had a lot of growth-pain as a prophetic intercessor!
Since then I have been a prayer leader, have been a minister on a prophetic team, and by God's grace have developed in ministry as a prophetic writer and teacher. Now I'm passionate about helping others on the same journey I've been on.
Classes include The gift and ministry of prophetic intercession,  How to prevent and recover from depletion in prayer, Empowering the watchman intercessor, Birth your prophecy through prophetic prayer, Praying the mysteries of Heaven, The travail of the Holy Spirit, and additional resources.
Brand New Resource on the Prayer of Petition
Pray for Your Loved Ones (With eternity in view)
Are you praying for a family member or a loved one? Your prayers are powerful! The truth is, we don't need to feel like helpless bystanders, watching someone we love struggle, or walk away from God. These keys to prayer will help equip you and build your faith.
Resources to Pray for your Locality, Region, or Nation: Here are two helpful resources with insights and prayer points.
I invite you to join me at the Enliven School of Prophetic Prayer, where there are over 40 self-paced video lessons (to complete in your own time), along with a full PDF transcript, exercises, and bonus eBooks.
Alternatively, you can view all online courses, including the Prophetic School here.
---
© 2022 Helen Calder, Enliven Blog
Enliven Ministries: Prophetic Ministry for a Revival Generation