Have you ever had a dream that you held on to for a long time—one that you believed was given to you by God?
Perhaps you even worked hard towards it and had high expectations.
For a time, you thought, "It is coming about!"
If you are tired of waiting, be assured of this:
God has not forgotten His promises to you.
---
Dreams that are Longstanding Desires
There are desires of the heart that we carry inside of us for a long period—sometimes, even from childhood.
One dictionary defines this kind of dream as, "something that you have wanted very much to do, be, or have for a long time." [1]
And a prophetic dream about God's calling is especially powerful.
But these persistent, deep longings of our hearts need to be weighed up occasionally. [2]
And there may even come a time to surrender our expectations in prayer.
---
The Dream I Laid Down
"Lord, I've done everything I can—now, I leave this in Your hands to do what only You can do."
I can personally relate to this.
In fact, one ministry dream that I carried for decades, I recently gave a "burial service" for!
That was it, I decided.
It seemed that dream wasn't for me after all.
And so, I laid it down once and for all.
But then, the unexpected happened.
---
Paul's Dream from God
The Apostle Paul had a dream from God—he wanted to visit Rome and share with the believers there (Acts 19:21, Rom 1:11)
Eventually, God used Paul's arrest and imprisonment to send him to Rome, to stand trial before Caesar!
So, Paul traveled to Rome by boat, escorted by Roman guards, along with some trusted companions. [3]
But it was not smooth sailing.
When the boat set out from Caesarea, their route was mapped out with various stop-off points. And as the passengers left a place named Fair Havens, ("Fair Havens"—where everything looks good!) they expected to reach a safe harbor where they could stop for the winter, before heading to Rome.
But that didn't happen.
Instead, they encountered a terrible storm.
The boat was blown off course and shipwrecked at an Island called Malta.
---
This was not on the Travel Brochure!
And maybe you can identify with that today: "Lord, this was not on the travel brochure. This was not on my vision board".
"My travel brochure had glossy pictures! I could see myself enjoying that destination. And like Paul…I've carried that dream for years.
A "perfect storm" wasn't what I had in mind. Being washed up on a distant shore wasn't what I expected.
I thought I would be in Rome by now.
"I thought I would be [_____ ] by now."
It is interesting that God sent an angel to Paul, who didn't explain the reasons for the detour in Malta—that angel still pointed to Rome! (Acts 27:24)
---
The Provision is Already in Place
This story encourages us, that no matter what happens, God never abandons us.
And a delay is not His denial.
Right now, you may not know how God is going to deliver you.
But you will discover your loving Father has prepared His means of provision ahead of time.
Luke records, "After three months, we put out to sea in a ship that had wintered in the island". (Acts 28:11)
---
"Now is the Moment to Ask for that Thing!"
Recently, we have had the joy of attending our church family gatherings again in person, which is a priority for us. No more lockdown!
But last Sunday morning, my husband had to fly interstate for a business trip. And so it happened that I joined our service via the live stream on YouTube.
Pastor Clayton Coombs was preaching a message entitled, "It's on the Table!", and just before closing, pressed in with a question. [4]
"What is it that you don't want to ask? It is so deep down, you're actually nervous to raise it again because you're afraid of getting disappointed."
Then he pointed directly into the camera.
And exclaimed, "That thing! That thing!"
"Now is the moment to ask for that thing!"
I was standing only a few feet away from the TV, and due to the camera angle, he appeared to be pointing directly at me.
Right in that instant, the Holy Spirit hit me—suddenly and unexpectedly, like a freight train!
And as Pastor Clayton called out, "that thing!" God resurrected that desire that I had completely laid down.
The Holy Spirit pulled that dream all the way out from deep down inside of me and put it back "on the table".
---
"Surrender that Dream Back to Me!"
As I reflected on this afterward, I heard God say,
"Don't rule out what I have ruled in!"
"It is on the table! I never took it off."
Glory to God! I believe this is a word for many who are reading this today.
That dream—the one you discarded, but deep down you know God gave it to you—He says, "Surrender that back to me."
That desire may be fulfilled in a different way than you expected
God may have another means prepared, one that you haven't thought of!
But surrender means, "Let Him do it."
And maybe it's a dream that can't be organized, engineered, learned, or bought. No person, no good intention can bring it about.
It can only come about sovereignly, by the hand of God.
Hear your Father say, "Don't give up. I am resurrecting your dream.
Beloved, it is not over, until I say it's over."
It's not over—it's overflow.
---
Notes:
This is part two in my series about the Apostle Paul and Malta
Part one is here: "Prophetic Word: The Setback will be Your Sweet Spot" 
[1] Merriam Webster dictionary, meaning #3 here
[2] Some questions I ask include,
"Is this from God? Is this compatible with how He has created me? How does this relate to this stage of my life, or to my calling? Have I prayed about this? When did I last talk with a spiritual leader or mentor about this desire? Is holding on to this dream bearing good fruit, internally and externally? What small step can I take towards this?"
[3] Luke, who journeyed with him, vividly narrates this story in the book of Acts. Read this story in Acts chapters 27-28
[4] Clayton Coombs, Ph.D. is Academic Dean at Planetshakers College, Planetshakers Church. In this closing statement, he was quoting our Senior Pastor Sam Evans.
Dr. Clayton wrote this article here on Enliven Blog: 5 Ways to Disciple the Prophetic gift in Children
---
Related Posts:
Prophetic Word: The Setback Will Become Your Sweet Spot
Why Does God Allow Frustration and Delays?
---
Study Online: Classes for Those Growing in Prophecy:
I have activated a

20% discount

from $49.95 to $39.95 on the one-off payment until 5th December
Would you like clear and easy to understand, Biblical teaching on the prophetic gift and ministry? Or, could you benefit from some straightforward keys to get you on track as you learn and develop in prophecy?
I've been privileged to receive extraordinary prophetic mentoring, as one of a ministry team of prophets and teachers with David McCracken Ministries.
But it hasn't always been that way. When it comes to spiritual gifts, I know what it is like to go on a long journey, and often a lonely one.
My own experience of struggling to find good mentoring is why I am extremely passionate about helping others learn how to hear God's voice, and grow in their gifts of prophecy and discernment.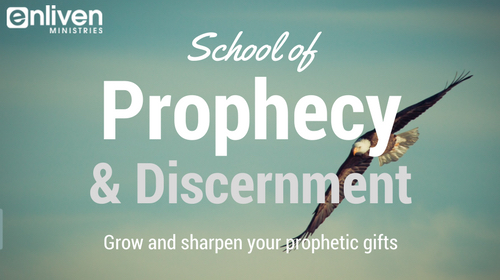 Now, the best mentoring and teaching I can give you is now rolled into this one place, on the Enliven School of Prophecy and Discernment.
Classes include:
How to hear God's voice
How to Begin and Grow in Prophecy
The Seer Gift: How to Grow in Pictures and Visions
Prophetic Discernment, Discernment, and Prophetic Warnings
the Prophetic Guidance Master Class
You can view and sign up for my self-paced video lecture series in the Enliven Prophetic School here. Choose between a small monthly subscription or a one-off payment with no expiry date.
---
© 2021 Helen Calder, Enliven Blog
Enliven Ministries: In the David McCracken Ministries family