Do you long to minister and pray out of the anointing of the Holy Spirit? Or, do you desire to be closely acquainted with God's Presence? You may relate to being a "watchman intercessor" or prayer warrior.
I believe that a significant key to anointing in prayer is found in Psalm 5, where David says:
"…For to You I will pray.
My voice You shall hear in the morning, O Lord;
In the morning I will direct it to You,
And I will look up." (Psalm 5:2b-3, NKJV)
The Hebrew word for "look up" is also translated, "watch expectantly" and is the same Hebrew word translated "watchman" in other places! [1]
---
The Key to Having an Anointed "Watchman Intercessor" Ministry
This is a great reminder that whilst we do have many functions, our highest calling is to watch for God and to have our eyes and ears trained upon Him.
And to be alert to what He is doing.
Then as we do, the anointing that is on Him flows onto us.
We see this visibly in the Bible, for when Moses came out of spending time in God's Presence, his face shone brightly! (Exodus 34:29)
So, watching for God—having face-to-face time with Him—is the "superpower" of the intercessor.
Here are 5 significant benefits of focusing your spiritual eyes on God and seeing what He is up to, first and foremost!
---
1. You'll See the New Things God is Bringing to Birth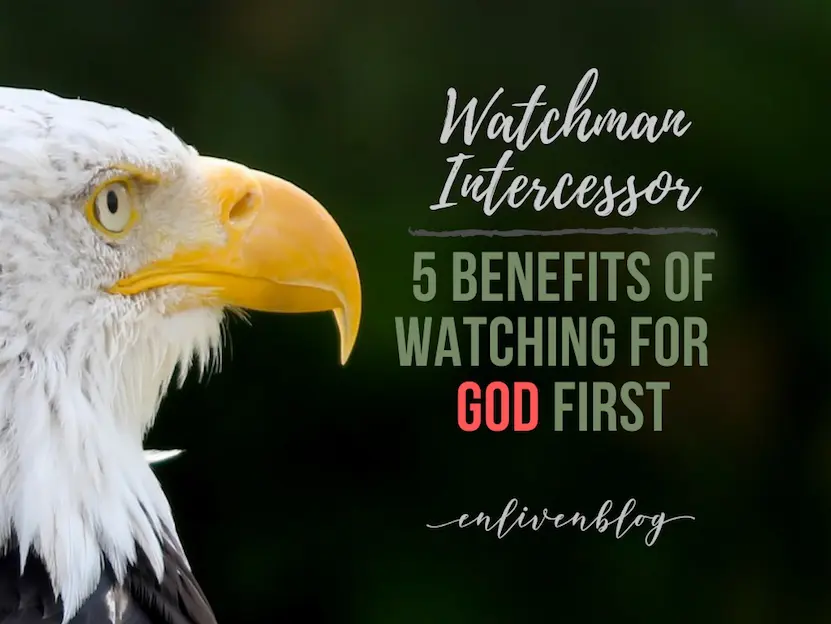 Another Psalm speaks of the yearning—the deep, heartfelt longing of the Watcher: "I wait for the LORD, my soul waits, And in His word I do hope. My soul waits for the Lord more than those who watch for the morning—Yes, more than those who watch for the morning" (Ps 130:5-6, NKJV).
Consider how this unfolds in the New Testament. It was the shepherds—the ones who were keeping watch—who saw the angelic hosts!
And they were the first to see Jesus as a newborn baby and welcome the Savior into the world. (Luke 2:8)
Here in this powerful story, there's a promise for all of us who are keeping watch.
So today I declare this over you:
You may be "awake" at the midnight hour—you may be unseen or unsung—but God has called you, to witness something of great significance
You will see the new things God is bringing to birth!
---
2. God's Heavenly Firewall will be Real to You
Just like the shepherds who encountered angels—those of us who are intercessors will have times of awareness, that angels are at work.
I've mentioned that the ministry of a watchman intercessor could be likened to a hidden firewall on a computer.
Well, the flip side to that, is that watchman intercessors can also perceive God's invisible firewall!
Remember in 2 Kings chapter 6, Elisha asked God to open his servant's eyes? Suddenly, the servant saw the fiery angels and chariots surrounding them (2 Kings 6:17). He saw God's firewall!
So, I pray your eyes are opened today to perceive and know He has an angelic hedge around you—and those you are praying for.
Not only that, but the Holy Spirit, God's fiery Presence is a Heavenly firewall!
How glorious is this! In Zechariah, the Lord declares: "For I… will be a wall of fire all around her, and I will be the glory in her midst." (Zech 2:5, NKJV)
---
3. Jesus' Passion will Become Your Priority
I want to talk about something that is very important for the hour we live in.
And that is, Jesus spoke of watching and being alert for His return as the Bridegroom.
Think about these phrases in His parables:
"Watch therefore, for you do not know what hour your Lord is coming." (Matt 24:42, NKJV)
"And at midnight a cry was heard: 'Behold, the bridegroom is coming; go out to meet him!'" (Matt 25:6, NKJV)
I believe those who are the "Watchman Intercessors" have a significant role in being alert for Jesus' Second Coming.
This can be our yearning, our great passion—and in the light of this, we will be led and urged by the Holy Spirit to pray for those who don't know salvation.
So that people who are far from God encounter Jesus.
Why? Because the heart of the Watcher-Intercessor longs for Jesus Himself.
And as we commune with Him, His passion becomes our priority.
---
4. You Will Receive God's Vision for Your Life
"I will stand my watch and set myself on the rampart, and watch to see what He will say to me, and what I will answer when I am corrected.
Then the Lord answered me and said: "Write the vision and make it plain on tablets, that he may run who reads it." (Hab 2:1-2, NKJV)
The prophet Habakkuk intentionally put himself in a watchman position, as he sought God in answer to his difficult questions. And as he did so, he was ready to record the vision God gave him. Then, God spoke to Habakkuk of the nation and the nations, and what was to come.
In the same way, watching for God puts us in the place of receiving His vision for our lives. We will also receive prophetic insights into the situations of those we are praying for.
Have you been wondering what God is doing in your life, or in a wider situation? By faith, step up into your watching position.
Sometimes, His revelation will take us by surprise and we see something we haven't before. So, just as Habakkuk was prepared to be corrected (Hab 2:1), be ready also to receive life-changing adjustments from God.
These will break open His glorious Divine purposes!
---
5. You will be Aware of God Watching Over You
Finally, think of God's words to Jacob at Bethel:
"Behold, I am with you and will keep you wherever you go and will bring you back to this land; for I will not leave you until I have done what I have spoken to you."
Genesis 28:15 NKJV
The word "keep" (Strong's H8104), is one of the words translated watchman, or watch. It speaks of protection and of being hedged about! So remember above all, God is the greatest watchman. And your Heavenly Father is watching over you—He is watching over your assignment!
---
Prayer
So, today I pray this over you:
That the Holy Spirit will birth in you a great yearning for God—and that your highest, most fervent desire may be to perceive God and what the Holy Spirit is doing. [2]
May you grow in increased sensitivity to the anointing of the Holy Spirit.
And may your great longing will be for Jesus the Bridegroom to be known and manifest.
Finally, above all, my prayer is that you may encounter the Lord for yourself. This is your inheritance, and this is your great reward.
---
Notes:
Previously published: I first published this article on the Enliven School of Prophetic Prayer (see below) via PDF on 11th November 2020. I will be replacing this with a video shortly!
[1] Also translated "eagerly watch", "wait expectantly" or in the Amplified version, "watch and wait [for You to speak to my heart]." – sapa, Strong's H6822
[2] See this related article, 7 Reasons to Use Discernment to Focus on the Holy Spirit
---
Leave a comment:
Has God called you to pray? Which of these powerful outcomes of watching for God do you most identify with, and which stirs you to hunger for more?
I'd love to hear from you, so leave a comment on the blog.
---
Related Posts:
Watchman Intercessor: 6 Purposes of the Bible Watchman
17 Signs You May Be a Prophetic Intercessor (The Intercessory Prayer Gift)
---
Are you a discerner-intercessor?
This new class on the "Watchman Intercessor" is for you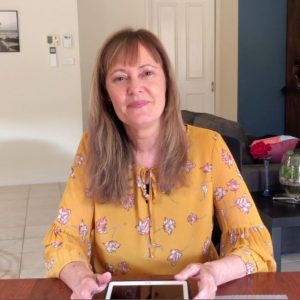 Over the past few months, I've been stirred to create some special classes (within the Prayer School) for prayer warriors who are discerners.
You may identify as a "Watchman Intercessor".
These are the prayer warriors who are God's Heavenly alert system.
Do you relate to any of the following?
You have an instinct to guard, protect or warn
Being a discerner, you perceive or see spiritual realities that others don't see
You are highly sensitive to atmospheres
Having a burden of prayer is familiar to you
You may have a specific assignment to pray for individuals, groups, or regions
Others may have misunderstood you, or you felt lonely in your journey
I invite you to join me at the Enliven School of Prophetic Prayer, where I'm in the process of adding a new class on the topic of "Empowering the Watchman Intercessor".
For a short period of time, while the Prayer School is under construction, I'm bringing the full price down to $19.95 USD.
Currently on the Enliven School of Prophetic Prayer are over 40 self-paced video lessons (complete in your own time), along with PDF transcripts, exercises and bonus eBooks.
Alternatively, you can view all online courses, including the Prophetic School here.
---
© 2021 Helen Calder, Enliven Blog
Enliven Ministries: In the David McCracken Ministries family