Undefeated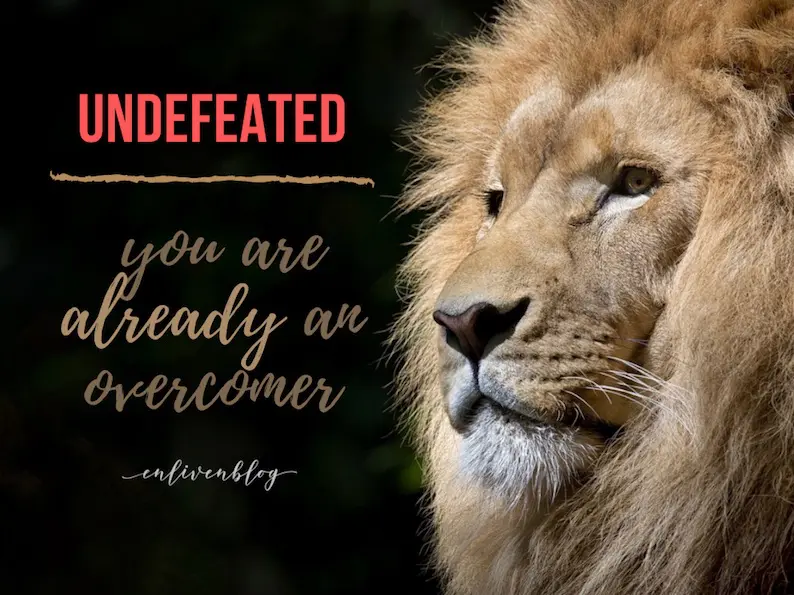 "…You shall surround me with songs of deliverance." (Ps 32:7)
Have you ever had a song on replay in your mind—and you gradually realized that God was speaking to you through it? This happened to me recently when the song "Champion"  resonated loudly in my head all day. [1]
Finally, after many hours, I recognized that one word, in particular, was standing out:
"UNDEFEATED".
---
"V for Victorious!"
That evening, my Mum—who is a gifted psalmist—chatted to me about a series of lists she has created. Each of these alphabetical lists describes what God means to her. So, I told her about the word undefeated and suggested she include it in her lists! But she replied, "I already have V for victorious!"
It took me a few moments to register what Mum was saying. She meant the two words are similar in meaning.
This left an impression on my mind, and reflecting on the two words led me to an "aha" moment.
---
"Undefeated" and Your Track Record
If you have been struggling with doubt lately, think about what "undefeated" means for you.
Victorious speaks of your status!
Whilst undefeated speaks of your track record.
Your status in Christ—where you stand in Him—is enthroned and in victory! And together with this, in a powerful exchange, Jesus' unblemished track record becomes your own.
As Paul tells us, "having wiped out the handwriting of requirements that was against us, which was contrary to us. And He has taken it out of the way, having nailed it to the cross." (Col 2:14, NKJV)
See it, emblazoned across your forehead—a word that describes both you and your track record, once and for all time:
"Undefeated!"
---
Undefeated: A Word That Overcomes the Spirit of Failure
There is a spirit of failure that has been at work, oppressing God's people.
And in particular, there are two common battles, I believe the Holy Spirit is setting people free from right now: These are insecurity and perfectionism.
If you can relate to either of these, hear your Father's declaration over your life:
"My child, you are victorious and undefeated!"
a. Perfectionism
When we have a spirit of excellence, we honor God and the gifts He has given to us.
But in contrast, perfectionism usually comes with the voice of an inner critic; one that is never satisfied!
It sets a high bar, an ideal! One that is usually kept just out of reach.
And then, when we fail to reach that benchmark, this is what perfectionism does: It strikes—inflicting a wound on our soul.
Over, and over again.
---
b. Insecurity
Insecurity is also an intruder and may come from an orphan mindset.
When we are insecure, we put ourselves forward, but then we have doubts about the value of our contribution.
We might speak out, or bring our gifts to the table—and then feel uncertain about whether someone will receive it (or not).
And when that happens, there is also an inner strike against us; a sting. A perceived failure.
---
Receive Your Updated List!
For those who battle perfectionism or insecurity, this pattern of (perceived) failure or success may look like this:
Failure
Success
Failure
And so on!!
But the New Testament declares that God has exchanged that list for another—one upon which every line declares "victory".
---
God is Breaking the Hidden Cycles of Failure
Maybe you can relate to this today. That critic—that voice of the accuser, the one who has stood and spoken against you.
It has sought to belittle and condemn you.
It may have even tried to stop you in your gifts and ministry.
But its time is up!
The truth of God's Word is setting you free, and the Holy Spirit is breaking the hidden cycles of failure!
That critic has been operating against you illegally because it is lying about your Kingdom status. But you are about to serve it an eviction notice!
---
Undefeated Means There's No Claim Against You
This is the power of the cross and the truth at the heart of deliverance, for the enemy has no claim against you. Today, I pray that your eyes are opened to see this:
The record of your sin (and yes, even your inconsistency) is nailed, once and for all to the cross.
What good news—you are undefeated!
And now, your destiny is to overcome.
Every day, you can practice a lifestyle of overcoming, because being an overcomer is who you are. It's your identity!
"He who overcomes shall inherit all things, and I will be his God and he shall be My son." (Rev 21:7, NKJV)
Today, if you can relate to having that struggle, this is a game-changing word that can set you free.
Hear it, see it, speak it: "In Christ, I am undefeated!"
---
Further Bible Study
If this message about being "undefeated" in Christ has resonated with you, I encourage you to visit these Bible passages (chapters) for further study:
Colossians 2, Hebrews 9 and 10, Romans 4, Romans 8
---
Notes:
[1] The song is "Champion", and I've been listening to the version by Maverick City Music and UPPERROOM. I invite you to join me on my Spotify "Prayer Room" playlist, where you can listen to it along with me. You can also find it on YouTube with song credits and lyrics here.
---
Leave a Comment
Does the word "undefeated" speak to you today? Have you ever struggled with insecurity or perfectionism? This word has certainly been a game-changer for me. I'd love to hear from you, so leave a comment here on the blog!
---
The Enliven Prophetic School (Video e-Course)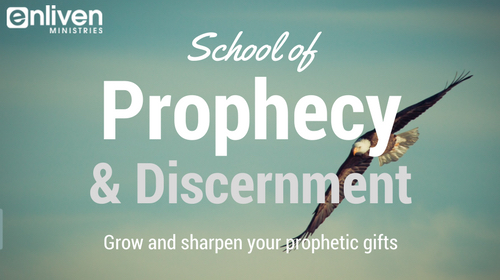 Could you benefit from clear and easy-to-understand, Biblical teaching on the prophetic gift and ministry?
If you would like to grow and sharpen your prophetic gift, I warmly invite you to join me at the Enliven Prophetic School.
The Enliven Prophetic School includes the following classes:
How to get closer to God and hear His voice
The basics of the discernment gift
Keys to growth in the seer gift, prophetic pictures, and visions
Find out how to receive and process prophetic warnings from the Holy Spirit
Prophecy, foundations, prophetic guidance, and more
You can view and sign up for my self-paced video lecture series in the Enliven Prophetic School here. Choose between a small monthly subscription or a one-off payment with no expiry date.
---
© 2021 Helen Calder, Enliven Blog
Enliven Ministries: Prophetic ministry for a revival generation