Yet who knows whether you have come to the kingdom for such a time as this?" (Est 4:14b, NKJV)
It may not have felt like it lately.
Perhaps, you have been quiet for a season.
Yet, there is still a message working inside of you and it is about to burst forth.
For you have a testimony and a story to tell—one that is unique.
Your voice is powerful, and your presence matters.
---
A Powerful Word We Could Miss
In the Bible, no word is wasted.
And at times, the Holy Spirit points out a verse we have frequently passed over.
He says, "Pay attention!"
When that happens, what seemed to be a passing word becomes a password.
A "NOW" word—one that has the power to break us into new territory.
An example of this is the final verse of chapter 9 of Esther!
Yet, it's easy to miss—like the flourish on the signature of a book:
"So the decree of Esther confirmed these matters of Purim, and it was written in the book." (Esther 9:32, NKJV)
---
It's Time for Esther's Decree!
That single moment represented the huge leap, that God gave a young woman, through His favor, to:
Become the queen of a kingdom
Be instrumental in saving a nation
Have her story told in Scripture
It is a decree that became known as "the decree of Esther"!
And this is what I believe the Lord is saying about the day we are living in—right here and now:
It's time for Esther's decree!
God is releasing the sound of favor through your life.
---
Esther's Decree: 3 Keys to Release Your Roar!
There are many great lessons from the book of Esther. [1] But these three stand out to me right now.
1. Realize Your Heritage Holds Power
In this climactic moment, the Bible describes Esther as "the daughter of Abihail".
"Then Queen Esther, the daughter of Abihail, with Mordecai the Jew, wrote with full authority to confirm this second letter about Purim…" (Esther 9:29, NKJV)
In the whole book of Esther, this is only the second time her natural father's name is mentioned. (see also Est 2:15)
Why is her natural father named here?
Because there was power in her lineage
Esther's identity, that she was a Jewess—was kept secret for much of this story.
Yet, her identity was like her "superpower"; a secret weapon!
God reserved the knowledge of her Jewish heritage for a critical moment when everything hinged on it.
Until the moment when the tables were turned, as Esther revealed the Jew's enemy. (Est 7:6)
---
God is Restoring Joy to Cultural Identity
At that time in history, many people looked down upon Esther's culture, but in God's eyes, her family line was significant.
By the end of the book of Esther, the Jews were celebrating, and others wanted to join them. (Est 8:17)
Esther represented and became a voice for people who could not speak for themselves.
Perhaps, it feels as though somewhere along the way, you lost your voice. Or you felt closed down.
Who you are, where you have come from—your heritage and your identity—are significant!
God knows you intimately, loves you passionately, and has positioned you "for such a time as this".
He delights in your cultural identity and is awakening your joy over it, for it is the Father's joy!
---
2. Know Your Royal Identity
"Then Queen Esther, the daughter of Abihail, with Mordecai the Jew, wrote with full authority to confirm this second letter about Purim…" (Esther 9:29, NKJV)
The name "Abihail", means "My Father is might" or, "Father of strength". [2]
We see the grace and authority that come, as Esther knows (and values) her identity. And this flows through her actions.
Over and above this, Esther is a daughter of God and the name "Abihail" contains a message for us today about our spiritual heritage.
Our God is the Father of might.
Today, you can step into every situation knowing who your Father is. For you are in the Kingdom, in the royal bloodline.
And, you have a Kingdom family.
Esther was an orphan, but she had a family and did not act alone; she had Mordecai as an advisor. There were many around her who loved and looked out for her. Plus, she had her people—other Jews in the city—to call on, who surrounded her with community fasting.
---
3. Raise Your Voice in a Prophetic Decree!
One of the themes of the book of Esther is the power of decree—this is "an official order that has the force of law." And as we wrap up the book of Esther, she and Mordecai are collaborating to send out a decree to their people, the Jews. (Est 9)
From now on, their children's children will retell the story of how they overcame the enemy.
So, what does this mean for us? When we make a decree in Jesus' Name, it is an order that carries the weight of Kingdom authority. And a prophetic decree has creative power because it voices God's intention. (Matt 6:10)
So raise your voice and cry, "Let there be!"
---
Release Your Roar Today
"Your voice is powerful and your presence matters."
It was favor that made way for Esther to petition the king for the lives of her people.
One of the amazing things about the favor of God is that it paves the way for your destiny.
God is giving you a voice! It is your roar. It will defeat the enemy!  And it will establish peace and order.
So, rise up child of God, and release your roar today.
It's time to resound with favor and to know your voice matters.
For God has destined you to be a history-maker.
"Then Queen Esther, the daughter of Abihail, with Mordecai the Jew, wrote with full authority to confirm this second letter about Purim…So the decree of Esther confirmed these matters of Purim, and it was written in the book." (Esther 9:29, 32, NKJV)
---
Notes:
[1] I have written about Esther in "Go Again: He is God of the Second Time Around" and "Mordecai: The Profile of an Overcomer"
[2] Strong's H32
---
Related Posts:
Prophetic Word: Your Roar is Being Restored
6 Keys to Divine Promotion (Mordecai's Story)
7 Steps to Make a Prophetic Decree
4 Reasons Why a Prophetic Decree is Powerful
---
Leave a Comment
Does this insight about Esther's Decree speak to you today? Which one of these points most speaks to you at this time? Scroll down to let me know in the comments box below.
(Cultural identity: My husband and I are New Zealanders living in Australia. This has not always been an easy road, as we do not have the same rights as Australian citizens and have often been reminded of this! But we are called by God, and a few days ago celebrated our 19th anniversary of relocating to this nation. I'd love to hear your story in the comments today)
---
The Enliven Prophetic School (Video e-Course)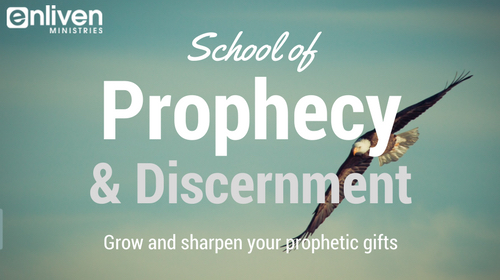 Could you benefit from clear and easy-to-understand, Biblical teaching on the prophetic gift and ministry?
If you would like to grow and sharpen your prophetic gift, I warmly invite you to join me at the Enliven Prophetic School.
The Enliven Prophetic School includes the following classes:
How to get closer to God and hear His voice
The basics of the discernment gift
Keys to growth in the seer gift, prophetic pictures, and visions
Find out how to receive and process prophetic warnings from the Holy Spirit
Prophecy, foundations, prophetic guidance, and more
You can view and sign up for my self-paced video lecture series in the Enliven Prophetic School here. Choose between a small monthly subscription or a one-off payment with no expiry date.
---
© 2021 Helen Calder, Enliven Blog
Enliven Ministries: In the David McCracken Ministries family