When a Divine interruption takes place, you discover—to your amazement—that God is up to something new!
Something you never expected.
And you are finding out what is on Heaven's agenda, that was hidden up until now.
I believe the Holy Spirit is saying to many of us,
"Get ready for a Divine interruption, in which you are surprised by joy."
---
What is a Divine Interruption?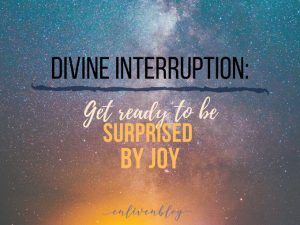 So, what is a Divine interruption? To interrupt means to break into the course of something.
It may be a conversation, an event, or progress
You are in the middle of something when suddenly, an unexpected interruption takes place! [1]
During a "Divine interruption", the one who is interrupting you is God!
When a Divine interruption takes place, you may be jolted out of the ordinary, into something new your Father has for you.
Perhaps, you receive startling information, or a prophetic word!
You may be impacted by a fresh anointing of the Holy Spirit, or have a life-changing encounter with God.
---
4 Biblical Examples of a Divine Interruption
God is the master of Divine interruptions, and the Bible is full of stories of how the Lord stepped in, to intervene in people's lives. Here are just 4 examples:
1. In a Divine Interruption, You Realize Jesus has Been Waiting for You
"A woman of Samaria came to draw water. Jesus said to her, "Give Me a drink." For His disciples had gone away into the city to buy food."
John 4:7-8 NKJV
Sometimes in life, it may seem as though we are stuck in a cycle of endless "play and repeat".
And then, in a moment of Divine interruption, everything changes.
We find that Jesus has been waiting for us. Expecting us.
"Give me a drink".
You never knew, that on one word from Jesus, the whole of your life could turn.
Now, you realize with wonder, He has come for you!
Jesus knows you. God loves you. And He has a mission, that only you can do.
The trajectory of your life is about to change.
---
2. In a Divine Interruption, God Shows up at Your Hiding Place
"Eight days later the disciples were together again, and this time Thomas was with them. The doors were locked; but suddenly, as before, Jesus was standing among them. "Peace be with you," he said."
John 20:26 NLT
For some of us, our Divine interruption happens as Jesus steps into our locked rooms and hiding places!
This may speak of our inner world.
Or, we may be sheltering for physical protection—even now, many are in enforced isolation, due to COVID-19.
To our amazement, when Jesus steps into our room, he says, "Peace be with you."
The atmosphere changes.
Sometimes, like Jesus' conversation with Thomas, our dialogue with Him is uncomfortable.
He may gently admonish us.
Be assured that in this moment, He is doing a great work.
Jesus is adjusting you to the truth of His Word—He is setting you free!
Newly found faith is pouring into your heart.
---
3. In a Divine Interruption, the Holy Spirit Breaks Into Your Routine
"Then Moses said, "I will now turn aside and see this great sight, why the bush does not burn." So when the LORD saw that he turned aside to look, God called to him from the midst of the bush and said, "Moses, Moses!" And he said, "Here I am.""
Exodus 3:3-4 NKJV
At certain times, God gate-crashes our ordinary with His glory.
He says, "Behold, I am doing a new thing! Do you not perceive it?" (Isaiah 43:19)
From our perspective, this encounter—and what unfolds from it—is unforeseen!
And yet when we look back, we can see the signs.
A word here, a promise there.
That prophetic calling you had long given up on.
Now, it is God's due time to act. And so, He breaks into your everyday world with a sign to get your attention.
For a great deliverance is on the way, and the Lord has need of you.
---
4. In a Divine Interruption, there is "Breaking News" from Heaven
"Now there were in the same country shepherds living out in the fields, keeping watch over their flock by night. And behold, an angel of the Lord stood before them, and the glory of the Lord shone around them, and they were greatly afraid."
Luke 2:8-9, NKJV
When a Divine interruption takes place, we realize it is not time for business as usual.
Instead, it is time to pay attention to what God is doing.
For there is "breaking news" from Heaven.
God is revealing what He has meant to do all along.
From now on, this Divine interruption—this "suddenly" from God—will be a part of your testimony.
You hear Him say, "I have a new track for you to journey on.
I have a new story for you to tell!"
---
"I am Removing Shame from the Generations"
"One generation shall praise Your works to another, and shall declare Your mighty acts."
Psalms 145:4 NKJV
It was a Friday night, and my husband and I were having dinner together.
As we chatted, a story came up that we have talked about many times—a tale of injustice and loss, that took place in our family a century ago.
Suddenly, the Holy Spirit interrupted our conversation.
He said, "I am removing shame from the generations.
I am changing the story you tell from now on!"
What took place that night was extraordinary.
This was a matter we had prayed over many times. Yet in this moment of Divine interruption, God set something new into motion.
Within a short space of time, we experienced signs that amazed us. Pieces of history we had not thought about before, came into view. And we had a miracle breakthrough!
Since that night, the story we tell has been changed forever.
---
He is Coming to the Stuck Places
I believe that now is a significant time for us to surrender our lives to God; to invite the Holy Spirit to commandeer our plans, and interrupt our conversations.
To change our story.
For God is doing a new thing.
He is coming into the stuck places, and breaking into situations of which it has been said, "there is no way out of this."
And we, and those around us, will be surprised by joy.
For in those moments we will realize, that our Father is never out of options!
And He is at work on our behalf.
Prayer of Response
Father, I yield my life to You right now.
I surrender my schedule and release my expectations!
Lord, I know You don't need permission, for You are sovereign! And yet Lord, I want You to know, that You are welcome to interrupt my conversations, my thoughts, my life.
Because I know that I can trust You, for You are good, and Your plans are for my benefit. And above all, more than anything, I desire You.
And so, I say, "Come Lord! Come Holy Spirit!"
Hear Him say in return, "Beloved, get ready to be surprised by joy!"
---
Leave a Comment
Which of the insights on this word about Divine Interruption do you most relate to?
The one that personally speaks to me most right now, is #1! It amazes me when I realize that Jesus has stepped ahead of me into a situation and I see Him move in unforeseen ways.
I'd love to hear from you, so scroll down to share your thoughts and prayer requests in the comments box on the blog.
---
Note:
1. Example of definitions: https://www.dictionary.com/browse/interrupt
2. Read the stories here:
John 4, John 20:24-29, Exodus 3, Luke 2
---
Related Posts:
4 Principles of the Suddenlies of God
6 Ways a Divine Visitation Can Touch Your Life
Kingdom Conversations: God Said, "I am Coming to Visit You"
---
Prayer School News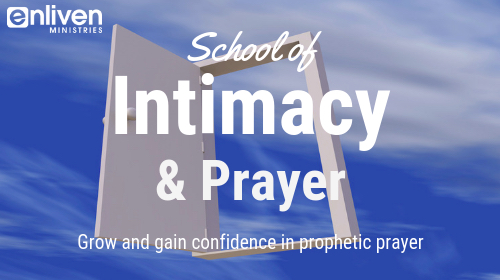 If you have felt dry or depleted in your prayer life lately, the news lessons in my Prophetic Prayer School news will be of benefit to you.
You will find these in the class, "How to Prevent and Recover from Dryness in Prayer"
Causes of Dryness and Depletion in the Intercessor (PDF)
Ten Keys to Being Replenished as an Intercessor (PDF)
Receiving Prayer: How to Stay Filled with the Holy Spirit Through Soaking Prayer (Video + PDF)
This has impacted me personally and I'm sure it will benefit many of my readers.
While the Prayer School is under construction, I'm keeping the full price at $19.95 USD.
Currently on the Enliven School of Prophetic Prayer are 40 self-paced video lessons (complete in your own time), along with PDF transcripts, exercises and bonus eBooks.
Alternatively, you can view all online courses, including the Prophetic School here.
---
© 2021 Helen Calder, Enliven Blog
Enliven Ministries: In the David McCracken Ministries family