"I will comfort all your waste places!
I will make your wilderness like Eden, and your desert like the garden of the Lord.
Joy and gladness will be found in you; thanksgiving and the voice of melody." (Based on Is 51:3)
He is turning the wasteland into a garden!
And if you can relate to being emptied, or experiencing loss, I pray you are comforted by this word today:
There is glory in your story, and the telling of it is not over.
---
A Series of Earthquakes
Recently, I woke to the news that a series of earthquakes had rocked the North Island of New Zealand.
This was a great concern, but not a surprise—as our homeland has a history of earthquakes and volcanic eruptions.
I watched the news closely and was relieved to learn that our friends and loved ones were safe.
The news drew me back to an encounter I'd had with the Lord, one that would have stayed in my journal. But now, it leapt off the pages!
---
The Crater Lake
Six days earlier, on Saturday 28th February, I was having a personal time of prayer and worship, when I had an unusual vision. [1]
I was simultaneously both looking down on—and standing beside—the rim of a volcanic crater in New Zealand.
It was a crater lake, filled with water. And around it, the environment was lush and green.
Then, the vision changed.
I was walking down the pathway of the volcanic crater at Maungawhau / Mount Eden.
This extinct volcano is one of many situated in my hometown of Auckland, New Zealand. [2,3]
It was vivid, like a flashback—although it is many years since I have walked down that pathway at Mount Eden.
Footsteps, going down a rugged path.
Volcanic rock.
Grass.
---
"This is Where I Create My Garden"
The Lord spoke to me and said, "Eden."
I realized He was not only talking about the crater I was climbing down, but His own garden (Gen 2:8).
I heard God say, "Eden is not something that you once had but was lost. It is not a "Paradise Lost".
Eden is what I create OUT of loss. I am a Redeemer!" (Is 51:3)
That which was lost, which became broken, which was emptied
That situation that blew up
It may have left a gaping wound
For a time, that site became a waste place.
But Jesus says,
"This is where I create My garden.
This becomes the place of My presence, where you walk with Me and everything flourishes and is fruitful."
---
"I am Coming to the Waste Places"
The sensation of walking down the pathway within the volcanic crater of Maungawhau / Mount Eden was vivid to me.
And with all my heart—with every sense and a deep desire, I wanted to be back there.
I felt something intense; a craving.
While there was some personal application, I believe the Lord was revealing His own desire.
His intention!
Jesus is saying, "I am coming to the waste places.
This is where I am setting my feet.
This place will be known as Eden—the Garden of the Lord"
It is His season of visitation.
For you and me.
For New Zealand.
From the ends of the earth to the uttermost parts of the earth!
---
There is Glory in Your Story
So, to every heart that has experienced an emptying or loss:
There is glory in your story, and the telling of it is not over.
For the name Eden means "delight" or "pleasure" (Strong's H5731).
And your Father says, "This is where I am setting My feet down.
You will know that I am walking alongside you.
And the place where you live shall be known as My "footstool" (see Psalm 132:7-9)
---
Postscript: Twice in one Day!
Shortly after this, my husband Malcolm arrived home, and I began to tell him about the unusual vision. As soon as I mentioned "crater lake", he stopped me, astonished!
Just a few hours earlier, a girl serving him at our local shops told him about her trip to New Zealand. As she chatted, she said they had visited a volcanic crater lake—and mentioned the region in the first part of my vision.
How often would you hear about crater lakes twice in one day?
We were both amazed. [4]
---
Leave a Comment
Do you relate to this word about God turning the waste places into Eden? This speaks to me the most: "There is glory in your story and the telling of it is not over…"
Scroll down to share your thoughts and prayer requests in the comments box below.
---
Notes:
[1] How I receive visions:
When I describe a vision I've seen, it's usually a vivid impression in my mind's eye, accompanied by a strong sense of God's Presence. I'm not speaking of an "open" (physical) vision. I believe all prophetic words, encounters, and visions should be compatible with Scripture and need to be weighed up.
[2] I later identified the crater lake in my vision as the Inferno Crater Lake at Waimangu, New Zealand. This is a site of the historic Mount Tarawera volcanic eruption and is still a geothermal hotspot today.
[3] Maungawhau / Mount Eden is in the Auckland volcanic field.
[4] These kinds of coincidences happen regularly, where Malcolm's experiences and mine dovetail or work together as a "sign" or confirmation. Other examples of this can be found here and here.
---
Related Posts:
Garden of Eden: Heaven on Earth is Our Inheritance
---
Discernment Can Propel You Into an Encounter with God's Glory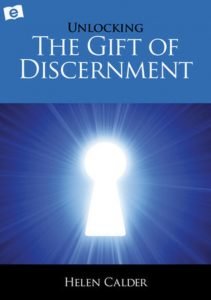 The gift of discernment of spirits is a powerful weapon in times of spiritual warfare and can be of great assistance when ministering freedom to individuals.
And those with a gift of discernment have the extraordinary privilege of being able to perceive the Spirit's anointing!
Yet many who have the gift of discernment have difficulty knowing what to do with what they are feeling or sensing.
In this recently updated third edition of "Unlocking the Gift of Discernment", I have added a chapter on five specific spiritual attacks discerners face and how to overcome each one, along with an inspirational chapter on how the gift of discernment can propel you into an encounter with God's glory.
To view 'Unlocking The Gift Of Discernment' in our e-store, click here
---
© 2021 Helen Calder, Enliven Blog
Enliven Ministries: In the David McCracken Ministries family