This word about the "Tree of Life" is for all—but especially for those who have endured illness, or an ongoing emotional or mental battle.
It may relate to you, a person close to you, or someone you have been praying for.
In times like these, the enemy accuses us:
"You are broken. You are flawed. You are inadequate. You lack faith."
Today, hear Jesus say,
"You are my beloved. You are whole and perfect in my sight.

Receive

My faith!"
---
A Vision of the Tree of Life
I was cooking dinner recently when someone I was praying for to receive healing came to mind.
So, I asked, "Father, is there anything you want to show me?"
And at that moment, I had a vision—an impression. I saw the Tree of Life growing on the inside of her—like the actual trunk of the tree being at the center, at the very core of her being.
I knew at that moment, that tree was symbolic. I was seeing a representation of Christ and His finished work!
---
Fruit of Eternal Life
What is remarkable about the Tree of Life, is that its fruit gives eternal life to the one who eats it (Gen 3:22-24).
Jesus said, "I am the resurrection and the life. He who believes in Me, though he may die, he shall live. And whoever lives and believes in Me shall never die." (John 11:25-26, NKJV)
Christ, who is Life, and is the source of eternal life, lives in you, by His Spirit. [1]
He dwells in and occupies you.
And by faith, you can partake of His life—His fruit— every day.
"Like an apple tree among the trees of the woods, so is my beloved among the sons. I sat down in his shade with great delight, and his fruit was sweet to my taste."
(Song of Solomon 2:3 NKJV)
---
Your Home is the Delight of God
Delight!
In the beginning, the Tree of Life was located at the heart of the garden of Eden.
The name Eden means pleasure or delight. [Strong's H5731]
It's a reminder that your home, now and in eternity is "Delight"—for "in His Presence is fullness of joy" (Psalm 16:11).
More than that, "Delight" is your identity.
It's who you are to God.
The Lord says, "I am giving you a new name, and you will be known as "my delight is in her (him)." (Isa 62:4)
The Holy Spirit is removing shame, and unbelief. He is infusing you with joy and anticipation.
Hear God say, "You are more than a conqueror" (Rom 8:37).
---
You are an Overcomer
Jesus invites His overcomers: "Come, eat of the Tree of Life that is in the midst of paradise!" (Revelation 2:7).
In Genesis, the Tree of Life was at the heart of Eden
In Revelation, we find it at the center of paradise.
The Lord wants you to know that you are an overcomer (1 John 4:4).
It's who you are, to the very core of your identity!
Your track record doesn't define your victory.
Jesus' finished work defines your victory. (Gal 3:10-14)
Having a battle or issue of ill-health is not a contradiction to the truth that Jesus is your Healer.
Instead, it becomes the lightning rod—the landing place—for God's healing power.
---
You are Ready for Every Journey
When the people of Israel left the slavery of Egypt, there was "none feeble among them" (Psalm 105:37b).
The elderly, the broken—those whose bodies had been abused through hard labor and slavery—
No one left that first Passover supper physically weak.
They walked out through doorways painted with the lamb's blood—applied by branches of hyssop!
And they emerged, healthy and strong.
Perhaps the enemy has been saying, "You are unable to do what God has called you to do. You don't have a testimony."
Jesus says, "You are ready for every journey I have for you!"
Affliction or weakness does not define you
Your identity is that you are a loved child of God.
You are marked by God, for God.
---
He says "I am the Lord Who Heals You"
At Marah (meaning bitter) the Israelites came across a spring, but its waters were undrinkable. (See Exodus 15)
Moses cried out to God, and the Lord showed him a tree!
He cast that tree into the waters and a miracle took place.
Those waters were healed.
It speaks of the power of the cross—applied by faith.
At Marah, God declared His covenant name, "I am the Lord who heals you" (Ex 15:26).
Divine Healing is not an event that "sometimes" happens.
Healing is a Person, who is the same yesterday, today and forever (Heb 13:8).
---
You will Bear Fruit, and You will not Fail
"Freely you have received, freely give" (Matt 10:8b)
"Beloved", the Lord says, "I have appointed you to bring healing to nations.
And you will be a giver of life to many."
The Tree of Life appears in the closing chapter of the Bible—in the great finale!
It grows on the banks of the river that flows from the throne of God.
The tree bears twelve kinds of fruit, and its leaves are "for the healing of the nations". (See Rev 22:2)
The Lord adds in Ezekiel's vision of the trees by the River of Life,
"Their leaves will not wither, and their fruit will not fail."
"Their leaves [will be] for medicine" (Ezek 47:12) [2]
Even as you age, your expectation can be, "Jesus is in me, and His power is working to bring life and healing to my body.
His love and power are being released to others through me!"
Let this word resonate in your whole being today:
"I will not fail!
I will bear fruit, and I will not fail."
---
His Power is at Work in Your Body
I believe God is delivering people from fear associated with physical conditions.
You have feared the work of death, but from now on, you will perceive LIFE at work.
For the nature of a tree is that it grows!
It is alive; it transforms; it bears fruit.
Many times, our focus is on unfinished business.
But we can celebrate His finished work:
"By His stripes you were healed". (1 Peter 2:24)
See by faith, His healing power at work inside of you.
His power is at work in your body.
He is giving life to your soul; life to your will to live.
And you can declare today:
"…the Spirit of Him who raised Jesus from the dead dwells in me!
He who raised Christ from the dead is giving life to my mortal body, through His Spirit who dwells in me." (Based on Romans 8:11)
---
Notes:
[1] For example, John 14:20, Col 1:27, Rom 8:20, Eph 3:17
[2] See also Psalm 1
[3] The blog is a limited format for a Bible study. If you are inspired by this symbolic reference to the Tree of Life and would like to study further, I found a historical sermon "Christ the Tree of Life" by Charles Spurgeon here
---
Leave a Comment
Which of the insights on this word about "Tree of Life" do you most relate to?
I'd love to hear from you.
Scroll down to share your thoughts and prayer requests in the comments box below.
---
Related Posts
6 Biblical Insights About the River of Life
10 Signs You May Have the Spiritual Gift of Healing
Healing: I Heard God Say, "The Oil Is Not In The Bottle!"
---
Prayer School News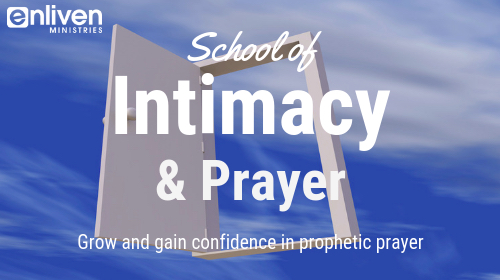 If you have felt dry or depleted in your prayer life lately, the news lessons in my Prophetic Prayer School news will be of benefit to you.
You will find these in the class, "How to Prevent and Recover from Dryness in Prayer"
Causes of Dryness and Depletion in the Intercessor (PDF)
Ten Keys to Being Replenished as an Intercessor (PDF)
Receiving Prayer: How to Stay Filled with the Holy Spirit Through Soaking Prayer (Video + PDF)
Currently on the Enliven School of Prophetic Prayer are 40 self-paced video lessons (complete in your own time), along with PDF transcripts, exercises and bonus eBooks.
Alternatively, you can view all online courses, including the Prophetic School here.
---
© 2021 Helen Calder, Enliven Blog
Enliven Ministries: In the David McCracken Ministries family