The Heart of Prophetic Ministry
Light.
The first words God spoke at the start of Genesis, were "let there be light!"
It is the first prophetic pronouncement in the Bible.
And it calls us back to the very heart of the Father, and prophetic ministry.
In all that we do, in all that we say, in all we declare—we are proclaiming, "Let there be light!"

Let the Father's will be done here.
Let God's Word be honored here.
Let the revelation of all Jesus is, be made known here.
Let the Holy Spirit's power be released.
"Let there be light!"
---
"Pay Attention!"
"I am the vine, you are the branches. He who abides in Me, and I in him, bears much fruit; for without Me you can do nothing." (John 15:5, NKJV)
This week, I was meditating on Jesus' words about the vine and the branches.
Being vitally connected to Him is the source of fruitfulness, in our lives and prophetic ministry!
And I began to reflect on how plants not only feed and grow from the roots up—but they also receive life from above.
Plants literally feed on light!
It's a process we call photosynthesis.
Our word "photosynthesis" comes from two root words, the first meaning "light" and the second, "build", or "put together".
"Build with light!" The words leapt out at me, and in that moment I knew the Holy Spirit was speaking.
"Pay attention!"
---
5 Ways to Grow in Prophetic Ministry
I believe this insight about prophetic ministry is for all of us—and especially, those of us who want to develop in our ability to hear from God and minister to others.
The simple phrase, "Let there be light", helps to highlight these important building blocks of prophetic ministry:
1. Be Bible-Based
"The entrance of Your words gives light; It gives understanding to the simple." (Psalms 119:130 NKJV)
To minister in the prophetic is to first encounter God in His word.
Here are some of the reasons why studying the Bible is vital to growth in prophetic ministry:
Scripture is the primary way God speaks to us
The Bible is the standard by which we weigh up every prophetic insight we give or receive
It is a rich treasury to help us understand prophetic symbolism and the ways the Holy Spirit speaks
The Bible helps us with prophetic guidance: "Your word is a lamp to my feet and a light to my path" (Psalms 119:105 NKJV)
The ultimate power of the Bible is that as we look into it, it reveals who Jesus is.
It shows us the Gospel.
And it empowers us to accurately reveal God and His prophetic word to others.
"Oh, send out Your light and Your truth! Let them lead me; Let them bring me to Your holy hill And to Your tabernacle." (Psalms 43:3 NKJV)
---
2. Be Jesus-Centered
Many plants, as they grow, turn instinctively towards the light.
The image is a reminder, of the blessing that is ours, as we remain centered on our "one thing" (Psalm 27:4):
Beholding Jesus, our source of light and life!
"Then Jesus spoke to them again, saying, "I am the light of the world. He who follows Me shall not walk in darkness, but have the light of life." (John 8:12 NKJV)
Our great desire in prophetic ministry should be to pursue Jesus and to become like Him.
Yes, there are great prophets in the Old Testament, and we can learn from them.
But we discover our ultimate model for prophetic ministry is not Elijah or Elisha, or anyone else. It is Jesus Christ!
To be like Him.
To be light-bearers.
Jesus shows us how to lead people to the Father.
To lay down our lives.
And to represent the Father (John 14:9).
---
3. Be Life-Giving
"Nor do they light a lamp and put it under a basket, but on a lampstand, and it gives light to all who are in the house." (Matt 5:15 NIV)
A plant breathes in light, stores energy that is formed using the light and releases life. It releases oxygen into the air!
To be Christlike is to be life-giving; to serve.
To contribute.
And the most basic function of the prophetic gift is to build the church, through exhortation, edification, and comfort (1 Cor 14:3).
Or, as has been said, to "build up, lift up and cheer up"!
This role of being a life-giver, a builder, and contributor is also seen in the prophetic office:
"And He gave some to be…prophets…for the equipping of the saints, for the work of ministry, for the edifying of the body of Christ…" (Eph 4:11-12)
As you seek to grow in prophetic ministry, know that you are called and gifted of God to speak words of life!
To declare words that create.
To speak words that work; to sing songs that move mountains!
To demonstrate power, that smashes down works of darkness.
To convey messages—through any means—that transform and give life.
---
4. Be Spirit-Led
Build with light!
It reminds us of the ministry of the Holy Spirit. He is the one who brings revelation—who illuminates (John 16:13).
He is God, present with us, leading us.
Filling us and radiating through us.
The Holy Spirit is powerful.
In the beginning, the Spirit was hovering over the waters.
And then, light was created—unleashed in a powerful, creative word from the mouth of God.
No matter what is happening in your world, I believe God has a gift for you; it is a word of authority that applies directly to your situation.
Light is not soft, or gentle. It is one of the most powerful forces in the universe!
Today, be aware of the Holy Spirit with you and filling you.
His mighty power is being released through you, as you share and declare what God has given to you.
---
5. Be Intimacy-Aware
"For you were once darkness, but now you are light in the Lord. Walk as children of light" (Ephesian 5:8 NKJV)
Living in the light speaks of a state of compatibility with God.
In the light, there are no shadows.
There is nothing hidden.
Nothing between us.
This is intimacy with God—that we can stand in God's presence, without fear or shame. This is the power of Christ's blood!
And this is the starting point for all prophetic ministry.
A key to prophetic guidance is sensitivity to the presence of God: "Moreover You led them by day with a cloudy pillar, And by night with a pillar of fire, to give them light on the road which they should travel." (Nehemiah 9:12 NKJV)
---
Prophetic Ministry: The Beginning and the End
The Bible begins with the pronouncement of light—and it closes with the promise of light.
"They shall see His face, and His name shall be on their foreheads. There shall be no night there: They need no lamp nor light of the sun, for the Lord God gives them light. And they shall reign forever and ever." (Rev 22:4-5, NKJV)
It's the grand finale—the close of Scripture.
In our hearts, we long for light, because we are created for it.
Not just the light of the sun—but the light of God Himself—the light of His Presence.
Being with Him.
It is our eternal destiny. And it is also the destiny of that person God has called you to minister to or pray for.
God has appointed us as prophetic ministers, to be ones who stand in His light, calling forth those who are in the shadows.
"But you are a chosen people, a royal priesthood, a holy nation, God's special possession, that you may declare the praises of him who called you out of darkness into his wonderful light" (1 Peter 2:9, NIV).
In a world where there is darkness, even when it's difficult to see—even in the darkest of times, you can build with light.
This is the heart of prophetic ministry.
Today, the Lord is saying, "I am renewing your sense of purpose. I am giving you fresh fire.
I am inviting you to step into the more I have for you."
---
Dear Friend,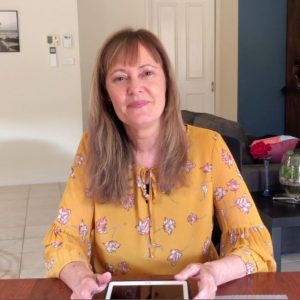 Many of us are going through uncertain times right now. There are challenges on every side. We live in Victoria, Australia, where the second wave of COVID-19 is passing through. In Melbourne, we are in stage 3 lockdown, and this week, masks have become mandatory. Businesses are struggling.
No matter what is happening in your world, I believe God has a gift for you; it is a word of authority that applies directly to your situation. Empowered by the Holy Spirit, we can stare at darkness in the face and declare, "Let there be light!" into every situation.
My own declaration today is, "Let there be victory in Victoria!"
Leave a Comment
I'd love to hear from you, so share with us your own "let there be" word, or your prayer request in the comments box here on the blog, or on our Facebook page.
---
Related Posts:
---
Study Online: Classes for Those Growing in Prophecy:
Would you like clear and easy to understand, Biblical teaching on the prophetic gift and ministry?
Do you need some straightforward keys to get you on track as you learn and develop in prophecy?
I've been privileged to receive extraordinary prophetic mentoring, as one of a ministry team of prophets and teachers with David McCracken Ministries.
But it hasn't always been that way. When it comes to spiritual gifts, I know what it is like to go on a long journey, and often a lonely one.
My own experience of struggling to find good mentoring is why I am extremely passionate about helping others learn how to hear God's voice, and grow in their gifts of prophecy and discernment.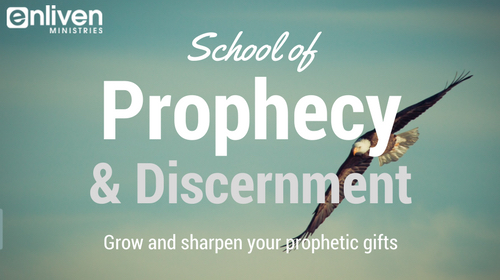 The best mentoring and teaching I can give you is now rolled into this one place, on the Enliven School of Prophecy and Discernment.
Classes include: How to hear God's voice, How to Begin and Grow in Prophecy, The Character of the Prophet, The Seer Gift: How to Grow in Pictures and Visions, Prophetic Discernment, Discernment, and Prophetic Warnings, and the Prophetic Guidance Master Class.
You can view and sign up for my self-paced video lecture series in the Enliven Prophetic School here. Choose between a small monthly subscription or a one-off payment with no expiry date.
---
© 2020 Helen Calder, Enliven Blog
Enliven Ministries: In the David McCracken Ministries family