Right now, we are in a fragile and fragmented global environment. So, it is timely to consider how to respond to a "dark prophecy"—a prophetic word that is a warning, predicts disasters, or forecasts any kind of negative event.
How to weigh them up, what to look for, and how to respond (including when we receive one ourselves)
Because there are plenty of them around!
These are some of my personal suggestions, to help navigate these types of words.
As I've written many posts related to this topic over the last 10 years, I include summaries and links for further study. [1]
A Bright Spot in a Dark Prophetic Book
For a few weeks now, I've been drawn to the book of Zephaniah.
It is a dark prophetic book, and it foreshadowed the terrifying times that were ahead for Jerusalem.
The prophet called for repentance, spoke of sin, and decreed the results of that sin.
He also spoke of the great "Day of the Lord"—the final judgment.
And yet, those dark prophecies of Zephaniah ascended into a glorious finale!
Zephaniah foresaw a faithful remnant, who would return from captivity.
And the prophet portrayed God, as not only a God of justice and wrath, but also of grace and joy.
A Refuge; a God who could be trusted
He is a God who delighted in His people—who would remove disaster and "appoint them for praise and fame" (Zeph 3:19).
In Zephaniah, we see not only judgment, we but also redemption.
We see darkness—but we also see a bright spot.
---
The "Bright Spot"
We use the term, "a bright spot" to speak of a good moment—a highlight—in bad times.
Of something good emerging in a time of trouble.
In the Old Testament, prophets like Isaiah looked ahead to the "Bright Spot" (Isaiah 60, 1-2).
Zephaniah's name means, "The Lord has Hidden".
But what was concealed in the Old Testament is revealed in the New:
Jesus Christ, our Savior, and Redeemer!
And Jesus not only ushers in the bright spot; He IS the Bright Spot.
"…the Dayspring from on high has visited us; To give light to those who sit in darkness and the shadow of death…" (Luke 1:78-79, NKJV)
---
5 Insights About Prophetic Warnings, or Other "Dark" Prophecies
1. Check, "What is the Purpose of this Prophecy?"
A while back, I wrote about five good purposes of a prophetic warning that are seen in the New Testament.
These were:
1. The prophetic warning may be a means of protection—e.g. to warn of danger and prevent harm (Matt 2:13)
2. God may send a prophetic warning to direct or redirect our actions in accordance with His will (Matt 2:12)
3. It could be given to help us prepare for an incident before it happens (Acts 11:27-30)
One stand-out purpose of prophetic warnings to God's people in the New Testament, was so they could protect and prepare.
I write more about this in the post, "How to Weigh Up What the Prophets are Saying Pt 2"

4. Also, a prophetic warning may be given in order to call us to partner with Him in prayer or spiritual warfare (Acts 20:23, 2 Cor 1:10-11)
5. The purpose of a prophetic warning may be to lead people to repentance and to reconcile them to God (Rev 3:20)
God's passion is always to restore and reconcile! [2]
If a prophetic warning is genuinely from God, there will be a clear, bright spot in the warning!
We will be able to see our Father's intention.
And the prophetic word will not cause us to shake with fear—rather, it will help us to have a faith that is unshakeable.
Even in the face of what is contrary.

(See my post, "5 Good Purposes of a Prophetic Warning" for more on this).
---
2. Test a Prophetic Warning Before Passing it on
"We're going to drown!" cried the disciples, when their boat was caught in a storm.
It is easy to believe a negative prophecy when our "boat" is in imminent danger of capsizing.
But it takes a mature son or daughter of God, to stand up and by faith, command the wind and waves to cease. (Matt 8:24-26)
Prophetic voices that draw out that second type of response, are the ones I personally want to listen to.
A gatekeeper stands guard at the gate and chooses what to allow in, and what to keep out.
This is something each of us can be, in today's environment.
Paul wrote to the church, "Do not despise prophecies. Test all things; hold fast what is good." (1 Thess 5:20-21, NKJV)
Ask: "Does this resonate with the Spirit of God within me?" (1 John 2:27)
"What is the fruit? What does this prophetic word produce in my heart, and in the hearts and minds of other people?"
"How are people likely to respond to this word?"
A prophetic word that is from the Father will be filled with the Holy Spirit. It will be infused with Heaven's atmosphere of "righteousness, peace and joy" (Rom 14:17).
In the warning, there will be a dawning! A bright spot. "For behold, the darkness shall cover the earth, and deep darkness the people; but the Lord will arise over you, and His glory will be seen upon you." (Is 60:2, NKJV)
We can reject a prophetic warning if it doesn't sit right with us—in fact, we have a God-given responsibility to do so.
---
3. Review a Prophetic Word By Studying the Bible
A word may be received in a dramatic encounter, or have supernatural knowledge in it, but this does not make it infallible!
And in the case of angels, we want to ensure the messengers themselves are truly from God (1 John 4:1).
In fact, the Bible makes clear that this is even more reason to weigh it up.
This isn't about fear, or mistrusting what God is doing.
It reveals the high value God places upon hearing His voice, as we determine what is of Him!
When the Apostle Paul visited Berea, he came with a revelation of the Gospel—received directly from Heaven.
He had personally encountered Jesus Christ.
And yet, the Bereans were still commended for checking everything he said against the Scriptures (Acts 11:17).
So, the need to test a prophetic word against what the Bible says, is true even when a mature apostle or prophet is delivering a message
(Excerpt from "Angels: 5 Powerful Reasons to Test Angelic Encounters").
Being "Biblical" means that a prophetic word (and the way it is brought) is consistent with what the whole of Scripture teaches us, which means bringing a prophetic word with a New Testament paradigm.
---
4. Be Aware That a Warning Can be "Incomplete"
This is a key for those of us who have received what we believe is a prophetic warning—or, are leading others who are growing in prophetic or discernment gifts.
A word may be accurate in terms of knowledge or be sourced in a genuine initial revelation, but be incomplete.
For example, a prophetic intercessor receives a warning but has not sought God for His "Bright Spot"—the purpose of that warning. In this case, "incomplete" may mean that it needs the further input of another gift or ministry (1 Cor 12),
We never outgrow the need for leaders and others who can see what we don't see. This relates, not only to our "blind spots", but also to the further revelation that will bring completion to our own.
We need the inclusion of others' contributions, such as discernment, to our prophetic ministry. For the New Testament prophetic community is just that—a community.
This is also a reminder that we need to test a prophet, not only the message he or she brings (Luke 6:43-45).
---
5. There WILL be Words of Warning and Warfare!
We live in a day when the Lord is stepping forth as a Mighty Warrior.
There will be strong, authoritative words.
And there will be genuine words of warning and warfare!
These will do great damage in the enemy's camp, but cause God's people to rise up in faith. [3]
And when a prophetic warning relates to spiritual warfare and exposes what the enemy is doing, a "bright spot" will be visible.
It will be the redemptive opposite of what the enemy is doing. Why? Because what is being contended for, is the very thing our God intends to release.
Where there is a battle, there is bounty!
Our destiny. Our nation's destiny. Our family's destiny.
Today, I pray that we will continue to grow in love, wisdom, and discernment in the realm of the prophetic.
And to follow Jesus as we keep our eyes fixed on Him, and recognize the tone of His voice (John 10:3-4).
---
Notes:
[1] Quotes and excerpts: if you are quoting, please keep the links to my original posts intact.
[2] Calls for repentance: My full study on this topic, along with notes of how God can use all types of prophetic ministry to call people to repentance can be found here: The Trumpet: Prophecy, Repentance and the Coming Move of God
[3] I have written this post as I have felt led by the Holy Spirit to do so this past week. A student asked what I believe was a timely question about this, in one of my courses recently, which stirred me to reflect on this.
I regularly cover the topic of prophetic warnings in the blog here and have a chapter on this topic in the online Prophetic School.
---
Leave a Comment
Which of these 5 insights about prophetic words of warning, or predictions about negative events, has spoken to you today.?
I'd love to hear from you, so share with us in the comments box here on the blog, or on our Facebook page.
---
Study Online: Classes for Those Growing in Prophecy:
Would you like clear and easy to understand, Biblical teaching on the prophetic gift and ministry?
Do you need some straightforward keys to get you on track as you learn and develop in prophecy?
I've been privileged to receive extraordinary prophetic mentoring, as one of a ministry team of prophets and teachers with David McCracken Ministries.
But it hasn't always been that way. When it comes to spiritual gifts, I know what it is like to go on a long journey, and often a lonely one.
My own experience of struggling to find good mentoring is why I am extremely passionate about helping others learn how to hear God's voice, and grow in their gifts of prophecy and discernment.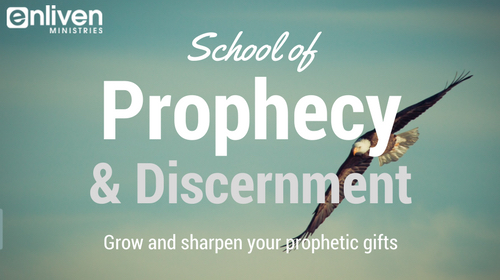 The best mentoring and teaching I can give you is now rolled into this one place, on the Enliven School of Prophecy and Discernment.
Classes include: How to hear God's voice, How to Begin and Grow in Prophecy, The Character of the Prophet, The Seer Gift: How to Grow in Pictures and Visions, Prophetic Discernment, Discernment, and Prophetic Warnings, and the Prophetic Guidance Master Class.
You can view and sign up for my self-paced video lecture series in the Enliven Prophetic School here. Choose between a small monthly subscription or a one-off payment with no expiry date.
---
© 2020 Helen Calder, Enliven Blog
Enliven Ministries: In the David McCracken Ministries family