Do you have a gift of discernment?
I believe the Lord is bringing a word of strength and encouragement to His discerners.
If you have grown weary in the battle lately, hear Him say,
"Let me flood your heart—your inner eyes—with My light!
You will know the hope of My calling. You will know the richness of the glory you carry, and the greatness of My power towards you!" (see Eph 1:18)
---
It is Intense for Discerners Right Now
It's 2020, and there is trauma all around us. It is in the news; it's in the streets. It's even in our shopping malls.
And if you are gifted in discernment of spirits, an extra layer of intensity is added!
A sensing discerner is being confronted with the feelings of what is going on—both in the atmosphere, and in the hearts of people
A seeing discerner will see beyond what is presenting, to what others do not see (and this can be alarming)
You may be perceiving the demonic forces at work, and be alert to the spiritual battle taking place
Many people do not understand what it is like for discerners, as our senses pick up more of what is going on in the environment, than others do.
If you can relate to that, hear God say, "I am healing your perspective!"
---
The Gift I Didn't Want
I remember the day 25 years ago, when I said to the Lord, "if this is a gift, I don't want it!"
I was picked out of a congregation on two separate occasions, and told by a prophet, "You have the gift of discernment"!
Yet, discernment of spirits was a real trial to me.
I was highly sensitive to atmospheres where spiritual warfare was taking place, and could spot a demon (it seemed to me!) a mile off.
Very few people understood, when I tried to explain to others what was going on.
But I have learned in the years since, that discernment is not only a good gift, it is a glorious gift!
---
3 Ways God is Anointing Your Discernment
Discernment is like light, piercing the darkness.
God is touching the eyes and senses of His discerners at this time.
If you have been wounded, receive His healing.
Be encouraged by these three ways I believe the Lord is releasing a fresh anointing to you:
1. He is Anointing Your Eyes, to See the Holy Spirit at Work
I came to realize over the years, that the highest use of the gift of discernment is to perceive the Holy Spirit, and what God is doing.
If you are being distressed by current events, and what you see happening, ask the Lord to touch your eyes.
Think about that instant Elisha asked God to open the eyes of His servant (2 King 6:17). Before that moment, he saw the enemy's army arrayed against them, but when Elisha prayed, he saw the angelic army.
Discerners, what the enemy is doing is not the main event!
What God is doing is the main event.
Don't settle for less than the fullness of the gift God has available to you.
Look again, to see what the Holy Spirit is doing, and where His anointing is.
Hear your Father say, "I want to give you the Spirit of wisdom and revelation. You are about to encounter and know Me more intimately than you have ever known Me before!" (See Eph 1:17)
2. He is Releasing a Prophetic Anointing Over You
When you know your Father's motivation—which is for good (Jer 29:11)—and His indescribable love for people, it impacts the way you perceive.
You have a prophetic viewpoint.
You realize that God is at work behind the scenes, orchestrating His purpose.
And this transforms your discernment.
We see this in the story of the demon-possessed man from the Gadarenes, who was set free by Jesus (Luke 8:26-39).
It was a terrible environment.
The townspeople in the area knew that the guy living in the tombs was crazy
The disciples, with their experience of deliverance, must have realized they were looking at a demonized person
But Jesus saw beyond that. He saw a worshipper, a disciple and an evangelist. He saw a son!
That man was set free, and the atmosphere in that area would never be the same again.
I call it the three levels of discernment:
1. To see what is obvious, (natural discernment)
2. To see, with a gift of discernment, the truth behind what is presenting
3. To see as Jesus sees—to see beyond, to what Father's intention is
(I explain more about this here.)
This third type of discernment, that we see in Jesus, is not limited to those who have a prophetic gift or ministry.
This prophetic anointing is for all God's children (Acts 2:17-19).
It's available to you!
---
3. He is Anointing You for Intimacy with Him
When we have been in touch with the Holy Spirit, the fruit of our discernment will reflect Him:
"The fruit of the Spirit…is love, joy, peace, patience, kindness, goodness, faithfulness gentleness and self-control." (see Gal 5:22-23)
If the result of our discernment is anxiety, oppression, negativity or suspicion, that is not the fruit of the Holy Spirit.
Discerner, you are being set free from burdens you were never meant to carry!
The heavens are opening to you. You are seeing beyond the darkness of the world, to what God is doing.
Today, bring your ability to perceive, and all that you have discerned into the presence of God
There, in the place of encounter, your gift will become life and food, for yourself and others.
Ask, "Father, what are you doing? Help me to see what you see." (John 5:19) Take time to worship, and as you do, the troubled environment is fading from your senses.
You are encountering God.
---
Leave a Comment
Can you relate to my journey with discernment? I'd love to hear from you.
Share with us in the comments box here on the blog, or on our Facebook page.
---
Notes:
[1] A shout out to Jennifer Eivaz, who interviewed me on Facebook live recently. We chatted about discernment and the response from viewers reminded me, that so many of us are having the same struggle right now!
You can see the video on my Facebook page here (scroll down) and Jennifer's page is here.
I've been writing about discernment for 10 years, and it feels as though I've said everything there is to say—and then I am reminded that we all need a refresher (including me!).
My first article on the gifts of discernment from 2010 is here:
8 Signs You May Have the Spiritual Gift of Discernment
[2] Many of the above thoughts are from my book, "Unlocking the Gift of Discernment" as well as elsewhere in the blog.
---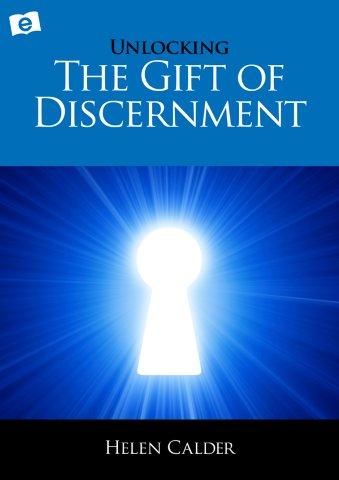 The gift of discernment of spirits is a powerful weapon in times of spiritual warfare, can shift atmospheres, and is of great assistance when ministering freedom to individuals.
And yet many who have the gift of discernment have difficulty knowing what to do with what they are feeling or sensing.
This edition of "Unlocking The Gift Of Discernment" incorporates wisdom from Enliven Blog as well as additional valuable material on how to be protected as a discerner in times of spiritual warfare.

View "Unlocking The Gift Of Discernment" in our e-store here
---
© 2020 Helen Calder, Enliven Blog
Enliven Ministries: In the David McCracken Ministries family