Today, if you are in the midst of a battle, receive a fresh gift of faith from your Heavenly Father. Be reminded of the power of His promises concerning you, which will work towards your turn-around.
Even though you may be down to nothing—there is an extraordinary, Kingdom shaking power that can launch your come-back.
The Power for Your Turn-Around
At the heart of your turn-around is a standing order. [1]
It is the word of God's delivering power, and it resounds through the ages.
It is Scripture, and it's alive and active now (Heb 4:12)
It is His unique prophetic promise, concerning you
A standing order is "a military order or ruling that is retained irrespective of changing conditions."
"Forever, O Lord, Your word is settled in heaven." (Ps 119:89, NKJV)
---
A Day the Unimaginable Happened
It was the ultimate turn-around.
The occupants of a small town called Thebez were escaping an invading enemy.
They were desperate. They were vulnerable.
Men, women, and children fled to their only available shelter—a strong tower.
They barricaded the door and climbed to the top.
But now they were trapped, and their enemy's wicked leader, Abimelech, was preparing to set fire to the entrance of the tower.
It was then, the unimaginable happened.
We read that, "as he prepared to set fire to the entrance, a woman on the roof dropped a millstone that landed on Abimelech's head and crushed his skull." (Judges 9:52)
That millstone struck the enemy on the head, and facing certain death, he ordered his armor-bearer to strike the final blow. [2]
The battle was over; the attackers dispersed.
"A woman on the roof".
Who was this woman?
She was nameless.
She was you and me.
---
An Unusual Weapon
A millstone was an ancient version of a kitchen appliance, used to grind grain for bread.
Why did this woman have a millstone with her?
Did she look at it as she was fleeing out the door of her home and think, "potential missile!"?
Or was it simply a case of taking something that was valuable to her?
All we know is, that at a moment of opportunity, she released the only weapon she had, with the skill she had.
But it was the hand of God that directed it to its target.
She crushed the enemy's head.
---
Two Standing Orders
The reason this woman was able to defeat a powerful enemy against all odds, was because of a standing order; a Heavenly decree.
In fact, there were two "standing orders" at work, that day.
One was the prophecy of Abimelech's downfall (Judges 9:20). It was God's judgment on their enemy.
And the other, dated back to the time of Adam and Eve when God prophesied over the serpent:
"And I will put enmity between you and the woman, and between your offspring and hers; he will crush your head, and you will strike his heel." (Gen 3:15)
Right there at ground zero of sin, humanity's downfall was the first prophecy about the victory Jesus Christ would have over Satan at the cross.
From the moment it was spoken, it became a living and active word.
We see it foreshadowed, not only in this story but also in the victories of other women in the Old Testament. [3]
---
Conspicuous
The name of the town, "Thebez" means conspicuous, or bright [4].
Perhaps, that township was an "obvious" choice for the enemy to target.
It is a reminder, that your pursuit of God and his plans, may cause you to stand out.
But it doesn't matter how strong the battle gets.
"Though an army may encamp against me, My heart shall not fear; Though war may rise against me, In this I will be confident." (Psalms 27:3 NKJV)
This is the source of your boldness when the enemy tries to shut you down. You can declare God's Word over that battle, and over that foe you are facing.
That enemy that has sought to destroy you is being crushed by you!
Christ's victory and yours are bound together.
And the battle is only making you stronger.
---
How to Unleash Your Turn-Around
Your "millstone" may be a song, a declaration, or an attitude. It may be resting in God's grace!
It may be some small act of obedience.
I'm reminded of a busy week last year, in which I had left writing my blog until the last day.
I said, "Lord, all the pleasure has gone out of this. I have nothing left."
There are certainly times to let go and rest, and I am learning to do that.
But at this moment, I heard my Father say:
"When all the pleasure is gone, then it is an act of warfare".
In that moment, a prophetic insight that was drifting around my head became my "millstone".
I began to write.
The article I published that day was, "God is Giving You Faith in the Face of Shortfall" and it proved to be a turning point in the battle many people were facing.
"Having done all, stand". (Eph 6:13b)
When you are at the right place, at the right time, on assignment from God—and all the "pleasure" has gone—your next obedient move is an act of warfare.
---
You Will Change History
The woman with the millstone did the one brave, and yet small thing, she could do.
She positioned herself over the enemy and released her millstone.
From there, it dropped like a lead weight, directed to its target.
She not only killed an enemy general, but she also saved a township.
Generations to come would live, because of that one woman's decision to act.
She made history.
In fact, she became legendary. Generations later, the captain of King David's army was still talking about her! (2 Sam 11:21).
So, release your millstone!
Stand on God's Word. Declare your identity.
Know your position; that your enemy is under your feet.
Take your next small step of obedience, in the face of the impossible.
This is the moment of your turn-around.
---
A Question to Activate Your Turn-Around
A standing order is supreme "irrespective of changing conditions".
What word does God have for you, that is "LIVE" and in the Heavens today, that you can access—that can be released like a bolt of lightning to the earth—to bring about a turn-around?
---
Notes:
[1] An example of a dictionary definition of a standing order is here
[2] "Then he called quickly to the young man, his armorbearer, and said to him, "Draw your sword and kill me, lest men say of me, 'A woman killed him.' " So his young man thrust him through, and he died." (Judg 9:54)
[3] A recurring theme! Jael drove a tent peg through the enemy general's head (Judges 4:21). Esther exposed the plans of Haman – and he was hung by his neck (Est 7).
[4] Strong's H8405
---
Related Posts
---
Spiritual Warfare Course: Angels are sent to protect and refresh You!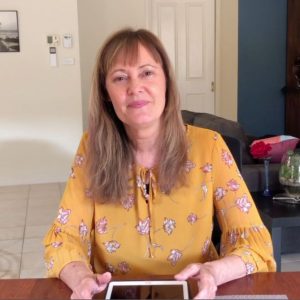 Recently, this insight from the course stood out to me—
Angels not only protect us during spiritual warfare
God also sends them to us to minister refreshing after the spiritual attack
In Matt 4, we read, "Jesus said to the devil, "Away from me, Satan! For it is written: 'Worship the Lord your God, and serve him only." Then the devil left him, and angels came and attended him.'" (Matt 4:11)
Similarly, in 1 Kings 19, after Elijah went on the run from Jezebel, an angel came and ministered to him, providing supernatural, nourishing food and restful sleep.
---
A Worship and Faith-Based Course
So, "Yes! it is worth pressing against that warfare that has come against you!"
And if you'd like a worship and faith-based approach to spiritual warfare—one that is focused more on God's supremacy than on the demonic realm—this course is for you!
I welcome you to join me in: "Spiritual Warfare: How to Identify and Overcome Spiritual Attack". It includes around 30 mini-lectures on video and is full of Biblical wisdom and strategies. And yes, it also has the complete transcript of the course in PDF format.
I've set up a special price of $19.95 USD (it's usually $29.95) until mid-March, and you can find out more here.
Alternatively, you can view all online courses, including the Prophetic School here.
---
© 2020 Helen Calder, Enliven Blog
Enliven Ministries: Prophetic ministry for a revival generation