When I began writing Enliven Blog ten years ago, I was spiritually dry and recovering from burnout. [1]
Yet now, on this tenth anniversary, I look back in amazement at what can only be a move of the Holy Spirit.
So, if you can relate to feeling weary—if you sometimes wonder how you can complete the work God has called you to—be encouraged.
Your Father wants you to know that He is unfailing. There is never any moment you cannot draw life from Him!
And if you have experienced spiritual dryness, you can be refilled.
---
4 Ways to Overcome Spiritual Dryness
1. Realize Your Weakness is Not an Obstacle to God
Contemplating the milestone of a decade this week has been both wonderful and humbling,
It is a miracle of God's grace, that has been made possible with the generous help of others [2]
But to be honest, the thought of doing it again—even one more week—was daunting!
Until I paused in prayer, and suddenly found myself in a vision.
I was by a bubbling brook, surrounded by greenery.
There was an indescribable peace in that place. The brook's water was flowing endlessly through a large rock.
And then I noticed something. The water was pouring forth from the mouth of a clay jar.
And I suddenly knew that clay jar was cracked and broken. But it was completely encompassed by the rock.
Within the rock, that jar was tilted in such as way that the water poured forth endlessly. Only it's mouth was visible. [3]
Do you feel weak, or even cracked and broken in some way? Your weakness is not an obstacle to Him.
"But we have this treasure in jars of clay to show that this all-surpassing power is from God and not from us." (2 Cor 4:7, NIV)
Hear your Father say, "My grace towards you is such, that My glory will shine through you and My power be seen upon you!" (2 Cor 12:9)
---
2. Be Dependent Upon Jesus
The clay jar I saw in the vision had the capacity to pour because it was held and encased in the rock.
You can have complete security in Jesus when He is your Rock, your source of life
"And all drank the same spiritual drink. For they drank of that spiritual Rock that followed them, and that Rock was Christ." (1 Cor 10:4, NKJV)
A cure for spiritual dryness is to be continually dependent upon Him. This is a position you can hold by faith.
Jesus explained it this way:
"I am the vine, you are the branches. He who abides in Me, and I in him, bears much fruit; for without Me you can do nothing." (John 15:5 NKJV)
Your longevity in ministry doesn't rest on your ability or diligence, as important as these things are. It rests on your dependence upon Christ.
Jesus uses the image of the vine and the branches to illustrate what He means by "abiding in Him".
The branches are a part of the vine—an extension of it
They are not merely joined, they are one
You can have the revelation of being one with Christ. And then live, rested, in that position of union with Him.
---
3. Live and Work Out of the Father's Delight
At the start of 2009, around eight months before I started Enliven Blog, I released most of my ministry roles.
Everything I "thought" God had lined up for me, in order to fulfill His call on my life, had fallen over
I was now well into my forties. I had worked so hard, but seemed to have lost it all, and had nothing left to give. Yet the Lord was at work. He allowed my spiritual dryness, for it led to my healing.
In my crisis of faith, I asked over and over:
"Are You the God I am afraid that You are—a taskmaster whose approval I can never win? Or the Father I have longed for—a God of grace and joy?"
I had known theoretically that God was my Father. But I didn't know Him as my loving Father.
After a life-changing encounter with God as my Abba Father, I finally knew I didn't need to work for His approval. That I was already "good enough!"
That I am, always have been, and always will be, His beloved child.
And on this new foundation, I began to write.
Your Father is delighted in you—not because of anything you can do for Him. He loves you, He loves you, He loves you.
---
4. Be Continuously Filled with the Spirit
As 2010 began, my husband Malcolm and I both had a glorious infilling with the Holy Spirit. So much so, that Malcolm had to carry me out of a meeting!
Finally, I had moved from spiritual dryness into overflow
But it started more than 6 months earlier, as I learned to have regular encounters with God that replenished me, little by little.
We need to know where our life flow comes from.
When we are releasing life to others out of our intimate relationship with God, we can continue to serve
Jesus said, "Whoever believes in me, as Scripture has said, rivers of living water will flow from within them."
By this he meant the Spirit…" (John 7:38,39a NIV)
The source of this river is His Spirit, flowing from within us. [4]
You are the "temple of the Holy Spirit" (1 Cor 6:19) and God's design for you is to never run dry.
Today, I pray His life is released powerfully from within you. May you be filled, and overflow with His immeasurable joy.
---
Your Work Matters to God
God created us to be in a close relationship with Him. This doesn't mean that work is not important to God!
Yes, we need to take special time out for rest and prayer, to prevent spiritual dryness.
But there is no place where relationship ends, and work begins.
We do not work for God, we work with God
And our Father doesn't grade different types of work. Remember in the beginning, He put Adam to work tending the garden.
All work can be done to the glory of God (Col 3:17).
Today, I pray that you will know what it means to be filled to overflowing.
And that any spiritual dryness will be swept away by an encounter with the grace of God.
He is waiting for you with open arms.
---
Notes:
[1] I've linked to some of my early posts telling my story in the text above.
[2] See my "thanks" page
[3] I mostly receive visions via an image (still, moving, or a series of images) that comes to mind.
I believe all prophetic insights should be weighed up.
[4] The river Ezekiel saw in his vision (Ezek 47) flowed from the Presence of God—from the temple. The prophet Joel wrote of a fountain that flowed from God's house (Joel 3:18). See also Eph 5:18.
---
Related Posts
7 Signs of Spiritual Dryness (and Questions for Reflection)
7 Ways to Recover from Your Spiritual Dryness
Soaking: How to Stay Filled With the Holy Spirit in Prayer
How to Discover Your Spiritual Pathway
---
Help for Prayer Warriors: Overcome Spiritual Dryness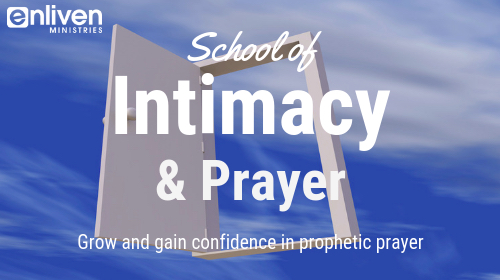 If you have felt dry or depleted in your prayer life lately, the lessons in my Prophetic Prayer School will be of benefit to you.
You will find these in the class, "How to Prevent and Recover from Dryness in Prayer":
Causes of Dryness and Depletion in the Intercessor
Ten Keys to Being Replenished as an Intercessor
Receiving Prayer: How to Stay Filled with the Holy Spirit Through Soaking Prayer
This impacted me personally, and I'm sure it will benefit many of you! I warmly invite you to join me in the Enliven School of Prophetic Prayer
Currently on the Enliven School of Prophetic Prayer are 41 video lessons (complete in your own time), along with PDF transcripts, exercises, and bonus eBooks.
Alternatively, you can view all online courses, including the Prophetic School here.
---
Happy 10th Birthday Enliven Blog
10 years ago, I wrote my first post on Enliven Blog.
Now 485 posts later, I reflect on the miracle that is Enliven Blog along with the legacy and generosity of others who have been a part of the journey. I am in awe at the grace of God.
What began out of the book and story of my failure and restoration in prophetic ministry has now become an online table for thousands every day. It has birthed a ministry, Enliven Ministries, and online prophetic and prayer schools.
Today, I'd like to say a huge thank you to all my friends and readers! No matter what you have been through, never give up. God has given you a voice and message that can touch the world.
---
© 2019 Helen Calder, Enliven Blog
 Enliven Ministries: In the David McCracken Ministries family