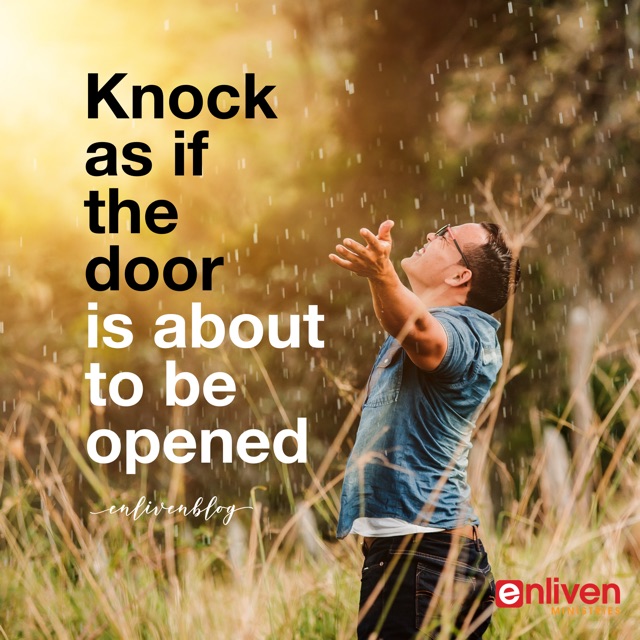 I believe God is encouraging many who have shelved prayer requests. He says, "It is time to recall those prayers. It's time to knock again."
Your prayer may be about a personal need or promise
It may be prayer on behalf of others
Be assured that your continued prayer, when it is your assignment from God, is going to result in a great harvest.
There are leaders who are standing at the door knocking, and behind you is a great crowd.
Hear your Father saying, "There is more going on right now than you are aware of."
---
God is Removing the Shame that has Hindered Your Prayers
He is breaking shame off prayer!
He is releasing faith for the answers.
This is the time for shameless, audacious prayer.
Do you remember the parable Jesus told, about a man calling out and knocking on his neighbor's door? It was late at night.
That neighbor was reluctant to get up and answer—yet he would, because of the "shameless audacity" of the man knocking. (Luke 11:8)
There are many ways the enemy tries to throw a blanket of shame over our prayer requests.
You may relate to some of these signs today:
Other people have expressed doubt about your prayer, or discouraged you in it
You have been tempted to believe God's answer has been "no" because of delay
You have been assailed with doubt that your prayer has made a difference
Your prayer request was made publicly, and there was some form of embarrassment in the event itself—or, what appears to be a lack of answer to prayer
You feel the long wait for the prayer being answered reflects negatively on your faith
Today, you are loosed from the power of shame, in Jesus' Name. 
You are free to rise up and pray, with shameless audacity! You are confident in your Father's favor.
---
Knock: It's Time to Release the Sound of Prayer
Jesus said of prayer:
"So I say to you, ask, and it will be given to you; seek, and you will find; knock, and it will be opened to you." (Luke 11:9, NKJV)
In the Greek, it reads,
"Ask and keep on asking; seek and keep on seeking; knock and keep on knocking." [1]
You begin, by asking—and you continue to ask.
You are hungry, and so you seek. To seek is to be active, moving towards God and looking for Him to answer.
Finally, you begin to knock. The Greek word translated "knock" means "rap" [2]. You are now making a noise to gain attention.
Now, you are calling out, asking, seeking and knocking all at once
Your desire has reached its fullness—and that need, expressed in fervent prayer, gives birth to the promise of God.
---
4 Reasons Knocking in Prayer is Powerful
We know our Father is willing, and that Heaven is open. So then:
Why does God prescribe a type of prayer, where we approach Heaven as though a door stands between us and our Father who has the answer?
1. Knocking in Prayer Demonstrates Your Faith
Our knocking brings our Father pleasure.
It is the audacity of a child, who continues to ask a parent.
We are confident of our Father's willingness to answer. And so we persist in prayer.
"But without faith it is impossible to please Him, for he who comes to God must believe that He is, and that He is a rewarder of those who diligently seek Him." (Heb 11:6, NKJV)
We know there is no reluctance on God's part. We are assured that Heaven is open to us.
In "knocking prayer", you are continuously calling out to your Father for His answers.
You are responding in obedience to Him
In the meantime, God is rejoicing in your declaration of His faithfulness. And the trial of your faith will bring forth gold.
2. Knocking in Prayer is a Powerful Act of Warfare
Daniel persisted in prayer. He asked, he sought, he knocked. He continued praying and fasting.
The angel that eventually showed up, told Daniel God began to answer his prayers from the moment he started praying.
Daniel didn't know it, but behind the scenes, there was spiritual warfare taking place on an immense scale. (Dan 10:12-13)
Just as Daniel's prayer did, your persistence in prayer has power to overcome the enemy!
Your persistent knocking in prayer, brings strongholds down.
3. Knocking in Prayer Obtains the Answer
Daniel's example reminds us that with every knock, something is happening. Power is being released, the angels are at work.
The answer to our prayer may not have physically manifested, but it in motion. And our insistent prayer fuels the process.
Your knocking in prayer accesses the resources of Heaven. Consider the nature of the House you are knocking on:
Hear the Lord saying, "Expect Kingdom-sized answers!"
"Now to Him who is able to do exceedingly abundantly above all that we ask or think, according to the power that works in us" (Eph 3:20, NKJV)
4. As You Knock in Prayer, Justice is Being Released
Another time, Jesus told a parable about a persistent widow and a corrupt judge. When that woman kept on pursuing him for justice, the judge said, "because this woman keeps bothering me I will answer".
Jesus was illustrating His point that we should keep on praying and not give up
He then contrasted the corrupt judge with our Heavenly Father.
"And will not God bring about justice for his chosen ones, who cry out to him day and night? Will he keep putting them off?" (Luke 18:7, NIV)
Justice is needed when wrongdoing has been done against us, or others we are praying for. 
We have been robbed of what is rightly ours.
There has been inequity.
It may have been through the attitudes, actions or decisions of people
It may be generational issues
It may have been a spiritual attack
This is the grace of God—Jesus makes obtaining justice from God so simple, that even a child could follow His instructions.
Know your Father God is willing. Believe He is good and kind!
See Him as the Righteous Judge, Who is releasing justice on your behalf
Then, lift up your voice and cry to Him—and do not stop (Luke 18:1-8)
---
God is Reviving You in the Knocking
We know that when God calls us to action, He is anoints us for that obedience.
So, if you feel as though you have lost the capacity to pray, lift up your hands.
Just when you thought you were at your last gasp, go again to the Throne. You are being revived.
"It's time to knock again.
Knock as if the door is about to be opened."
---
Notes:
[1] His words are recorded in the Greek present continuous tense. See Luke 11:9 and onwards in the Amplified Version.
[2] Strong's G2925
[3] Quoted from "Prophecy: How to Birth God's Promise For Your Life"
---
Related Posts:
The (Number 1) Key to Praying With Faith
The Tipping Point of Prayer: God's Answer is on the Way
---
© 2019 Helen Calder, Enliven Blog
 Enliven Ministries: In the David McCracken Ministries family