I believe the Lord has a word of encouragement for those who are facing some kind of shortfall at this time.
You have a call from God, or a promise, but are faced with a limitation.
An impossibility.
Your Father is releasing a gift of faith to you, so you can look at that shortfall and declare, "My God is greater than you!"
---
The Day a Responsibility Led to a Crisis
A shortfall means there is a gap between what you need, and what you have.
There is a deficit.
Mark's Gospel includes an interesting detail in the story of Jesus feeding the five thousand.
After telling the disciples they were responsible to feed the thousands of people gathered that day, Jesus said:
"How many loaves do you have?"
"Go and see."
When they found out, they said, "Five—and two fish."
(Mark 6:38 NIV)
They didn't just have a shortfall. They had a crisis!
It's interesting that Jesus asked them to specifically count how many they had.
And—to report the number back to Him!
Of course, Jesus knew. But He wanted them to pay attention to how much they had on hand.
He was teaching them about faith and the works of God.
---
The Shortfall Presents a Challenge
Sometimes, in order to face the reality of what lies within us, we need to have tough conversations with God.
When Jesus commanded His disciples to feed the crowd, they pushed back at Him.
They resisted.
"That would take more than half a year's wages! Are we to go and spend that much on bread and give it to them to eat?" (Mark 6:37, NIV)
Read between the lines: "That's expensive—we don't even have that kind of money—plus, it means we have to walk into the villages to shop—and we're already exhausted!"
Yet Jesus said, "Go and see! How many do you have?"
Jesus wanted the disciples to be very clear about what they had to begin with.
To face that shortfall and the facts it presented.
Beginning with a deficit was not a challenge to Jesus.
In fact, the little, given into His hands, was the seed for the much
Those five loaves and two fish were the very means Jesus used to feed a multitude. He passed them back through the disciples' hands.
And they did. Indeed. Feed a multitude.
---
A Key to Miracle-Working Faith: See With Both Eyes
Faith is the ability to see with two eyes—to perceive in two realms, the earth realm and the Kingdom realm, at once.
Sometimes we want to close our eyes to the facts. And yet faith can look squarely at the impossible, whilst seeing the miracle.
Faith is honesty.
It's showing up to Jesus, the shortfall in hand, and offering what you have to Him.
Faith is not denial, it is not averting your gaze from the facts.
Faith is not turning aside, but a courageous and accurate summing up of the situation.
Whilst at the same time, perceiving Father's intention.
---
Faith that Faced Facts
We read of Abraham,
"Without weakening in his faith, he faced the fact that his body was as good as dead—since he was about a hundred years old—and that Sarah's womb was also dead. Yet he did not waver through unbelief regarding the promise of God, but was strengthened in his faith and gave glory to God…" (Rom 4:19-20 NIV)
Abraham's example shows us that faith is not standing in denial of the facts. 
Facing the reality of his limitation caused Abraham to grow in faith and give glory to God
Today, your Father declares you brave.
So, if you've been tempted to deny the existence of your shortfall, don't.
Instead, take a look. Count what you have.
See what you don't have.
Now, feel the strength of the Holy Spirit pour into you.
That fact—your natural reality—does not contradict what God says.
It stands alongside, and then, submits to the Heavenly Order
So, hand over your shortfall to Jesus. And listen for His command.
Perhaps there is an action the Holy Spirit is alerting you to, that you need to take today.
As you move, hear the Lord saying, "Beloved! You have great faith and great is your reward!"
---
Is this prophetic teaching about faith meaningful to you? I'd love to hear from you. Let's agree with each other in prayer for the miracle you need. Share it with us in the blog comments section below, or on Facebook or Instagram.
---
Prophetic School: Grow in Your Gifts of Prophecy and Discernment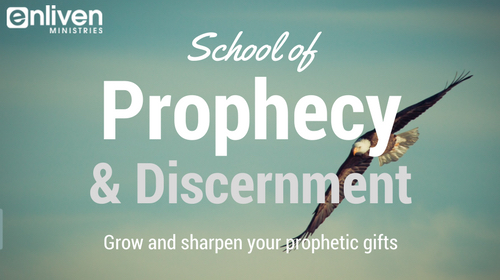 Could you benefit from teaching and practical steps to help you grow in prophecy?
I warmly invite you to join me on the Enliven Prophetic School, where I am making a discount of 40% available until 15th January 2020 (single time payment only)—was $49.95, now $29.95
The best mentoring and teaching I can give you is now rolled into this one place, on the Enliven School of Prophecy and Discernment.
Classes include: How to hear God's voice, How to Begin and Grow in Prophecy, The Seer Gift: How to Grow in Pictures and Visions, Prophetic Discernment, Discernment, and Prophetic Warnings, and the Prophetic Guidance Master Class.
You can view and sign up for my self-paced video lecture series in the Enliven Prophetic School here. Choose between a small monthly subscription or a one-off payment with no expiry date.
---
Related Posts:
You Can Count on God: 6 Principles of Kingdom Mathematics
---
© 2019 Helen Calder Enliven Blog – Prophetic Teaching
Enliven Ministries
In the David McCracken Ministries family