What is "Moving in the Opposite Spirit"?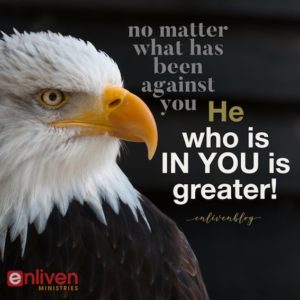 'Moving in the opposite spirit' is a term that is often used in the context of spiritual warfare.
'Do not be overcome by evil, but overcome evil with good.' (Rom 12:21, NKJV)
It means operating in the nature of the Father—through the enabling power of the Holy Spirit—when bad things are happening, or when you are coming under attack.
You are not responding to how you feel, but Who you know.
You are representing God and His Word.
And I believe God is saying,
"I am giving you grace to move in My nature—the opposite Spirit of that which has been coming against you!"
---
The "Opposite" Nature of the Holy Spirit
Have you ever noticed that when the Holy Spirit's attributes are compared with the works of darkness in Scripture, they are the opposite?
For example, "God has not given us a spirit of fear, but of power and of love and of a sound mind." (2 Tim 1:7, NKJV)
In Galatians, Paul lists 'acts of the flesh', including immorality, idolatry, hatred, jealousy, ambition, dissensions, drunkenness and rage (Gal 5:19-21).
He then contrasts these with the fruit of the Holy Spirit:
'But the fruit of the Spirit is love, joy, peace, forbearance, kindness, goodness, faithfulness, gentleness and self-control. Against such things there is no law.'
(Gal 5:22-23, NIV) [2]
---
6 Reasons Why Moving in the Opposite Spirit is Powerful
Are you in a situation where there is pressure coming against you in some way? It has tried to rob you of joy and stop your progress.
It may be an atmosphere. It may be in a situation, a locality or a relationship
There may be a person or group who have been behaving badly
Perhaps a decision-maker has been set against you
It may be a personal issue, such as a physical challenge, or battle of the mind
It may be a demonic assignment (spiritual warfare) that has been coming against you [1]
No matter what has been against you, your work, ministry, or your family, the One who is in you is greater! (1 John 4:4)
It's time for that power to be broken!
Here are 6 reasons why moving in the opposite spirit may be the most powerful thing you can do right now:
1. The Holy Spirit is Moving Through You
Moving in the opposite Spirit of that which is afflicting you can be difficult to do. For example:
It isn't easy to be kind to someone who has been harsh towards you or others
It is hard to stay full of grace in a toxic environment
It doesn't come naturally.
But here's the good news.
You can rest in the knowledge that Jesus has already overcome that opposing spirit!
He said, "The thief does not come except to steal, and to kill, and to destroy.
I have come that they may have life, and that they may have it more abundantly." (John 10:10, NKJV)
The only thing you need to do is rely on Jesus' finished work on the cross. Now, believe you are the vessel of the Holy Spirit. 'The fruit of the Holy Spirit is love, joy, peace, patience, kindness, goodness…'
And as you draw on the Spirit, God's power—tremendous power—is released through you.
---
2. You Are Expressing the Nature of the Father
Jesus said:
"But I tell you, love your enemies and pray for those who persecute you, that you may be children of your Father in heaven." (Matt 5:44-45a NIV)
When you move in the opposite Spirit, others see the likeness of God in you.
You are stepping into your royal DNA—your spiritual authority!
If someone is being deceitful, you are maintaining your integrity
You are the child of God and are reflecting your Father's likeness.
---
3. You are Disarming the Enemy
It is easy to respond to criticism with criticism or defensiveness
It is natural to respond to pressure with frustration, or to spill out of your stress onto others around you.
This is a demonic tactic of spiritual warfare—aimed at lowering you to a carnal level.
But you can take that enemy by surprise!
Perhaps, for example, there is pressure coming on your finances. The Holy Spirit may lead you to break out and be generous.
As you move in the power of the Holy Spirit, that demonic spirit that has been at work against you is disarmed and confounded.
So, break out and do the very thing that there's pressure against you doing.
---
4. God's Kingdom is Manifesting
By moving in the opposite Spirit, you are used of the Holy Spirit to create a zone where God's Kingdom is manifesting.
Jesus is King in your life, and now, you are bringing His rule into your situation.
Hear the Father say, "Let Me love through you. Let Me speak, pray and declare through you"
You are not moved by what the enemy is doing, or by what people are saying. You are moved by the Holy Spirit.
You are exercising faith in the face of everything that says otherwise
You are releasing the atmosphere of Heaven into your environment
---
5. It Clears the Atmosphere
'for the kingdom of God is…righteousness and peace and joy in the Holy Spirit' (Rom 14:17a, NKJV)
Moving in the opposite Spirit helps us shake off any wrong attitude that has been afflicting us.
It transforms the atmosphere
For example, you may have an opportunity to speak blessing in an environment where others are speaking negatively.
Today, know that you are not helpless. You are empowered by the Holy Spirit.
Remember, the One who is in you is greater! (1 John 4:4)
---
6. It Breaks Open Your Destiny
The pressure that is coming against you is aimed at your purpose and destiny. It seeks to rob you of influence.
A key question to ask in times of spiritual warfare is,'What is the prize the enemy is after? What is at stake?'
'Where there is a battle there is bounty'
As you identify this, and move in the opposite Spirit—the Holy Spirit—you are releasing abundant life.
Your destiny is about to break open!
---
Related Posts:
The Prophetic Power of Spoken Blessing
---
Notes:
[1] See  Ephesians 6:12
[2] Similarly, James compares earthly and demonic 'wisdom', against the true wisdom that comes from Heaven (James 3:14-18). See also Ephesians 4:29-32
[3] 'Moving in the opposite spirit' will mean forgiving, and releasing people from judgment (negative opinions), to set yourself free (Eph 4:30-31). But it is important to note that 'moving in the opposite spirit':
Does not mean trusting someone who has abused or broken trust
It does not mean placing yourself, or others in danger
The discernment and wisdom of those God has given to counsel us is an additional shield in those difficult situations where extra input is required.
---
Spiritual Warfare Online Course
If you would like to study further on this topic, I invite you to join my Spiritual Warfare Online Course.
This course (suitable for beginners) includes around 30 mini-lectures on video, and is full of Biblical wisdom and faith-filled strategies to help you overcome in time of battle.
I give you clear guidelines and step-by-step points on how to recognize and combat spiritual attack.
You can find out more here: 'Spiritual Warfare: How to Identify and Overcome Spiritual Attack'
---
© 2019 Helen Calder Enliven Blog – Prophetic Teaching
Enliven Ministries
Prophetic Ministry for a Revival Generation