'See, I am doing a new thing! Now it springs up; do you not perceive it?' (Isa 43:19a, NIV)
When God says, "I am doing a new thing", He is saying this:
"I have a new normal for you; life as you know it, is going to change."
---
A Problem and an Unusual Coincidence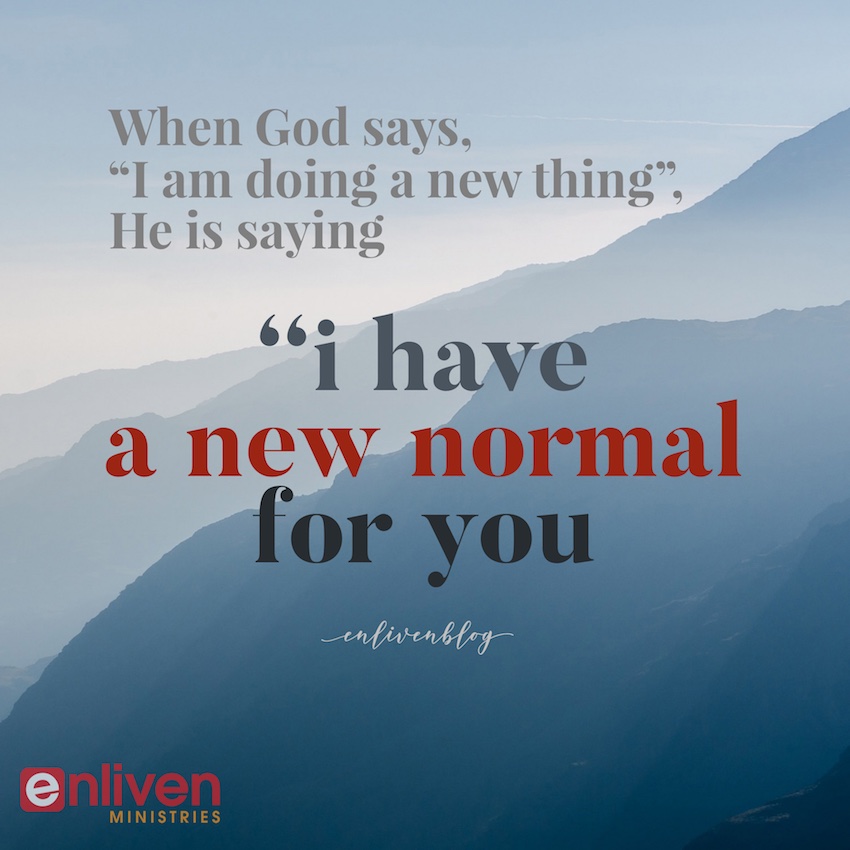 As February 1st, 2017 approached, my husband Malcolm and I were facing a crisis.
We had just launched Enliven Ministries, and I opened the new bank account with a deposit of $50.
The new ministry came with a lot of monthly website-related expenses.
Then, completely unforeseen by us, Malcolm's work contract came to an end. And his pay ceased on the same day my former salary stopped!
When an unusual 'coincidence' intersects with the timing of God, or a message from Him, the Holy Spirit is at work.
It is a God-incidence that heralds a miracle, or Divine intervention.
And even though it was a tough time, we knew that somehow, our Father was going to provide for us.
---
An Unusual Object in a Vision
A few days before the end of January 2017, we were attending our home church, Planetshakers, and during the worship I had a clear impression from the Holy Spirit.
I saw a silver shoehorn.
It was an object I'd never seen before in a vision, and it mystified me. [1] So, I was looking at the shoehorn and thinking, 'Lord, what is this all about? What are you saying?'
And I sensed Him say to me,
'What I have for you in this season is going to be such a good fit, that you are going to need the shoehorn to get into it.
And it is not going to be something you can do in your own strength. This is a gift of My grace.' [2]
---
An Hour Later, This Happened
After church, we walked into our home and sat in our front room chatting. And Malcolm started to talk about the suit and shoes he was going to wear to a job interview the following morning.
He went to get the shoes, which were a birthday gift from our son that he hadn't worn before.
As Malcolm opened the box to retrieve the brand-new shoes, I suddenly remembered the prophetic picture I had that morning, of the silver shoehorn.
So, I was telling Malcolm about the vision of the shoehorn and what the Holy Spirit was saying.
After loosening the laces, he reached into the box for the second shoe, and pulled out…a dark grey, metallic shoehorn.
We were utterly astounded and knew we were in a moment of confirmation of the Lord's word to us:
'What is about to take place is a gift of My grace'
---
More 'Coincidences' and a Breakthrough
The next morning, Malcolm was in a boardroom of a company, making a PowerPoint presentation. And I was also in a boardroom—of a different company—sharing the word of the Lord with them.
Melbourne is a huge city, but we happened to be in exactly the same suburb at the same time
On the laptop Malcolm was using, the image of a lion appeared on the overhead screen first—on the desktop wallpaper.
That morning, I walked into another boardroom, where a painting in the room depicted a magnificent lion.
Within two weeks, Malcolm had a new job and I had sufficient funds in the Enliven Ministries account to pay my first month's expenses.
---
God has a 'New Normal' for You
If you're like me, and are prophetic, you love to hear about major encounters, and Heavenly visitations.
But what if God simply wanted to take you into a lifestyle of walking with Him in a new way—encountering Him in a different way than you had before?
You discover God has a 'new normal' for you, in your journey of intimacy with Him.
Since the silver shoehorn incident, we have experienced many similar 'coincidences' that have clearly been God-incidences.
Divine appointments.
And unusual events.
By January this year, these signs were accelerating. God was doing something in our lives that we had no frame of reference for.
Not just every now and then, but we were walking in it (or into it) constantly.
And one of the unusual things about this, is that these encounters are happening to Malcolm and I both, simultaneously (even if we're on opposite sides of the world), or as 2 connecting pieces we each have.
Now I have to be honest—I have been way out of my prophetic 'comfort zone'. As Prophet David McCracken [2] said recently:
'God wants to gate-crash our momentum with an encounter.'
---
Novices in the New
One evening a few months back, Malcolm and I phoned our brother-in-law, Stuart Allan, just had to say, 'HELP! We don't know what God's doing!'
Stuart and Lynley pastor CTF Auckland, and are not only family to us, we've been journeying together in the move of the Spirit for 25 years. [3]
And Stuart, in his wise way, shared a word the Lord had spoken to him and Lynley once:
'I want you to be novices in the new, not experts in the old'.
And Stuart went on to explain, 'The Kingdom's always advancing…and our Father wants us to live in dependency upon Him, so that what we minister is of Him.'
'I want you to be novices in the new, not experts in the old'.
That word struck me like a thunderbolt, because every week, I have thousands of visitors seeking answers to questions on discernment and prophecy.
I've been journeying in the prophetic for over 40 years, and Enliven Blog is nearly ten years old.
And yet right now, when it comes to the realm of hearing from God, I'm feeling like a child starting school. [4]
---
Be a Learner in God's Kingdom
'And he said: "Truly I tell you, unless you change and become like little children, you will never enter the kingdom of heaven.' (Matt 13:18, NIV)
Novices in the new.
What does this mean for you today?
It's not about a particular gift, or type of prophetic encounter.
This is about an attitude of being a learner and a child in God's Kingdom.
Having room to grow.
It's going to cost us our comfort, because to be a 'novice in the new' means admitting we don't know much.
That we don't have it all together.
It's about having a relationship with Jesus. It's about growing in intimacy with God.
What Malcolm and I have been experiencing, has been like a 'spontaneous combustion'.
We find ourselves in a move of God we longed for, and yet at the same time, never expected. It's spilling over onto people around us.
Our conversation every day—even through tough times—is about what God is doing and saying.
Countless times, we look at each other and say, 'Did that just happen?' We're living in a sense of wonder.
---
Your Own Awakening and Encounters
If what I've shared stirs you, I want to agree with and believe with you, for your own awakening and encounters.
Leave a note in the comments section below, or on our Facebook page.
Right now, the Holy Spirit may be bringing something to mind for you, and He's saying, 'Surrender your life; your gifts, skills, ministry and work over to Me. Give Me your family and relationships.
Whatever your personal area of 'expertise' is, take off the lid. Be a novice in the new.
And remember, you have your own personal relationship with God, and your encounters with Him will be unique to you.
---
Notes:
As you can imagine, there is a lot more to the 'shoehorn' story, and I've shared some of it on the School of Intimacy and Prayer here.
[1] I mostly receive visions via an image (still, moving, or a series of images) that comes to mind. Usually when I see an object that is silver, God is speaking to me about His grace, as silver represents redemption in the Bible.
I believe all prophetic insights should be weighed up.
[2] Prophet David McCracken is a spiritual father to us, and apostolic oversight to our ministry. He is at www.davidmccracken.org
[3] Lynley Allan is Malcolm's sister. Stuart and Lynley are a part of John Arnott's movement. You can see them at www.ctfauckland.com/team
[4] Jesus has a lot to say about having the attitude of children in the Kingdom of God—I will be sharing on this more in the next few weeks.
---
Prophetic School News: More on 'The Seer Gift'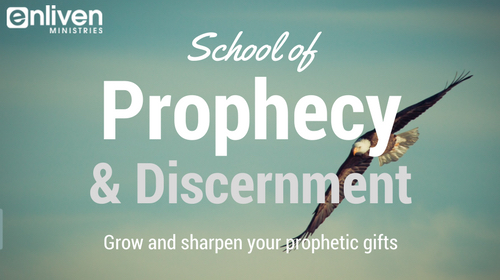 Have you ever seen repeated numbers—or had a color stand out in a dream or vision?
I've just uploaded a PDF with 10 of my personal tips, along with some stories, to help you interpret numbers and colors.
You can find it in the Master Class on 'The Seer Gift: Grow in Pictures and Visions'.
The best mentoring and teaching I can give you is now rolled into this one place, on the Enliven School of Prophecy and Discernment.
Journey with me as I continue to add new content in the future.
Classes include: 'How to hear God's voice' ,'How to Begin and Grow in Prophecy', 'The Seer Gift: How to Grow in Pictures and Visions', 'Prophetic Discernment, 'Discernment and Prophetic Warnings' and the 'Prophetic Guidance Master Class'.
You can view and sign up to my self-paced video lecture series in the Enliven Prophetic School here. Choose between a small monthly subscription, or a one-off payment with no expiry date.
---
© 2019 Helen Calder Enliven Blog – Prophetic Teaching
Enliven Ministries
In the David McCracken Ministries family