I believe God is speaking to those who are experiencing a contradiction in their life or calling right now.
There is a conflict between what you believe God has promised, and what is actually happening.
Hear your Father saying, 'I am releasing my Spirit of faith to you! I am enabling you to declare My will in the face of everything that is contrary.'
You are not limited by that contradiction
---
Some Whisper, and Others Shout
Our English word 'contradiction' is derived from two Latin words, meaning 'speak against'.
And in our journey of faith, there is a certain kind of contradiction that 'speaks against' what God has promised us. It may include:
A weakness
A financial or physical limitation
A closed door or circumstance
Some contradictions whisper, while others shout: 'That's impossible! You cannot go that way!'
---
The Backdrop of God's Glory
A contradiction 'speaks against'.
And it may sound logical; it may even make a powerful argument.
But faith declares:
'Nevertheless, God!' My Father is turning that 'no' into a 'yes'!
Faith thrives in the midst of a paradox.
That contradiction will become the backdrop for God's glory to be revealed.
---
They Tried to Dim Your Light
Your contradiction may be an opinion, spoken by others.
'But the inhabitants of Jebus said to David, "You shall not come in here!" Nevertheless David took the stronghold of Zion (that is, the City of David).' (1 Chron 11:5, NKJV)
Nevertheless.
In the Bible, a 'no' is often a setup, allowed by God, that will result in a turnaround.
One that will bring Him glory.
Others may have tried to dim your light.
People may have tried to stand in your way.
But you can declare today, 'Nevertheless, with God I can and I will!'
---
Her Misery Defined Her
Sometimes, a contradiction can strike at the heart of our very identity.
Naomi's name meant 'my delight', or 'pleasant'—but tragedy struck her family, leaving her bereaved of her husband and sons.
We know Naomi was a woman of faith, because she inspired her daughter in law Ruth to turn to God (Ruth 1:16, NIV).
And yet for a season, Naomi allowed her misery, not her identity, to define her:
"Do not call me Naomi (pleasant); call me Mara (bitter), for the Almighty has dealt very bitterly with me…" (Ruth 1:20-21, NKJV) [1]
Naomi was in pain, but that was not the end of her story.
It was the beginning of the turnaround.
Today, hear your Father say:
'No matter what has happened to you, no matter what others have done to you. No matter what you have lost, this is your identity:
You are my delight!'
That contradiction doesn't define you.
That life's experience doesn't define you.
Your spiritual heritage defines you
Your identity in Christ defines you
God says, 'Who you are as My daughter, My son, defines you.' 
---
Another Chapter is On the Way
Hear Jesus say, 'I am the Author and the Finisher of your faith' (Heb 12:1).
A contradiction can be like a conflicting storyline.
But the Master Storyteller has declared, 'This is My great plan for you!'
Those 'facts' may speak one thing
But your Father says another
And as a great Author, God is the master of plot twists and turns.
That contradiction serves as a signpost, indicating you're on the right track.
Another chapter is about to open.
---
Activation: Declare, Nevertheless!'
That contradiction is not your limitation.
But yes, it does exist for now.
So, be honest.
Be like the Psalmists, who turned pain into praise.
Speak out that contradiction, and what it declares.
Then, speak out what your Father says.
'Nevertheless! My Father says…'
Pause. Let the words of God's intention hang in the air around you.
Feel the strength of those words. Sense the Presence of the Holy Spirit with you.
He is filling you now with joy.
---
Note:
[1] Strongs H5281, H4755
---
Is it Your Time to Enroll in the Prophetic School?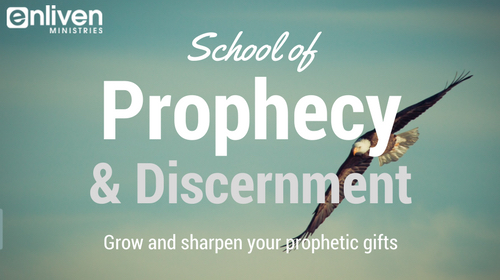 The best mentoring and teaching I can give you is now rolled into this one place, on the Enliven School of Prophecy and Discernment.
Discount until the end of April:
I'm making it easier for you to join, by reducing the once-only price to $34.95 USD.
Classes include: 'How to hear God's voice' ,'How to Begin and Grow in Prophecy', 'The Seer Gift: How to Grow in Pictures and Visions', 'Prophetic Discernment, 'Discernment and Prophetic Warnings' and the 'Prophetic Guidance Master Class'.
You can view and sign up to my self-paced video lecture series in the Enliven Prophetic School here. Choose between a small monthly subscription, or a one-off payment with no expiry date.
---
Enliven Blog is Taking a Break
I'm about to take time out for a family reunion. The next Enliven Blog post will be after Easter, on 26th April.
I pray you encounter God's love and power, as you contemplate Jesus' crucifixion and celebrate His resurrection.
We'd Love You to Partner with Us!
Up until now, I've resisted putting ads here on Enliven Blog. This is the main way people raise the money for the costs of running a busy website.
The website and email list hosting is costing us more than ever. So, if you've been fed by Enliven Blog, I invite you to help us by making a donation. You can also choose to partner monthly with us!
---
© 2019 Helen Calder Enliven Blog – Prophetic Teaching
Enliven Ministries
In the David McCracken Ministries family