At the Sound of Your Echo, the Father Commands His Angels
In certain places, like a canyon or a cave, you can hear the echo of your voice.
You call out, and the sound strikes a wall and bounces back.
Those waves of sound grow weaker, as they reflect from one surface to another.
But know this: your echo, released from earth to Heaven—even your smallest, whispered prayer—can unleash a move of God.
One that will shake the earth.
For at the sound of your voice, the Father sends out a command from His throne.
'The Lord has established his throne in heaven, and his kingdom rules over all. Praise the Lord, you his angels, you mighty ones who do his bidding, who obey his word.' (Psalm 103:19-20)
---
Today, hear the call of the Lord, saying:
'Will you echo Me?


Oh, how I long for you to rule and reign with Me!'
You echo can unleash a move of God!
---
Echoes that Release a Move of God
'The Spirit and the bride say, "Come!" And let the one who hears say, "Come!" Let the one who is thirsty come; and let the one who wishes take the free gift of the water of life.'
'Come!' says the Spirit.
'Come!' says the bride!
'Come!' says the hearer.
The echoes of sound join, and that sound reaches the ears of the thirsty and the lost.
The move of God brings life and salvation to a multitude.
It's the culmination of Scripture.
It's the closing chapter of the Book.
Now it is time to echo Heaven's sound.
Now! It is time to listen and respond.
Rise up intercessors!
Awake, sons and daughters!
---
The Power of Your Echo
Being an echo of God's voice is one of the most powerful roles you have in the earth today.
And when the voices of many sons and daughters rise in unison, that power multiplies.
The Apostle John speaks of the power of echo:
"Now this is the confidence that we have in Him, that if we ask anything according to His will, He hears us. And if we know that He hears us, whatever we ask, we know that we have the petitions that we have asked of Him." (1 John 5:14-15, NKJV)
The sound of your voice is powerful, when you are echoing Father's intention.
You are watching; you are listening for the voice of the Father
You are paying attention to the whispers of the Holy Spirit
Then you speak, sing, declare. You are echoing Heaven.
The enemy cannot stop your voice!
No doubt or lie can hold you back, for you are free in Jesus' Name.
You are releasing a sound that comes before the throne of God:
'Father! Your kingdom come, your will be done, on earth as it is in heaven.' (Matt 6:10)
---
Heaven's Passage of Sound
Sonar is a technology that uses the echoes of sound to gain valuable information. Pulses of sound are sent out under water, and reflect back when they hit an object.
And this passage of sound can tell a story—the presence of a threat, an enemy, an obstacle. It can guide the way forward, or locate a harvest of fish.
Echoes between Heaven and earth have a directional flow :
From Heaven to earth: the Holy Spirit, in unison with Scripture, reveals the Father's plans
From earth to Heaven: God's people respond, pray speak and act
From Heaven to earth: The Father sends forth His commands
Will we echo back to God, what is on His heart?
It's time to join together, to release a sound:
'The Spirit and the bride say, "Come!" And let the one who hears say, "Come!"
---
Angels are Being Activated
You. Listening. And echoing.
It's a picture of prophetic prayer.
Now, there is a chain reaction.
Angels are being activated in response to your prayer
The Spirit is moving on hearts
We will not be a generation who let the signals and sounds of Heaven pass us by.
We will listen and reply.
For souls are waiting. Nations are waiting.
This is a message of such importance, that God's Word closes with a single, final echo.
John hears the voice of the Lord saying, 'Yes! I am coming soon.'
'Amen!' Says John.
'Amen! Come Lord Jesus'.(Rev 22:20)
---
The School of Intimacy and Prayer is Open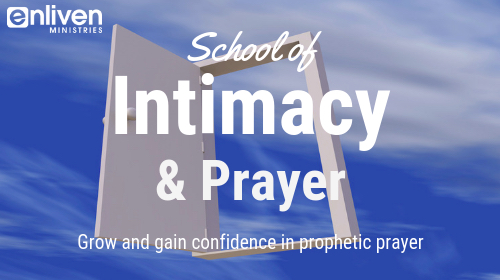 When I began to experience a significant anointing of the Holy Spirit for prayer 20 years ago, I did not know how to navigate many of the encounters with God I was having.
I saw miracles and breakthrough in answer to prayer, but I also made mistakes, and had a lot of growth pain as a prophetic intercessor.
Since then I have been a prayer leader, have been a minister on a prophetic team, and by God's grace have developed in ministry as a prophetic writer and teacher.
Now I'm passionate about helping others on the same journey I've been on.
I've recently launched the Enliven School of Intimacy and Prayer with the first series of topics, and I extend you a warm welcome to join me!
Currently on the Prayer School are self-paced video lessons on:
Intimacy with the Holy Spirit
Introducing Prophetic Prayer
Praying the Mysteries of Heaven
The Gift and Ministry of Prophetic Intercession
Angels and Encounters
Also included are bonus e-Books and downloadable PDFs and worksheets.
Over the past few weeks, I have added recent testimonies of encounters with God, along with studies on prophetic decree, and the power of weighing up encounters and prophetic insights received in prayer.
You can find out more or enroll in the School of Intimacy and Prayer here. Alternatively, you can view all online courses here.
---
© 2019 Helen Calder Enliven Blog – Prophetic Teaching
Enliven Ministries
In the David McCracken Ministries family