Hear Jesus saying, 'I want to feast with you. I want to share all that I am with you'.
Lift up your eyes and catch your breath. For the One Who desires an appointment with you is glorious.
---
Listen, Your King is Knocking
In Revelation chapter 3, Jesus says to His church:
'Behold, I stand at the door and knock. If anyone hears My voice and opens the door, I will come in to him and dine with him, and he with Me.' (Rev 3:20 NKJV)
In our mind's eye, Jesus is clothed as He may have been in His earthly ministry. And possibly—as artists over the centuries have depicted Him—with a serious expression on His face.
But John is encountering Jesus in his fiery, risen presence.
Not as the Jesus of the Gospels. But as risen King.
With eyes blazing like fire, face shining like the sun, and a voice like rushing waters.
A Heavenly King! And the sight of Jesus caused John to fall on his face at Jesus' feet, 'as one dead'. (Rev 1:17)
---
Hear Jesus' Invitation to You
When Jesus says, 'I stand at the door and knock', His call is to the church of Laodicea—a church where once, intimacy with Jesus had been the supreme focus.
But now, His people have become complacent and lukewarm
A barrier stands between the church and Jesus—one He describes as a door.
It can be a subtle shift.
Perhaps, you realize you have drifted away from the love for Jesus you had in the past. [1] Or you have been working hard for the Lord, but lost touch with a relationship with Him outside of your ministry life.
For you, this is good news:
Jesus' invitation to encounter Him, is not given to 'spiritual hotshots', but to those who have drifted and missed His best.
Who may have once thought they had it all together.
But realize they have—in fact—fallen short. It's time to repent.
---
Say 'Yes!' and Open the Door
Now, say, 'Lord Jesus, I place You front and centre in my life. I answer yes to Your invitation.'
And as simply as that, you open the door.
Your eyes are opened to see Him.
'Those who look to him are radiant; their faces are never covered with shame.' (Psalm 34:5, NIV)
Welcome to the fellowship of the forgiven, where you can look upon Jesus in all His glory, without shame, and free from fear.
Worship is your unbidden response.
---
Your Divine Appointment Awaits
King Jesus is knocking on the door of His church, and sending out the invitation to every son and daughter.
'I want to feast with you. To dine with you'.
The word to dine means to take the main meal together. [2] It's a call to intimacy, to conversation and familiar fellowship.
To encounter Jesus is to come face to face with Him. As He is. Risen and Glorious.
This is a Divine appointment, in which you are aware of Him being very up close and personal with you.
---
Step Into Your Spiritual Authority
'To him who overcomes I will grant to sit with Me on My throne, as I also overcame and sat down with My Father on His throne.' (Rev 3:20-21)
Jesus immediately follows the picture of sitting with Him at a homely dining room table, with the promise of being seated with Him on His throne!
Because Intimacy and authority go together.
The enemy will do anything to stop your intimacy with Jesus in his Kingship, because right there is the source of your authority.
Today, you can be like Esther, who realised that in the presence of the king was the one place in which her enemy would be overcome (Esther 7).
It's time to prepare for a banquet in His Presence.
---
The Door of Glory: A Move of God in the Church
The King is here and the King is on the move.
In recent decades in the church globally, we have experienced renewal and the move of the Holy Spirit. We have had the revelation of the Fatherhood of God, and are discovering what it means to be sons and daughters.
In this new era, we are falling in love with Jesus. We are encountering Him as King.
---
The King of Glory is Revealing Himself to His Church
When Jesus gives His messages to the seven churches in the book of Revelation, He is present as glorious King.
And He progressively declares His Kingship, to every church He addresses:
To Smyrna, He is 'Him who is the first and the last' (Rev 2:8)
To Pergamum, He is the One 'who has the sharp double-edged sword' (Rev 2:12)
To Thyatira, He reveals Himself as the One 'whose eyes are like blazing fire' (Rev 2:18)
And now we come to Laodicea, and Jesus declares, 'These are the words of the Amen, the Ruler of God's creation'.
The King is at the door
---
You Will Know Glory in Your Worship
'This is Jacob, the generation of those who seek Him, who seek Your face. Selah
Lift up your heads, O you gates! And be lifted up, you everlasting doors! And the King of glory shall come in.
Who is this King of glory? The Lord strong and mighty, the Lord mighty in battle.' (Psalm 24:6-8, NKJV)
This is the generation of those who seek the face of the King of glory.
You already have wonder in your worship. Now, get ready for moments of awe.
Miracles are about to break out.
For you have opened the door, and the King of Glory is about to enter in.
---
The Door of Glory: A Prophetic Word About Worship
---
Notes
[1] Here are some questions to pray about:
Am I living with a tangible awareness of Jesus as a Person—someone I am relating to?
Do I talk about Jesus as someone who is involved in my life—and am I excited about what He is doing?
Do I know Him as King? Am I acquainted with His glory?
[2] The Greek verb deipneo means 'to dine, that is take the principle (or evening) meal'. [Ref Strongs G1172]
---
News! A School of Intimacy and Prophetic Prayer is on the Way
Today, the secret is out! I've been working on a new online course on the topic of prophetic prayer, which will become available during December.
In the meantime, to help more of you access my current courses, both the spiritual warfare course and the prophetic school are available for a 20% discount (one off  payment only) until 10th December.
The Enliven School of Prophecy and Discernment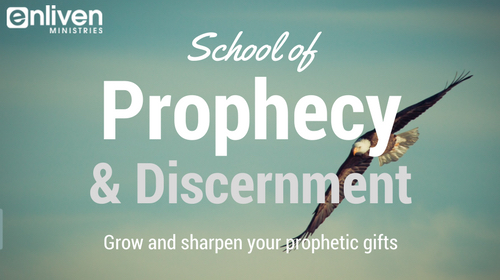 The best mentoring and teaching I can give you is now rolled into this one place.
Classes include: 'How to hear God's voice' ,'How to Begin and Grow in Prophecy', 'The Seer Gift: How to Grow in Pictures and Visions', 'Prophetic Discernment, 'Discernment and Prophetic Warnings' and the 'Prophetic Guidance Master Class'.
You can view and sign up to my self-paced video lecture series in the Enliven Prophetic School here. Choose between a small monthly subscription, or a reduced one-off payment with no expiry date.
---
Enliven Blog is Taking a Break
I'm taking a short break from blogging. The next post will be released on 30th November.
In the meantime, Happy Thanksgiving to my USA friends!
Warm greetings to all from Melbourne, Australia.
~Helen Calder
---
© 2018 Helen Calder Enliven Blog – Prophetic Teaching
Enliven Ministries
In the David McCracken Ministries family