'Your personal prophecy is not something to be set aside and forgotten about. It is a strategic message from God—to enable you to stay on track, no matter what obstacles and opposition comes your way'.
A personal prophecy is a prophetic message from God given by one person to another individual, that communicates the heart, mind and intention of the Father.
Receiving a personal prophecy can be a powerful and miraculous moment.
When you receive a personal prophecy, you are reminded that God knows you personally and has a plan for your life.
But what should you do with it?
If you have received a personal prophecy, here are some thoughts to help you make the most of your word. [1]
Note: You can apply this same process when you believe God has spoken to you in other ways about your future destiny.
For example, you may have had a call verse from the Bible, or a prophetic dream. If that is the case, take out the words 'personal prophecy' and substitute them with 'prophetic insight'.
---
7 Things You Can Do With Your Personal Prophecy
1. Write or Record your Personal Prophecy
We read in Habakkuk,
'Then the LORD replied: "Write down the revelation and make it plain on tablets so that a herald may run with it. For the revelation awaits an appointed time; it speaks of the end and will not prove false." (Hab 2:2-3, NIV)
Write out your personal prophecy and if possible, keep an audio copy. Sometimes a release of God's power (an impartation) takes place through the verbal delivery of a word that cannot be communicated in writing.
If a prophetic word was not recorded, immediately write out as much of it as you can remember. This enables you to recall it accurately, pray about it, and stay on track with what God has told you. You can also store it for a future time when it is unfolding.
---
2. Pray about your Personal Prophecy
Always take time to pray about any personal prophecy that you receive.
Seek confirmation that the word is from God, and ask Him for further insights related to the message, its timing and any action you should take.
Later, you can use the prophecy to pray and remind God of His promises towards you, to make declarations and wage spiritual warfare in relation to your prophetic word.
---
3. Weigh up your Personal Prophecy
Paul writes, 'Do not treat prophecies with contempt. Test everything. Hold on to the good.' (1 Thess 5:19-21). Some questions you can ask are:
Is it Biblical? Is it in accordance with what the Bible teaches?
Do I have an inner witness that the prophetic word is from God?
Does it line up with the nature of God? In particular, with the nature of the Father as expressed through Jesus?
Will responding to the prophecy bear good fruit—the fruit of the Spirit in my life?
If the prophetic word concerns your destiny, you can ask, 'Does this line up with the way God has created and wired me?'
One vital part of weighing up a personal prophecy is also to weigh up our own interpretation and application of a personal prophecy—what we think it means, and how we believe we should respond to it. [2]
---
4. Apply Accountability to Your Personal Prophecy
An important aspect of testing personal prophecy is to include an accountability process, in relation to your word. This is especially important if you are considering a change of course, or adjusting your focus, in response to a prophetic word you have been given.
A personal prophecy should be confirmation, not a primary means of guidance.
Share your prophetic word with your leadership and other wise counsel, and allow them to give you input (or adjustment if necessary). This is a powerful safeguard, both to help confirm the word is from God, and protect you in the area of timing.
Plus, it enables those who lead you to nurture the gift and call of God upon your life, as Paul did with Timothy.
---
5. Persevere with Your Personal Prophecy
Prophecies helped Timothy focus his life and ministry according to the call of God. And Paul kept those prophetic words in mind, in his leadership of Timothy. He wrote:
"This charge I commit to you, son Timothy, according to the prophecies previously made concerning you, that by them you may wage the good warfare" (1 Timothy 1:18, NKJV)
In the Greek text it reads something like, 'that you might war with them the good warfare'. The word 'war' means to do military duty, be on active service, be a soldier. [3]
A personal prophecy is not something to be set aside and forgotten about. It is a strategic message from God—to enable you to stay on track, no matter what obstacles and opposition comes your way.
A personal prophecy is a weapon of warfare when the going gets tough and during those times when, like Joseph and David in the Bible, it seems as though the very opposite of what was prophesied over you is taking place.
If you can relate to that today, know that God is watching over His word and promise to perform it (Jer 1:12).
---
6. Store your Personal Prophecy for Future Reference
You may recognise immediately that your prophecy is timely and relevant. But sometimes the exact meaning of a prophetic word is a mystery at the time we receive it.
This doesn't mean that it is not valuable. In fact, it may be of tremendous significance for a later date. So, take a long-term view of any prophetic word you receive, even if you believe it does relate to a current situation.
And remember that fulfilment of your prophecy will be conditional upon you staying on track in your relationship with God.
Sometimes a personal prophecy is like a puzzle piece—you are not sure how or where it fits in the picture until more pieces have been put into place. And then, when you do see the fulfilment of the prophecy, you are blown away.
You realise that God knew the whole picture of your life before you had even been born.
As the Psalmist writes, 'Your eyes saw my unformed body; all the days ordained for me were written in your book before one of them came to be.' (Ps 139:16, NIV)
---
7. Allow the Personal Prophecy to Enlarge your Vision
'For we are God's handiwork, created in Christ Jesus to do good works, which God prepared in advance for us to do.' (Eph 2:10, NIV)
A personal prophecy may speak into your identity and destiny. The Father is communicating His perspective about your life. And that may be beyond what you have perceived about yourself up to this time.
A personal prophecy may be used of God to stretch our perspective concerning ourselves.
We see a greater picture of who we are, Who He is, and what we are capable of doing with the enablement (anointing) of His Holy Spirit.
A personal prophecy is an invitation from the Father to see ourselves as He sees us. The question is, will we accept that invitation?
---
Notes:
[1] This article is a revised version of a previous article I have written on this topic in 2012.
[2] For more tips on weighing up prophecy, including the importance of weighing up the prophet (the person who has given you the personal prophecy) see 'How Do I Know A Personal Prophecy Or Dream Interpretation Is From God?'
Is Personal Prophecy Biblical?
[3] See_https://biblehub.com/interlinear/1_timothy/1-18.htm
---
Enliven Prophetic School News: New Video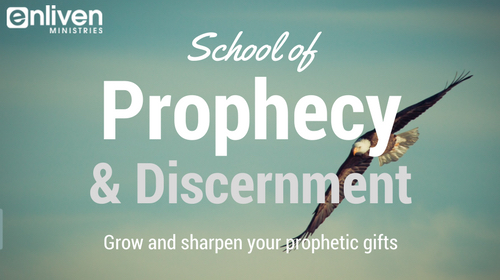 Today I have uploaded a video of my best advice on, 'How to Make the Most of Your Personal Prophecy' to the Prophetic School, along with a handy, 2-page PDF summary.
The best mentoring and teaching I can give you is now rolled into this one place. View and sign up to my self-paced video lecture series in the Enliven Prophetic School here.
Choose between a small monthly subscription, or a one-off payment with no expiry date.
---
© 2018 Helen Calder Enliven Blog – Prophetic Teaching
Enliven Ministries
In the David McCracken Ministries family