There is a prophetic sound going out to many; it is a call of the Holy Spirit.
You may hear it through a report or message that stirs your heart. It may come through something you read or see. It could come in a dream, or an encounter with God.
And in that moment, you experience a Divine collision.
The sound of the destiny God has created you for, has reached you. It has touched your heart and you will never be the same.
---
The Prophetic Sound of a Disturbing Report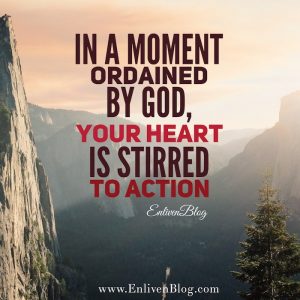 Nehemiah was serving at the king's palace in a privileged position as cupbearer. When relatives came to visit, they brought firsthand reports from the city of Jerusalem (Neh 1).
As Nehemiah heard the story of Jerusalem's broken walls, the truth about the condition of the people and place he loved struck him forcefully.
That report was a prophetic sound that touched Nehemiah's heart and he began to weep, pray and intercede.
Within a short space of time, Nehemiah was launched into a mission that would change the landscape of history.
There will be times when a report or story intersects with your prophetic calling.
God may use the voices of others, or stories that are being shared.
And like Nehemiah, God has called you to be the solution to a problem. He has called you to be the answer to someone's cry for help.
You are about to discover what your experience and history has been all about.
---
When Esther Heard a Distressing Report
Queen Esther received a report from her cousin Mordecai (Esther 4). The verbal account of the edict made by Haman—an enemy who wanted to destroy her people—touched Esther's heart. That news set in motion a series of events through which God used Esther and Mordecai to save the Jews.
Like Esther, there is something you are created for that only you can do. It is your prophetic purpose.
No cost, no risk will be too great. For the greatest prize of your life and calling lies ahead.
---
The Prophetic Sound of a Move of God
For Naomi, the report that moved her towards her destiny was an uplifting one that brought hope in the midst of her pain. (see Ruth 1)
Naomi heard stories that God had visited his people in Bethlehem by giving them bread
The rumour of God's goodness awoke her heart. Naomi's destiny and calling, and that of her daughter-in-law Ruth, was ahead in Bethlehem, Judah.
As happened with Naomi, it may be a report of a work of the Holy Spirit that draws your attention.
You hear of a move of God and in that moment, you know you are meant to be a part of it. Fire is ignited in your heart.
The trajectory of your life is set before you.
In a moment ordained by God, your heart is stirred to action. It is a move of the Holy Spirit and nothing can hold you back.
---
A Prayer Movement
There are moments in our lives, when our heart is awakened by a prophetic sound.
Our prophetic calling lies ahead. But first, it must be prepared through prayer and intercession.
Nehemiah prayed and then he was ready to be a part of the answer
Esther called for a community fast—only then, was she ready to risk her life
A great door of favor and influence was about to swing wide open.
---
The Prophetic Sound in a Dream or Vision
The Apostle Paul had a vision in the night—and heard a man from Macedonia calling to him, 'Come over and help us!'
It may not have been a physical sound, but it was, nonetheless, a cry for help. It was being released from the very heart of God on behalf of people who needed to hear the Gospel.
And that sound determined the direction of Paul's missionary team. It changed history.
There is a cry that is heard in heaven, a plea for help. It is converging with your calling and it echoes in the very chambers of heaven.
All of heavens resources are being brought to bear.
---
Receive Your Heavenly Awakening
We are at an appointed time when God is awakening prophetic callings, dreams and destinies.
It is also time to recall to mind past encounters with God—and in particular, those moments you have been impacted by a prophetic sound.
You may not be near a throne, as Esther and Nehemiah were. But know this for sure: In God's kingdom, there are no small people and no small places.
You are loved and called by God.
---
Notes:
[1] Your identity is the answer to the question, 'Who has God called me created me to be?' Your destiny is the answer to the question, 'What has God called me to do?' Read more on this post: Your Identity and Destiny: 3 Keys from the Life of Gideon
---
© 2018 Helen Calder Enliven Blog – Prophetic Teaching
Enliven Ministries
A part of the David McCracken Ministries family
---