When I wrote my first book, 'Prophetic People on a Changing Church', my editor sent a note back with my manuscript, commending me for not using the term, 'the prophetic'—apparently it was a practice that irritated her!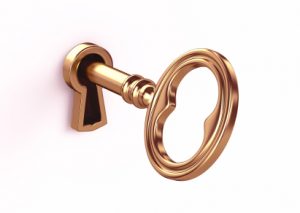 This is because the word prophetic is technically an adjective, i.e., a word used to describe something. And this is also true of the New Testament Greek. [1, 2]
Regardless of the proper use of grammar, 'the prophetic', as a collective noun, has moved into common usage today
---
What is 'The Prophetic'?
So, what are we referring to when we use the term, 'the prophetic'? Essentially, it is a catchall phrase meaning 'everything pertaining to Christian prophecy and prophetic ministry'.
Even with my writer's craving for precision, I have grown accustomed to using this expression. When we entitled one of our seminars, 'Growing in the Prophetic', we were giving a broad invitation to all those who were interested—whether they had a gift of prophecy, a calling to prophetic ministry or office, or were simply wanting to learn more about hearing God's voice and responding to Him. [3]
---
One Master Key to Growing in the Prophetic
As a phrase, 'the prophetic' can be handy (especially for we Australians, who have a penchant for shortening words and phrases). But it does have a limitation:
When we focus on 'the prophetic' as a topic or theme, we need to take care that we do not drift towards elevating a type of ministry, gift or office.
Yes, we should love and honour these things, for they are given to us by God. But may we always remember this one thing:
'The prophetic' is a Person.
Jesus said, '…when He, the Spirit of truth, has come, He will guide you into all truth; for He will not speak on His own authority, but whatever He hears He will speak; and He will tell you things to come.' (John 16:13-14, NKJV)
We have more than words! We have more than supernatural insights that astound people! We have an encounter with the living God.
'The Prophetic' is a Person—the Holy Spirit.
So, if you are keen to grow in the prophetic, paying attention to this truth will help you develop your prophetic gift.
It will also safeguard your ministry.
---
The Heart of Life-Giving Prophetic Ministry
Our great desire in the prophetic, as in all ministry, should be to communicate as Jesus did. This is how He described the power of His words:
'The Spirit gives life; the flesh counts for nothing. The words I have spoken to you—they are full of the Spirit and life.' (John 6:63 NIV)
Words and communication that are full of the 'Spirit and life' originate in relationship with God.
That which is of the Spirit is birthed in the Spirit.
And this is true of your prophetic ministry.
---
How to Accelerate Your Growth in the Prophetic
"But the manifestation of the Spirit is given to each one for the profit of all:" (I Corinthians 12:7 NKJV)
Understanding that prophecy is the gift and manifestation of the Holy Spirit has a direct impact on the way we approach growing in the prophetic.
It also provides a powerful compass to those of us who teach others.
We will not focus solely on the practice of prophecy. Instead, we will remember that at the heart of prophecy—in all its forms—is a relationship with God
We will recall that prophecy is not as we order it to be, but as He wills. "But one and the same Spirit works all these things, distributing to each one individually as He wills." (I Corinthians 12:11 NKJV)
And as we get excited about 'the prophetic', we will not neglect our need to be compatible (in harmony with) the Person of the Holy Spirit. '…those who live in accordance with the Spirit have their minds set on what the Spirit desires' (Rom 8:5b, NIV)
We will be intensely aware that the prophetic anointing we hunger after is not an impersonal power or force, but the Presence and activity of a Person
As we remember these things, our focus will be on being in tune with the Spirit. We will live a consecrated life.
Our joy will be, not only in prophetic accuracy, but primarily in our intimate relationship with God.
---
'The Prophetic' is a Person
It seems that the phrase 'the prophetic' as a collective noun describing all things relating to prophecy and prophetic ministry is here to stay! But let's not forget the most important aspect of prophetic ministry:
'The prophetic' is the manifestation of a Person, the Holy Spirit
Paying attention to this is the master key to growing in prophetic ministry.
---
Notes:
You can find the tenth anniversary abridged version of my eBook 'Prophetic People in a Changing Church' on the eStore here.
[1] See the definition of 'prophetic' in online dictionaries, such as here: https://www.merriam-webster.com/dictionary/prophetic
Examples of the word 'prophetic' used as an adjective in English include: prophetic ministry, prophetic writing, prophetic songs, and so on.
[2] The noun prophetes (G4396, Acts 21:10) is used of a prophet and another noun, used for prophecy is propheteia (G4394). And of course the verb propheteue (G 4395, 1 Cor 14:24) is used in the context of the act of prophesying. The word prophetikos—prophetic—is an adjective. (G 4397, 2 Pet 1:19)
[3] The earlier seminar was with Prophet David McCracken. I am grateful for his input, and today am reflecting especially on his message and emphasis on the value of what he calls 'compatibility with the Holy Spirit.'
I now use the titles 'Enliven Prophetic School' or 'School of Prophecy' to describe my online prophetic training. My former editor would approve of my proper use of the English noun and adjective!
---
© 2018 Helen Calder Enliven Blog – Prophetic Teaching
Enliven Ministries
In the David McCracken Ministries family
---