New wine. It's a prophetic theme of the Holy Spirit—and one I know God is speaking to a number of us about right now. Many are hearing Him say:
'A new era is here! This is the season of new wine. You are about to encounter Me as you never have before.'
The theme of 'new wine' appears throughout the Old Testament, especially with reference to the Promised Land
Jesus used the metaphor of new wine in His teaching (Luke 5:39) and John tells us that Jesus' first miracle was to turn large vessels of water into wine, at the wedding feast in Cana (John 2:1-10)
---
What is the Prophetic Meaning of New Wine?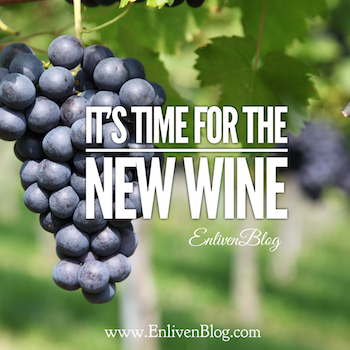 'Jesus said to the servants, "Fill the jars with water"; so they filled them to the brim.
Then he told them, "Now draw some out and take it to the master of the banquet."
They did so, and the master of the banquet tasted the water that had been turned into wine.' (John 2:7-9a, NIV)
As I've been meditating on what the Holy Spirit is saying, and the significant theme of new wine throughout Scripture, here are nine key insights that stand out:
1. The Bible Associates New Wine with the Holy Spirit
Wine is symbolic of the Holy Spirit and Jesus spoke of it in association with the move of God (Matt 9:17) [1].
In the New Testament, observers and writers compare and contrast the infilling of the Spirit to drinking wine.
'And be not drunk with wine, wherein is excess; but be filled with the Spirit' (Eph 5:18 KJVS, see also Acts 2:13)
What God has for us is distinctive for right now; it is a particular anointing for this new era. A new wine from Heaven! But let's be aware—that which is 'new' tastes different. Now He says,
'You have learned to receive of Me in one way, and now I am coming in another. One that you are not used to, and there may be a time of adjusting. I have a different impartation for you!'
"And no one after drinking old wine wants the new, for they say, 'The old is better.'' (Luke 5:39 NIV)
---
2. New Wine Speaks of Renewed Love and Intimacy with God
'Take me away with you—let us hurry! Let the king bring me into his chambers. We rejoice and delight in you; we will praise your love more than wine. How right they are to adore you!' (Song of Songs 1:4 NIV)
There are frequent references to 'love like wine' in the Song of Songs.
In the new wine season, the Spirit is wooing you. Hear God say, 'I am calling you to intimacy with Me. And in that place, I will be your greatest delight'.
---
3. The Trial is Giving Way to Joy
New wine is from grapes that have been through a recent process of crushing. In Hebrew, the words translated 'new wine' mean freshly pressed, squeezed, expelled, and trodden out [2]. The grapes have come through the winepress, where they have been crushed and people have trodden them underfoot.
Wine has been produced under pressure! So, if you have felt as though you have been going through a process of crushing, lift up your hands.
Now is the time of outpouring.
---
4. New Wine Means it's Time for the Harvest
The Bible associates new wine with the harvest.
'Then I will send rain on your land in its season, both autumn and spring rains, so that you may gather in your grain, new wine and olive oil.' (Deuteronomy 11:14. NIV)
A harvest from God is abundant. And He has promised a day of overflow; one in which the harvest and new wine will be plentiful.
"The days are coming," declares the Lord, "when the reaper will be overtaken by the plowman and the planter by the one treading grapes. New wine will drip from the mountains and flow from all the hills…" Amos 9:13 NIV
'Give, and it will be given to you: good measure, pressed down, shaken together, and running over…' (Luke 6:38)
---
5. New Wine Brings Celebration
The seasonal crushing and treading upon the grapes was a time of great joy and celebration for the community (Jeremiah 48:33) and Scripture associates wine with gladness and celebration. (Psalm 104:15, John 2)
New wine is also associated with blessing and bounty (Deut 7:12-13, Jer 31:12)
---
6. New Wine Requires New Wineskins
"Neither do people pour new wine into old wineskins. If they do, the skins will burst; the wine will run out and the wineskins will be ruined. No, they pour new wine into new wineskins…" (Matthew 9:17 NIV)
John the Baptist's disciples questioned the difference between John's and Jesus' approach to fasting. It wasn't that Jesus didn't believe in fasting (He taught on fasting) but people often saw Him at parties and gatherings, in contrast to John's austere lifestyle.
And that's when Jesus' taught on the difference between old and new wineskins. He was saying:
'For this period of time, this is what God is doing. But don't settle even for this—for the time is coming on My Father's calendar when it will change again!' (Matt 9:15)
Where there is new wine, there must be a new wineskin; a 'flexible container' for the new anointing God has for us. It's time to ask:
What ways, means, and methods are now being surpassed?
Are there new strategies God has for us to embrace?
What is the Holy Spirit indicating, as we pray about this?
---
7. New Wine Means God's Promise is Being Fulfilled
When God promised His people the land of Canaan, He spoke consistently of the new wine. It was 'part of the package'—something tangible they could look forward to in the Promised Land.
'So Israel will live in safety; Jacob will dwell secure in a land of grain and new wine, where the heavens drop dew.' (Deut 33:28 NIV)
Isaac gave Jacob the blessing, 'May God give you heaven's dew and earth's richness—an abundance of grain and new wine.' (Genesis 27:28 NIV) Hear your Father saying,
'This is My promise to you, being fulfilled. Here I am! That which you have looked forward to, the new wine is here. This is the day your 'cup runs over'.
---
8. The New Wine Season is One of Miracles
As at the wedding of Cana, the new wine was miraculous.
Just as the master of ceremonies at the wedding was astounded, and servants looked on in wonder, people will be amazed at what God is doing.
In the season of new wine, Jesus is glorified!
Together, we rejoice and say, 'You have kept the good wine until now!' (John 2:10, NKJV)
---
9. The Source of the New Wine
"Likewise He also took the cup after supper, saying, "This cup is the new covenant in My blood, which is shed for you."
(Luke 22:20, NKJV)
Jesus revealed the ultimate representation of the new wine, as He took the Passover cup of wine, 'the fruit of the vine' (v18), in His hand.[3]
It is only through the sacrifice of His blood–shed for our sins–that every other benefit symbolized by new wine in Scripture is made freely available to us.
Such is the grace of God.
---
Notes:
[1] See https://www.jackhayford.org/teaching/articles/symbols-of-the-holy-spirit/
[2] tiyrosh, Strongs H3423 and asiys, Strongs H6071
[3] With thanks to one of my readers (Bernard) who pointed this out to me in the comments responses. I'm grateful!
Related Posts:
Have you enjoyed this article about the prophetic meaning of New Wine?
Here are some more posts on related topics:
---
© 2018 Helen Calder
Enliven Ministries: Prophetic ministry for a revival generation