The gift of discernment is powerful because, by it, we're enlightened.
Discernment brings "aha!" moments when we have insight into what is going on behind the scenes.
This enables us (and others) to bring God's will—His rule, His Kingdom—into every situation
The Apostle Paul wrote,
"the manifestation of the Spirit is given to each one for the profit of all:
for to one is given the word of wisdom through the Spirit,
to another the word of knowledge through the same Spirit…to another prophecy, to another discerning of spirits" (1 Cor 12:7-10, NKJV)
---
6 Keys to Unlocking Your Gift of Discernment
Discernment is a gift that honors God.
Yet many who experience the spiritual gift of discernment have difficulty knowing what to do with what they are sensing.
I understand this because it is a challenge I've faced throughout my life! Here are my top 6 keys to help you unlock the gift of discernment, from a Biblical perspective:
1. Be Assured the Gift of Discernment is a Good Gift
The word used in the Bible for gift, charisma, means "a gift of Divine grace" [Strong's G5486], and Paul tells us discerning of spirits is given for a purpose—to benefit the church: "for the profit of all" or "for the common good" (1 Cor 12:7).
We sometimes need to be reminded of this, because discernment can bring challenges. Know that your Father's gifts are good in nature, just as He is. (James 1:17) Remember Jesus said:
"If a son asks for bread from any father among you, will he give him a stone? Or if he asks for a fish, will he give him a serpent instead of a fish? Or if he asks for an egg, will he offer him a scorpion?
If you then, being evil, know how to give good gifts to your children, how much more will your heavenly Father give the Holy Spirit to those who ask Him!" (Luke 11:11-13, NIV)
The spiritual gift of discernment has the ability to help the church, set people free, protect the integrity of what God is doing, and help us overcome in spiritual warfare.
This kind of discernment is a good gift! It is of the Holy Spirit. And you can ask God for it, knowing what your Father has to give you is good.
---
2. Make Discernment of What the Holy Spirit is Doing Your Main Focus
There's a misconception that discernment has to do primarily with seeing what's happening in the demonic realm. But the highest and best use of the gift is to see what God is doing.
In 1 Corinthians 12:10, the Greek word translated as discerning is "diakrisis" [Strong's G1253] from "diakrino" [G1252] which means to separate thoroughly.
A person operating in a gift of discernment of spirits may have the ability to perceive:
What the Spirit of God is doing, or in other words, where His anointing is
The angelic realm
Demonic presence and activity—and at times, to describe this by name and nature
Discernment can also perceive what is sourced in human desire or thought (and this is not necessarily negative unless it is presented as being of the Holy Spirit but isn't)
That's a very broad range of discernment!
If we're only ever seeing and talking about demonic activity, there's an imbalance. Because the highest use of discernment, and our greatest honor as discerners, is always to see what God is doing.
---
3. Make Prayer your First Response to Discernment
When we have an insight into what is taking place in the spiritual realm, our first response should always be prayer. This is as simple as being in touch with the Holy Spirit at that moment, for He is the source of this gift.
Something things we can pray about include:
a. Checking our insight is based on something we've received from the Holy Spirit and not from our personal feelings or suspicions
b. If we discern something related to spiritual warfare, we can begin to pray for God's intervention, in Jesus' Name
c. Asking for more insight about the bigger picture of what we are perceiving
This thought of seeing the bigger picture leads us to the next key:
---
4. Seek God for His Redemptive Plan
Even when there's spiritual warfare happening, we are under pressure, or threats are being directed at us, our Father's up to something good.
God has a plan to overturn demonic strategies and extend His Kingdom.
So when you perceive the enemy is at work, you can go back to God and ask Him – "Father, what are YOU up to?"
Something that's helpful if you are discerning spiritual warfare is to activate the Holy Spirit's gift of prophecy as well (even if this is at a basic level of encouragement) and team the two gifts up. As Paul said:
"Follow the way of love and eagerly desire gifts of the Spirit, especially prophecy." (1 Cor 14:1, NIV)
You can also surround yourself with others who have complementary gifts.
---
5. Stay in Your Community
Discernment can have unusual manifestations and be difficult to understand. It can be a temptation for discerners to withdraw and become isolated. But the Bible places this gift in the context of the church body.
We need others who have gifts such as:
Wisdom, who can bring the practical guidance
Prophecy, to encourage, comfort, and see ahead
Leadership, to bring oversight.
Others who are also discerners to confirm our insights
We were never meant to go it alone.
---
6. Don't let Fear Rob You of Your Discernment Gift
Finally, no matter what you are discerning, remember the Bible tells us this: "For God has not given us a spirit of fear, but of power and of love and of a sound mind." (2 Tim 1:7, NKJV)
---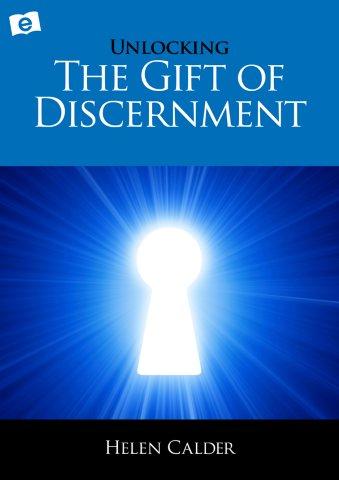 The gift of discernment of spirits is a powerful weapon in times of spiritual warfare, and can be of great assistance when ministering freedom to individuals. And yet many who have the gift of discernment have difficulty knowing what to do with what they are feeling or sensing.
"Unlocking The Gift Of Discernment" incorporates wisdom from Enliven Blog as well as additional valuable material on how to be protected as a discerner in times of spiritual warfare.
To view and purchase the eBook 'Unlocking The Gift Of Discernment' in our e-store, click here
---
Related Posts:

8 Signs You May Have the Spiritual Gift of Discernment
---
© 2018 Helen Calder
Enliven Ministries: Prophetic Ministry for a Revival Generation