What is Security?
Security is stability!
Security is the state of being free from threat. When you are secure in the context of your gifts and ministry, you are confident. You are free from fear and anxiety. You have a firm foundation—and as a result, you are unwavering in character, commitment, and purpose.
On the other hand, insecurity can not only cause a ministry to fail, it is also the reason many gifts and ministries are not released in the first place!
Insecurity is: 'uncertainty or anxiety about oneself; lack of confidence or 'the state of being open to danger or threat; lack of protection.'
---
A Calling Destroyed by Insecurity
Take King Saul, for example, as an example of someone whose calling was destroyed by insecurity.
It has often been said that the 3 common issues that can topple a ministry are "the gold, the girls/guys, and the glory"—in other words, greed, lust, and pride!
But insecurity is another problem that, because it is not sensational, rarely makes the public radar.
And yet this one is very close to the heart of God. [1,2]
We read in 1 Sam 13 that when the Prophet Samuel appeared to be delayed in coming to make a sacrifice, Saul took the matter into his own hands
Insecurity—manifesting in Saul's mistrust of God and His prophetic word (1 Sam 13:8), along with his fear of people's opinions—led to his disobedience
Saul did not trust God to do what He said He would do! Why? Because he didn't know God. He did not have a personal relationship with him.
This was the source of his insecurity.
---
How Security Manifested in David's Life
Contrast this with David.
The same prophet that anointed Saul, anointed David.
Because David knew God and had a personal relationship with Him, he trusted God to fulfill His promises.
David remained secure in his calling through times of great trial.
Years spent fleeing Saul in the wilderness, culminated in one of the greatest crises of David's life.
In 1 Sam 30, we read that David and his men returned to their lodging in Ziklag to find that enemies had looted their property, burned their homes, and taken their wives and children captive.
At that moment, David had every reason to feel that God had left him and to doubt his calling. In spite of his trust in God, everything he had built had been destroyed and his loved ones lost to him. His leadership was under fire.
In the moment of greatest trial, David remained secure in his relationship with God.
David turned to God
He knew God was good
He believed God would fulfill His promises.
David did not let go of the reins of leadership. We read, 'David was greatly distressed because the men were talking of stoning him… But David found strength in the Lord his God.
…and David inquired of the Lord, "Shall I pursue this raiding party? Will I overtake them?" "Pursue them," he answered. "You will certainly overtake them and succeed in the rescue." (1 Sam 30: 6,8, NIV)
It was not long after this incident, David was crowned King of Judah, then later over all Israel. (2 Sam 2-2 Sam 5)
---
Your Ultimate Source of Security
'I write to you, dear children, because you know the Father.' (1 John 2:14a, NIV)
Where does security come from?
The Bible reveals the ultimate source of security is in knowing God as your Father.
In Romans 8, Paul writes,
'The Spirit you received does not make you slaves, so that you live in fear again; rather, the Spirit you received brought about your adoption to sonship. And by him we cry, "Abba, Father."' (Rom 8:15, NIV)
This is the good news of the Gospel. You do not need to be insecure anymore. For you are a son, a daughter, secure in relationship.
Our sonship is the source of our eternal security, of security in our identity, and of our confidence in God's unfailing goodness towards us. Security comes from the revelation of God as our Father.
Insecurity, on the other hand, comes from having an orphan mindset.
Jesus said to His disciples, 'I will not leave you as orphans; I will come to you.' (John 14:18, NIV)
Once you are a son or daughter of God, there is never any moment God is not your Father! There's never any moment He is not with you, does not love you, or His grace and favour is not extended towards you.
As John writes, 'There is no fear in love. But perfect love drives out fear, because fear has to do with punishment. The one who fears is not made perfect in love.' (1 John 4:18, NIV)
Are you called of God to minister, or to leadership?
When you are secure, your affirmation comes from your Father, and your desire is to bring Him pleasure. You will be free of the need to impress others.
You will trust God and believe His Word and His promises.
And you will fulfill your God-given prophetic calling.
---
The Power of Security ~ and how to be Healed of Insecurity
This week's blog is an excerpt from lectures in the Enliven Prophetic School . I share 6 reasons why security is important to prophetic ministry, along with keys to freedom from insecurity.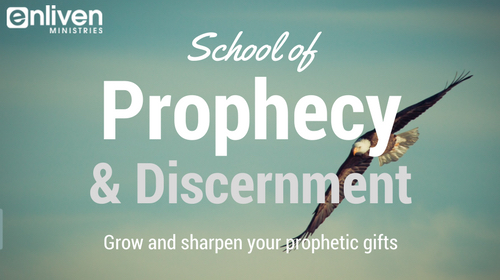 This self-paced, video lecture school is for anyone who would like to learn and grow in the gift and ministry of prophecy and includes classes for discerners as well.
Modules currently include:
Foundations of prophetic ministry
How to hear God's voice, begin and grow in prophecy
The Seer gift: how to grow in pictures and visions
Discernment and prophetic warnings: how to respond and share a prophetic warning
Prophetic Guidance Master Class
Visit the Enliven Prophetic School here.
---
Notes:
[1] In one of our recent family meetings, Prophet David McCracken underlined the seriousness of this, noting "Insecurity is a prince power the church is up against". David McCracken is a Prophet based in Melbourne, Australia.
[2] Definition of insecurity Google result, 'define insecurity' accessed 25 Oct 17
---
Related Posts on Enliven Blog
Breaking free from an Orphan Mindset
4 Symptoms of the Orphan Spirit in Church Life
---
© Helen Calder Enliven Blog – Prophetic Teaching
Enliven Ministries: In the David McCracken Ministries family