On Friday May 19th I had a prophetic dream just before waking. My husband Malcolm and I were in a parked car and perpendicular to us, on our right hand side, was a long fire truck. It was also parked and a man I know to be a prophet-teacher-intercessor was in the driver's seat. The fire truck drove away, and we said to each other, 'Why didn't we take the opportunity to talk to him while he was here?'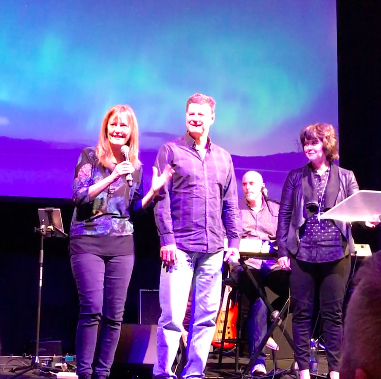 That morning, I shared the dream with Malcolm. I don't have prophetic dreams very often, which made the dream more thought-provoking. I didn't understand what the fire truck symbolized, but my husband became animated when I talked about it.
Malcolm told me that from a young age, whenever he saw a fire engine, he wanted to follow it, to see where the fire was—clamoring for his Dad to pursue it.
We Chased the Fire Truck
That evening, I was browsing Facebook and my attention was drawn to an upcoming conference Malcolm's sister and brother-in-law were hosting. We had not considered attending it because of our commitment to another recent event, but I suddenly felt drawn to it.
So Malcolm and I began to discuss it—this crazy idea that we could rework our schedule, find airline tickets and organize to attend a conference that was just 3 weeks away in New Zealand. Within minutes, while my mouth was still open, Malcolm had jumped in and booked the accommodation.
And then it hit us. While the conference was called 'Beyond', the movement (and the church Malcolm's sister and brother-in-law pastor) was called 'Catch The Fire.' [1]

---
I Didn't Know I Needed Rescuing
Three weeks later—to the day—I was standing in the worship of 'Beyond Conference' experiencing a vision. I saw Jesus carrying a giant fire hose, and I suddenly knew He was there to rescue me! Truthfully, I was puzzled—I didn't know I needed rescuing.
Moments later, father in the faith John Arnott began to preach on the need for the church to strengthen the foundations for the 'more' that is coming. And he began to speak out against permissiveness and universalism coming into the church.
As soon as he mentioned the word 'universalism' I began to cry as the power and conviction of the Spirit came upon me.
You see, the night before, alone in my hotel room, I had been crying out aloud to my Father and the word 'universalism' was on my lips.
What is Universalism?
In brief, Christian universalism (also known as 'universal reconciliation') is the doctrine that Jesus died on the cross for all humanity, and therefore everyone will ultimately be saved—regardless of whether or not they choose to believe, repent and follow Jesus. [2]

Universalism says that since God is a good Father, He would not send people that He loves and that Jesus died for, to the fires of hell.
Universalism re-interprets Scripture, drawing from the approach of the Bible being 'a collection of stories written by people who are on a journey of discovering God.' This doctrinal approach takes out the 'hard lines' of Scripture. Hell is not a reality—hell is simply a metaphor.
---
Why I was Being Drawn Towards Universalism
The message of the Gospel is good news. It is not exclusive, it is inclusive. The invitation of salvation is available to every person—but according to Scripture, it requires an RSVP.
Why would I begin to be privately drawn to the doctrine of universalism, when I have always believed in the danger of a lost eternity? Why, when my husband and I have spent years living for the cause of world evangelism? Why, when it is strenuously opposed by my Christian heritage, my ministry and church? Because:
I am a Mum of children who are thinkers—and this generation is challenging my traditional beliefs
Individuals I love and respect are being drawn to it
Our global culture today demands it—seeking to force the church into a position of permissiveness and tolerance
I perceive this position becoming accepted (or leaned towards in their interpretation of Scripture) by an increasing number of churches—including some Pentecostal churches
But most compelling of all, people whom I love dearly are without Christ—and my instinct is to protect my broken heart.
Which is why I was crying out to God alone that night, an honest cry torn from my soul: 'Father, I want to believe in universalism!'
Universalism had become a hidden comfort; a backup plan—in place to guard my heart.
---
Prophetic Intercessors Arise!
Intercessors, the Holy Spirit is putting the call out. It is time to rise up and cry out for souls! Beware of the dangers of universalism—it is a seducing spirit that is aimed at weakening the prayer movement.
It eliminates the urgency of the Gospel
It denies truth clearly laid out in Scripture
It quenches God's power and the Spirit's anointing
It contradicts the Biblical requirement to repent, turn and change one's lifestyle
But the greatest danger of the philosophy of universalism is that it takes away the need for urgent prayer.
It is time to reawaken fervent prayer and intercession.
'I looked for someone among them who would build up the wall and stand before me in the gap on behalf of the land so I would not have to destroy it, but I found no one.' (Ezekiel 22:30 NIV)
It's time to pray for the lost.
Intercessors and prayer warriors, we are the 'identifiers'. We are the ones who do not flinch from the pain of the Father's broken heart or put our hands to our ears to shut out the cries of the lost. We are the ones who stand in the gap between Heaven and hell.
It's time to pick up the mantle. But know that even as you give permission to the Holy Spirit to take you into that zone of brokenness, you will encounter an inexplicable outpouring of joy.
You will know intimacy with the heart of the Father. You will encounter the Saviour, Jesus Christ, risen and enthroned. You will see an open Heaven—and you will see His Kingdom come.
You are participating in releasing revival.
---
The Reservoir and the Fire Hose
Earlier, during worship, I found myself in a vision, looking at the walls and floor of an empty reservoir. It reminded me of a swimming pool out of seasonal use, that has been left uncovered. Dirt and leaves were collected there and water was running, slowly washing the debris away.
My view changed and I saw the top of the reservoir, where narrow channels were releasing water into the pool. I looked again at the dirt and debris and realized the extent of the need for water. There was not enough being poured in to cleanse the whole pool, at a pressure needed to do it, let alone fill it to overflowing. The words formed in my mind, 'this needs…'
And that's when I saw Jesus with the fire hose.
---
Pray for the Lost: Impact the Eternal Destiny of Those You Love (eBook)
To enable more people to access this valuable resource, I have just cut the price on the Enliven Ministries eStore to $1.95AUD.

In this short eBook you will gain knowledge and tools to help you pray targeted, faith-filled prayers of faith for unsaved loved ones. The book also includes a worksheet to help you pray strategically for the person on your heart along with a powerful sample prayer you can personalize.
View and purchase the book, Pray for the Lost: Impact the Eternal Destiny of Those You Love here.
---
Notes:
[1] Stuart and Lynley Allan (Malcolm's sister and brother-in-law) are lead pastors at Catch the Fire Auckland, New Zealand
[2] See below Scripture for meditation. (I am aware that some of you may want more information and resources from a doctrinal perspective on this subject, so keep an eye out here as I will seek out and add them).
Related Post:
See my recent prophetic insight: The Key to Revival and Miracles: It's a Bible Revival
---
Scripture Verses for Further Meditation
For the message of the cross is foolishness to those who are perishing, but to us who are being saved it is the power of God. (1 Corinthians 1:18 NIV)
The Lord is not slow in keeping his promise, as some understand slowness. Instead he is patient with you, not wanting anyone to perish, but everyone to come to repentance. (2 Peter 3:9 NIV)
In the same way, I tell you, there is rejoicing in the presence of the angels of God over one sinner who repents." (Luke 15:10 NIV)
In the past God overlooked such ignorance, but now he commands all people everywhere to repent. For he has set a day when he will judge the world with justice by the man he has appointed. He has given proof of this to everyone by raising him from the dead." (Acts 17:30-31 NIV)
Or do you show contempt for the riches of his kindness, forbearance and patience, not realizing that God's kindness is intended to lead you to repentance? (Romans 2:4 NIV)
For, as I have often told you before and now tell you again even with tears, many live as enemies of the cross of Christ. Their destiny is destruction, their god is their stomach, and their glory is in their shame. Their mind is set on earthly things. But our citizenship is in heaven. And we eagerly await a Savior from there, the Lord Jesus Christ (Philippians 3:18-20 NIV)
He will punish those who do not know God and do not obey the gospel of our Lord Jesus. They will be punished with everlasting destruction and shut out from the presence of the Lord and from the glory of his might (2 Thessalonians 1:8-9 NIV)
I urge, then, first of all, that petitions, prayers, intercession and thanksgiving be made for all people— for kings and all those in authority, that we may live peaceful and quiet lives in all godliness and holiness. This is good, and pleases God our Savior, who wants all people to be saved and to come to a knowledge of the truth. For there is one God and one mediator between God and mankind, the man Christ Jesus, who gave himself as a ransom for all people. This has now been witnessed to at the proper time. (1 Timothy 2:1-6 NIV)
See parable of the wedding banquet: Matthew 22:1-14
---
© Helen Calder Enliven Blog – Prophetic Teaching
Enliven Ministries
A part of the David McCracken Ministries family