One day I was praying and asked God, 'teach me about faith.' Instantly a picture came to my mind's eye.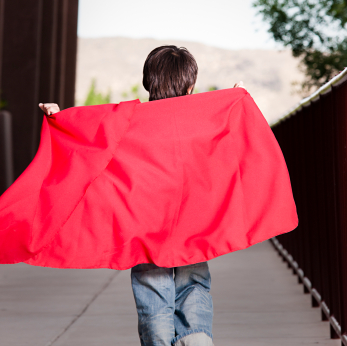 I saw a little boy standing in front of a shop window—it was a bakery, or candy store, and the window was filled with row upon row of good things to eat.
As I looked at this child, I knew that he had one small coin in his back pocket. I could feel the strength of his desire for the delicious food in the shop window, and the limitation that one small coin represented.
Immediately the Holy Spirit spoke to me and said, 'Same boy, same amount of money in his pocket, but his father owns the store.' Suddenly my perspective changed. It was no longer about how much money the boy had, or how much pocket money he earned.
He could go behind the counter, get up on his Daddy's knees, and ask for whatever he wanted. He had access to everything in that store through relationship.
Jesus taught us to pray by beginning with the words, 'Our Father' (Matt 6:9).
Your relationship with God as your Father is the starting point for prayer that releases Heaven on earth and enables God's will to be accomplished.
---
Knowing your Father's Attitude is a Key to Faith
'Which of you, if your son asks for bread, will give him a stone? Or if he asks for a fish, will give him a snake? If you, then, though you are evil, know how to give good gifts to your children, how much more will your Father in heaven give good gifts to those who ask him!' (Matt 7:9-11)
The key to praying with faith is not only knowing that God is your Father. It is also having the understanding of your Father's attitude towards you.
God's attitude is His stance, manner and expression
It is how He feels about, responds and acts towards you
When you catch a hold of your Father's attitude towards you—when you realize that He is smiling at you and looking at you with love and approval—then you can have security and boldness as you approach His throne.
It's not about your worthiness. It's not about being good enough or what you have earned. It's not about what you have done.
It's all about what Jesus has done.
This is the life Jesus paid the price for: Heaven is open and you can enter boldly!
As the writer to the Hebrews puts it, you 'have confidence to enter the Most Holy Place by the blood of Jesus' (Heb 10:19).
---
The Holy Spirit is Bringing Healing to You
Paul wrote, 'For those who are led by the Spirit of God are the children of God. The Spirit you received does not make you slaves, so that you live in fear again; rather, the Spirit you received brought about your adoption to sonship. And by him we cry, "Abba, Father." (Rom 8:14-15)
There are times when we recognize that our experience of God is less than what it could be. Our hearts need to come into alignment with God's Word.
Today, if you need a greater revelation of God's Fatherhood, receive the ministry and touch of the Holy Spirit. He is bringing healing to your heart.
You don't have to be like the little boy standing outside the shop window. When your Father is in the picture, everything changes. It changes the way you pray, it changes the way you think, speaks and act. Your Father owns the store and you are His beloved child.
This is the key to praying with faith.
---
Related Posts:
Live from the Overflow of Father God's Approval
How to Pray with Greater Faith (One Master Key)
---
New! Video Version of Enliven Blog
For the video version of this blog article and to sign up for future videos, visit my YouTube channel at https://www.youtube.com/c/HelenCalderProphetic
Or visit and like my new Enliven Ministries Facebook page to see videos, inspiration and ministry updates: https://www.facebook.com/EnlivenMinistries/
---
How has the revelation of God as your Father impacted your life and prayer ? I would love to hear about it in the blog comments section, or on Facebook or Instagram. If the blog comments box is not visible, click on this link and scroll down.
---
© Helen Calder Enliven Blog – Prophetic Teaching
Enliven Ministries
A part of the David McCracken Ministries family