There are three basic levels of discernment, and understanding these will help you grow in your spiritual gift of discernment and empower you to lead a supernatural life.
You can soar in your gift of discernment!
Following are the three levels of discernment, along with some signs to help you identify each one:
---
3 Levels of Discernment
1. Natural Perception: the Ability to Judge Well
The dictionary defines discernment as 'the ability to judge well'. So at the most basic level of discernment:
We can see the external of what is happening
We also have wisdom and perception about what's taking place behind the scenes
The writer to the Hebrews says it is a mark of Christian maturity, to grow in discernment.
'But solid food is for the mature, who by constant use have trained themselves to distinguish good from evil.' (Heb 5:14, NIV)
---
2. Having a Discernment Ability
The second level of discernment is a heightened ability to discern. I frequently hear from people who are experiencing this second level of discernment, and who are having a difficult time knowing what to do about what they are sensing.
Signs of this level of discernment include:
Being tuned into people's motives
Perceiving the spiritual realm
Being sensitive to atmospheres (both spiritual and natural)
The ability to discern the demonic realm and spiritual realities
The Bible tells us there is a spiritual gift of discernment of spirits, which is a gift of the Holy Spirit (1 Cor 12:10).
In 1 Corinthians 14:1, Paul says, 'Follow the way of love and eagerly desire gifts of the Spirit…' This brings us to the third level of discernment.
---
3. Seeing from God's Viewpoint: As the Father Sees
Anyone can see what is happening in the natural realm. Some people may have the ability to see in the spiritual realm (and this is not always sourced in the Holy Spirit).
If you are a Christian, and your desire is to develop a spiritual gift of discernment, a third level of discernment is vital to you.
And that is, to see as your Father is seeing.
This third level of discernment is only available to those who are walking in relationship with God.
When your ability to discern is submitted to the Holy Spirit and based in the Father's love, it will truly be a gift.
The fruit of your discernment will not be fear, suspicion, confusion or accusation.
Some signs of this level of discernment operating include:
Your discernment is life-giving
It brings freedom and transformation
It builds the church (1 Cor 12)
And, it draws people to Jesus
---
Jesus saw with the Father's Eyes
We can be like Jesus, who looked beyond what could be seen with physical eyes, to what the Father was doing. He then spoke and acted accordingly.
'Jesus gave them this answer: "Very truly I tell you, the Son can do nothing by himself; he can do only what he sees his Father doing, because whatever the Father does the Son also does."' (John 5:19)
In Luke 8, Jesus took the disciples on a visit to a place called the Gerasenes, where a demoniac man was living among the tombs.
On the level of natural perception, people could see that the demoniac was crazy, out of his mind and dangerous (level 1)
Someone with discernment could see that his life was being controlled by demons (level 2)
However, Jesus went not only with discernment. He went with the eyes, heart and mind of the Father. He saw a man afflicted with demons—but He also saw beyond that, to a worshiper, a disciple and an evangelist.
And what He saw, Father's intention, is what took place. He set that man free and sent him on his way with the good news about what God had done.
This is the third level of discernment
---
The Power of Seeing What Father Sees
When our eyes are focused on what our Father is doing, our gift of discernment can grow to a powerful level. We can then act and speak accordingly—as Jesus did.
Jesus was able to look at a tax collector sitting in his booth—a man seen by others as a cheat, a 'shark' and a tool of Rome—and see a disciple. He called Matthew into his destiny. (Matt 9:9)
Jesus was able to go into a workplace where there was weariness and frustration and see that His Father was bringing a miracle supply. He spoke a word of command and as the fishermen responded to that word, a school of fish was thrust into the nets. (Luke 5:1-11)
Jesus walked into a home where there was sickness and saw His Father bringing healing. He spoke the word and Peter's mother in law rose up from her sick bed. (Matt 8:14-15)
---
Prayer
'Father, I want to know you more. Help me to be like Jesus; to see as You see, in every situation. Today, share Your desires, Your intentions with me.
Holy Spirit, empower me to discern, and to speak words of life that bring healing, freedom and transformation. Help me to become so tuned to what is on Your heart, that when people encounter me, they encounter Jesus.'
---
Resources to Help You Grow to the Next Level in Your Discernment Gift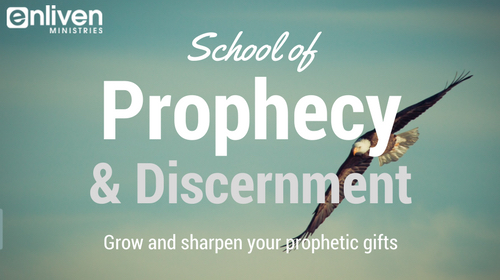 When you have a prophetic mindset, you can walk in the awareness of your Father's intentions. So, teaming up your gift of discernment with the gift of prophecy is a powerful means of growing in your gift! The Enliven Prophetic School includes the following classes:
How to get closer to God and hear His voice
The basics of the discernment gift
Keys to growth in the seer gift, prophetic pictures and visions
Find out how to receive and process prophetic warnings from the Holy Spirit
Prophecy, foundations, prophetic guidance and more
You can find these sessions in the Enliven Prophetic School here.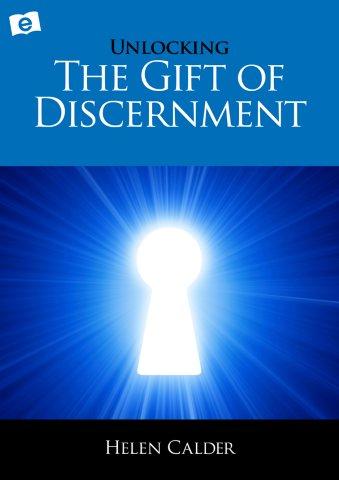 The gift of discernment of spirits is a powerful weapon in times of spiritual warfare, and can be of great assistance when ministering freedom to individuals. And yet many who have the gift of discernment have difficulty knowing what to do with what they are feeling or sensing.
'Unlocking The Gift Of Discernment' incorporates wisdom from Enliven Blog as well as additional valuable material on how to be protected as a discerner in times of spiritual warfare.

To view 'Unlocking The Gift Of Discernment' in our e-store, click here
Note: All transactions are secure and we do not pass your information on to third parties. Our store will convert to your currency.
---
Related Posts:

8 Signs You May Have the Spiritual Gift of Discernment
---
© 2016-2018 Helen Calder – Enliven Ministries
In the David McCracken Ministries family