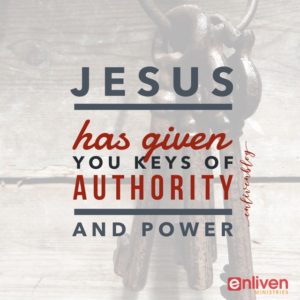 Keys of the Kingdom: Over the past week, the Holy Spirit has been speaking to me about spiritual keys that unlock God's purposes in the natural realm.
Are you facing a situation right now, where there is an obstacle, problem, or issue that stands in the way of God's purpose for your life and that of others?
The Bible has great news!
You are not powerless.
Nor are you helpless.
You have Heavenly keys of authority to enforce your Father's purposes.
Kingdom Keys Represent Your Authority
Take a moment to think about your physical set of keys, if you have one. What is on it? My own keyring includes a house key, car key, and office keys.
The keys in your possession represent a right and privilege that you have. They enable you to enter through a doorway, into a secure area that others cannot go through.
Your keys represent your ownership, your authority, and your right of access.
---
Kingdom Keys of Authority and Power
 "These are the words of him who is holy and true, who holds the key of David. What he opens no one can shut, and what he shuts no one can open." (Rev 3:7)
In the Bible—especially in the New Testament—keys are symbolic of authority and power. [1] Keys are a metaphor for spiritual authority.
And the Kingdom of God is the realm of God's rule.
So, when we are using keys in Jesus' Name, according to God's purpose, we have the weight of Kingdom authority behind us!
---
The Source of Your Authority
When Jesus rose from the dead, He declared, "All authority has been given to Me in heaven and on earth." (Matt 28:18) [2]
Jesus has all authority; He is the ultimate key-holder. (Rev 1:17-18) And, He gives us His keys of authority and says, "Use these keys in My Name." (Matt 16:19)

These keys are your right—in any given moment—to release God's power so that God's will is accomplished.
Just as a key is useless when we neglect to use it, or forget what it is for, you can have Kingdom authority available to you, but never use it.
---
8 Ways to Use the Keys of the Kingdom
1. Keys of the Kingdom are primarily held and used through your mouth
We use physical keys to access our property by taking those keys in our hands and inserting them into a lock. However, spiritual keys are primarily used in our mouths.
Keys turn and doors are unlocked as we make declarations and prophetic decrees.
Our words and prayers in agreement with God's Word, release power.
---
2. Use Keys to Enter Doors of Opportunity
'I know your deeds. See, I have placed before you an open door that no one can shut.' (Rev 3:8)
In the New Testament, Paul uses the imagery of open and closed doors to speak of opportunities to minister the Gospel. (Col 4:3, 2 Cor 2:12-13)
An 'open door' is a metaphor for an opportunity and access—whereas a 'closed door' means that access to something is currently being denied or blocked.
When God has given you a promise or a directive, you can be sure that He has also given you keys of authority to enter that domain.
---
3. Use the Keys (Authority) to Permit or Forbid
"I will give you the keys (authority) of the kingdom of heaven; and whatever you bind [forbid, declare to be improper and unlawful] on earth will have [already] been bound in heaven, and whatever you loose [permit, declare lawful] on earth will have [already] been loosed in heaven." (Matt 16:19, AMP)
In order to use the keys of the Kingdom of God, we must comprehend that our Father has called us to partner with Him to enforce His will on earth.
The Kingdom is the rule of God. It is His Divine government. [3]

Simply, God has delegated His authority to you, to allow or disallow what He is allowing and disallowing.
Is there something you allowing right now, and the Holy Spirit is putting His finger on it and saying, 'That is not My will and you do not have to give that thing permission to operate'?
Remember, you do not have to use the terms 'binding and loosing' in order to exercise your authority—the words or phrases themselves are not a formula that holds power.
---
4. Use the Keys to Set Captives Free
'He has sent me to proclaim freedom for the prisoners and recovery of sight for the blind, to set the oppressed free…' (Luke 4:18b)
No power, and no door that holds someone captive, whether physical or spiritual, can stand against the keys of Heaven.
In the context of spiritual warfare, 'binding' refers to the authority we have to command a demonic influence to stop or cease activity, or to leave, in Jesus' Name.
'Loosing' has to do with what we are permitting and releasing, in Jesus' Name. (Matt 16:19, Matt 12:29)
We can also loose a person from demonic bondage or sickness. (Luke 13:16)
---
5. Use Your Kingdom Keys in Prayer
God opens doors in answer to prayer. The Apostle Paul asked the church to pray:
'And pray for us, too, that God may open a door for our message, so that we may proclaim the mystery of Christ, for which I am in chains.' (Col 4:3)
In Acts 12, Peter was imprisoned and the church was praying. Peter walked out of prison as an angel released him from chains and opened the doors of the dungeon.
Doors of impossibility will open as you pray.
Angels will be sent on assignment with keys to unlock situations and release Heavenly resources in answer to your prayer.
---
6. Use Your Kingdom Keys as you Praise
As Paul and Silas sang hymns the prison chains came loose and the doors flew open. That which was secured and locked, was suddenly unlocked! (Acts 16) God answered Paul and Silas with an earthquake that opened prison doors.
When God says, 'I will deliver you!' no door or wall can stand before Him. Keys of praise used in the spiritual realm open doors in the natural realm.
---
7. Use the Name of Jesus—the Master Key
The Name of Jesus is the master key that unlocks doors and enables you to enter the realm of the miraculous. In that moment of exercising Kingdom authority, you are Jesus' representative.
Captives are set free in Jesus' Name. (Acts 16:18)
Sick are healed in Jesus' Name. (Acts 3:6, 4:30)
When we pray or minister in the Name of Jesus, we are not exercising authority in our own name, but in the Name that is above every name.
---
8. Use Your Kingdom Keys in Acts of Obedience
Speaking in agreement with God is powerful. However, obedience also opens doors.
God spoke to Philip through an angel, telling him "Arise and go toward the south along the road which goes down from Jerusalem to Gaza." (Acts 8:26) That obedience positioned him to be at the right place at the right time to share the Gospel with an influential man from Ethiopia.
Philip did not know why God gave the instruction—he simply obeyed. And that obedience was a key that opened a door of influence.
Your obedient action, taken in response to hearing God's voice will give you access into the future God has for you.
Doors will open and obstacles will be removed as you step out at God's command.
---
Further reading:
---
Notes:
[1] Thayer's definition of the Greek word for key, kleis (Strong's G2807) states: 1. a key  / a. since the keeper of the keys has the power to open and to shut / b. metaph. In the NT to denote power and authority of various kinds:
[2] The Greek word translated authority is exousia. G1849 Strongs.
[3] The Greek word translated Kingdom is basileia, Strongs ref G932, referring to the kingship and rule of God.
---
© 2016 – 2019 Helen Calder
Enliven Ministries: Prophetic ministry for a revival generation