Are you seeking a breakthrough in your life, family or ministry?
I believe there are many people who have questions about the timing of God—there are events that you have been waiting on, for a long time.
The Lord wants you to know that more is happening than you can see.
In the waiting, there is a weight of glory upon you, that is ever increasing.
Your Father is overseeing a work of transformation in your life!
And He wants you to know that His timing is perfect.
---
3 Ways to Unlock Your Breakthrough
The following 3 points are not only timeless Biblical principles, they are also prophetic insights to help you partner with God for the breakthrough you've been waiting and praying for.
1. Understand that Breakthrough is a 'Reaction'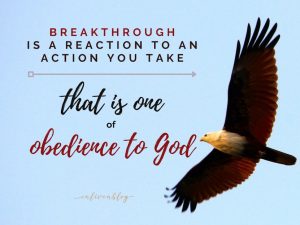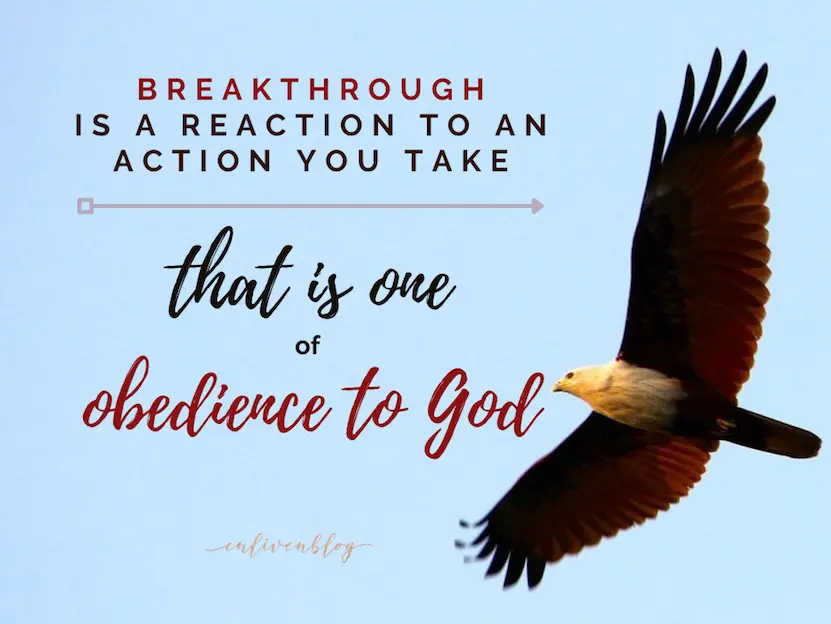 In 2 Samuel 5, we read that when David was crowned King of Israel, the Philistine army came out against him.
David won the battle after God spoke to him saying, "Go, for I will surely deliver the Philistines into your hands." (2 Sam 5:19)
He named that place "Baal Perazim", meaning "Lord of the Breakthrough". [1]
The key to David's breakthrough was listening to God and responding obediently to Him.
In spite of this powerful victory, David did not take it for granted that God would move the same way when the enemy army came against him for a second time. God's instructions to him were entirely different (2 Sam 5:23-24).
This is an important principle, and one we see again and again in Scripture:
Breakthrough is a REACTION to an ACTION you take, that is one of obedience to God.
When you know that breakthrough is a reaction, you can seek and be open to what God is saying to you
You are sensitive and responsive to the Holy Spirit
Step forward in the time of extremity
Sometimes God may allow an extremity—a position of great need—in your life, because He is positioning you for breakthrough.
When Moses stood with Israel between the armies of Egypt and the Red Sea (Exodus 14) they were in dire need of a miracle.
God spoke to Moses, saying "Raise your staff and stretch out your hand over the sea to divide the water so that the Israelites can go through the sea on dry ground" (Ex 14:16)
That act of obedience caused a reaction. Breakthrough! The waters parted and Israel journeyed safely through.
Standing in faith—let alone stepping forward in faith—can be very difficult when you are in the crisis. But when that step is one of obedience to God, breakthrough is the result.
---
2. Take the Journey of Transformation
There are times we desire a breakthrough, but God wants to take us on a journey of transformation.
We want the "quick fix." But His higher purpose for us is that we become like Jesus. He is working on our character.
"And we all, who with unveiled faces contemplate the Lord's glory, are being transformed into his image with ever-increasing glory, which comes from the Lord, who is the Spirit." (2 Cor 3:18)
A good question to ask is, "Father, is right now a season for breakthrough, or for transformation?"
The Difference Between Transformation and Breakthrough
Here is the main difference between transformation and breakthrough:
Breakthrough is sudden, and transformation is gradual.
Transformation takes place over a period of time, during which you are cooperating with God.
Transformation is not only about God's work in you. Whilst waiting, you can be used of God to transform the environment around you.
When Joseph was in the darkest place, in prison, he did not wait passively for his breakthrough. He brought transformation, order and leadership to the prison environment. In that dark place, his spirit, gifts and skills shone.
---
3. Prepare Your Mindset for Breakthrough
There are times when we want God to act quickly, and we wonder why He isn't.
Sometimes, our Father knows that if He brought the breakthrough suddenly, we would not be able to contain it.
He wants to pour out the abundance, but the 'container' of our mindset is too narrow—and the harvest our Father wants to give us would be wasted.
In order for our thinking to be enlarged, we need to take time to be saturated in God's Word.
The Power of a Renewed Mindset
A change of mindset means that your thinking comes into alignment with what the Bible says. When you think according to God's Word, you speak and act rightly.
Perhaps you are looking for a financial breakthrough, but God wants to first take you on a journey of renewing your mindset concerning finances.
You may know that there is a big ministry call upon your life—and you have been waiting for the door to open that will launch you into that ministry. But is it possible that leading up to that time, your Heavenly Father wants to upgrade your thinking, your attitude, experience, knowledge or vision?
Perhaps you are seeking a breakthrough in the area of healing, but God wants to take you on the journey to a healthy lifestyle—where you are taking care of the body He has given to you.
Being on the journey of transformation does not mean that the breakthrough will never take place. It means that you are positioning for the breakthrough.
When you are aware that you are in a season of transformation, you can cooperate with what God is doing. By the time the breakthrough comes, you have a proven track record. You have participated in transformation. And you will be a good steward of what God is giving to you.
---
Notes
[1] Strong's ref H1167 and H6556. 'Lord of the breaks; possessor of breaches'.
---
Note from Helen ~ 2021
This article has been on my heart for a couple of months.
Although I wrote this post 5 years ago, it feels fresh for this present time! So, I've added the opening paragraph this week.
And I pray this powerful prophetic teaching ministers to you, in the situations you are facing right now.
Helen Calder
25 February 2021
---
Related Posts
6 Keys for Breakthrough Prayer in Times of Need
4 Signs Your Breakthrough is On the Way
---
Are you a discerner-intercessor?
This new class on the "Watchman Intercessor" is for you
Over the past few months, I've been stirred to create some special classes (within the Prophetic Prayer School) for prayer warriors who are discerners.
You may identify as a "Watchman Intercessor".
These are the prayer warriors who are God's Heavenly alert system.
Do you relate to any of the following?
You have an instinct to guard, protect or warn
Being a discerner, you perceive or see spiritual realities that others don't see
You know what it means to be burdened to pray
You may have been misunderstood or felt lonely in your journey
I invite you to join me on the Enliven School of Prophetic Prayer, where I'm in the process of adding new videos on the topic of "Empowering the Watchman Intercessor".
For a short period of time, while the Prayer School is under construction, I'm bringing the full price down to $19.95 USD.
Currently on the Enliven School of Prophetic Prayer are 40 self-paced video lessons (complete in your own time), along with PDF transcripts, exercises and bonus eBooks.
Alternatively, you can view all online courses, including the Prophetic School here.
---
© 2016, 2021 Helen Calder, Enliven Blog
Enliven Ministries: in the David McCracken Ministries family