Do you believe that God has called you to be a prophetic intercessor?
Intercessory prayer is simply praying on behalf of others—and when this is teamed up with a prophetic gift it can be powerful.
Prophetic prayer occurs when we pray with insights (prophetic revelation) received from the Holy Spirit. We may receive these insights during prayer, or pray about the revelation that has already been received.
We can all pray prophetically. However, a prophetic intercessor is not only equipped with insight from the Spirit—the prophetic intercessor becomes the vessel through whom the Spirit Himself prays.
'In the same way, the Spirit helps us in our weakness. We do not know what we ought to pray for, but the Spirit himself intercedes for us through wordless groans. And he who searches our hearts knows the mind of the Spirit, because the Spirit intercedes for God's people in accordance with the will of God.' (Rom 8:26-27)
---
The Ministry of Prophetic Intercessory Prayer
"I looked for someone among them who would build up the wall and stand before me in the gap on behalf of the land so I would not have to destroy it, but I found no one." (Ezek 22:30)
Anna is a Biblical example of a prophetic intercessor. She poured years into her God-given assignment of praying in the temple, leading up to Jesus the Messiah's birth. (Luke 2:36-38)
It has often been said, that not all intercessors are prophets; however, all prophets are called to intercede. And in the Bible, we see specific examples of those in a prophetic office who took time to intercede for those people and situations they ministered into. [1]
So if you have a prophetic calling, I encourage you to read and be inspired by the list in this article, even if you do not see yourself as a prophetic intercessor.
---
17 Signs You May Be a Prophetic Intercessor
Following are some of the signs that I have observed (and personally experienced) in those who have a calling to the ministry of prophetic intercession. The first three signs are common to all of those who have a calling to the ministry of prayer:
You believe that God has called you to pray and you love to pray more than most people do
You place a high value on prayer and sometimes wonder why (or get frustrated when) others do not share it
You have seen significant answers to your prayers
---
Specific Signs Related to a Prophetic Intercessory Prayer Gift
If you are called to the ministry of a prophetic intercessor, you will find that you relate to some or many of the following additional things:
You tend to pray more at times when you feel urged by the Holy Spirit (you may know this as a 'burden' of prayer).
Prayer is easy for you when you sense that the Holy Spirit has given you a specific burden or assignment. However, you find it harder to pray when people assign prayer to you as a task, or give you lists and times to pray (unless you feel drawn by the Spirit to these). In the past, you may have been intimidated by those who are 'task intercessors', who happily spend hours praying over lists. [2] However, God is calling you to embrace your particular gift and calling and see it as He does—highly valued and powerful.
You receive revelation from the Holy Spirit concerning what to pray and how to pray. You may receive prophetic insights concerning the situation you are praying about, to pass on or to pray further into.
You may be more spontaneous in the expression of your prayer gift than others who are gifted in prayer.
You have a strong sense of intimacy with the Holy Spirit when you pray—and this fuels your prayer life.
Travail is familiar to you—a sense of birthing the purposes of God—and you may have experienced wordless groans or weeping in your prayer times. In this, you can identify with Hannah (1 Samuel 1:10-13) and Elijah—who prayed for rain in the birthing position (1 Kings 18:41-44).
You do not always need to have specific knowledge about what you are praying for. Sometimes you pray in the realm of 'mystery'. (1 Cor 14:2) It is enough for you to know that the Spirit has called you to prayer.
When you have a prayer assignment, it may feel as though you are personally involved and invested in the situation. You may have a sense of identification in the Spirit with those you are praying for. You may feel what they are feeling, or sense God's heart towards them, such as compassion, grief, or mercy.
You know the 'secret place' of prayer. Your prayer life is often hidden, and sometimes not understood or appreciated by people. However, your reward is found in the Presence of God.
(As with all prophetic gifts and ministries, the ministry of prophetic intercession flourishes in the local church community and benefits from oversight. It is a temptation for those with a prophetic prayer ministry to isolate themselves, especially if they feel misunderstood.)
You experience a deep sense of satisfaction in prayer—especially in being at the right place, at the right time for your God-given assignment to pray on behalf of a person, group, region or situation.
You may be sent by God to be in certain places at particular times to intercede on behalf of a situation, person, or region, especially if you are a prophet-intercessor operating in a 'prophetic office' ministry.
Your journey has been lonely at times. Even those around you who love prayer do not always understand the dynamics of prophetic intercessory prayer. You may have experienced some unusual manifestations of the Holy Spirit whilst praying (Rom 8:26-27), that others do not understand. (Note: It is very important that we focus on the fruit of the prayer, and the message of the prayer, rather than manifestations, when communicating to others).
One of your challenges has been to learn to fully release the burden of the Spirit in prayer—not to hold onto it. You have also had to learn not to personalize or hold onto the emotion that identification (point 11) can sometimes bring with it.
You prefer prayer meetings that have some room for listening to and being led by the Holy Spirit in prayer.
(Note: This does not mean that other types of prayer meetings are wrong—we must always honor others who lead prayer meetings, regardless of their culture, methods, or emphasis. They are not wrong—just different to us)
---
The Prophet-Intercessor
The 'Prophet-Intercessor' is someone who has a five-fold ministry office of a prophet (Eph 4:11-13), and who also has a primary calling and gifting of intercessory prayer. As mentioned in point 14, above, a prophet-intercessor may be stationed or sent by God to specific places to pray and make prophetic declarations.
A prophet who is an intercessor will have a greater level of authority in prayer and prophetic ministry, than a prophetic intercessor. He or she may be used by God to minister through prophecy and intercessory prayer in significant arenas—these may include nations or regions, governments, education, business, and church movements.
---
Is Intercessory Prayer a Spiritual Gift?
Is prophetic intercession, or intercessory prayer, a spiritual gift? I personally believe so. The prophetic intercessor is graced and anointed to pray. One way of looking at this is to see prophetic intercessory prayer as an expression of the prophetic gift.
Our God who created the snowflake and fingerprints gifts His people in many unique ways. Those of us who are prophetic intercessors know when we find others who have a like calling, that we have found one of our own 'tribe.'
Intercessory prayer is a significant ministry—and eternity will reveal the fruit and power of the hidden work of prophetic intercession.
---
Notes:
[1] Some examples: Moses intercedes for Israel (Exodus 34:8-9), Daniel for the Jews (Dan 9:3-19), Jeremiah for Jerusalem (Jer 14:20-21) and Elijah prayed for the drought he prophesied to begin and end (James 5:17-18)
[2] For insights about different prayer gifts, I highly recommend Intercessors Discover Your Prayer Power, by FEMRITE, T; ALVES, E; KAUFMAN, K.  2000.  Ventura : Regal.
---
Prayer Warriors! The School of Intimacy and Prayer is Open
When I began to experience a significant anointing of the Holy Spirit for prophetic prayer 20 years ago, I did not know how to navigate many of the encounters with God I was having.
I saw miracles and breakthroughs in answer to prayer, but I also made mistakes and had a lot of growth pain as a prophetic intercessor.
Since then I have been a prayer leader, have been a minister on a prophetic team, and by God's grace have developed in ministry as a prophetic writer and teacher.
Now I'm passionate about helping others on the same journey I've been on. And this week, a long-held dream has come to reality.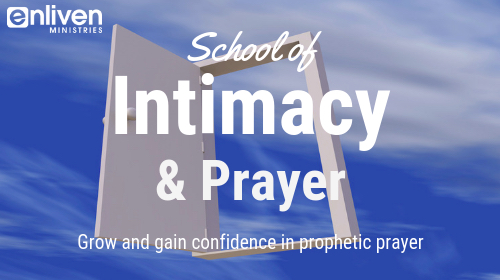 I've just launched the Enliven School of Intimacy and Prayer with the first series of topics, and I extend you a warm welcome to join me!
Currently on the Prayer School are self-paced video lessons on:
Intimacy with the Holy Spirit
Introducing Prophetic Prayer
Praying the Mysteries of Heaven
The Gift and Ministry of Prophetic Intercession
Angels and Encounters
Bonus mini-eBook on Prophetic Dreams
You can find out more or enroll in the School of Intimacy and Prayer here. Alternatively, you can view all online courses here.
---
More help for prophetic intercessors:
Prophetic Intercession, its Power and Pitfalls
8 Signs You May Have a Gift of Prophecy
8 tips For Personal Intercessors
---
© 2016 Helen Calder – Enliven Ministries:  In the David McCracken Ministries family