Have you ever thought, 'I would love to grow my spiritual gift of prophecy, or discernment, but I don't have the opportunities?'
Or—have you ever felt that another person is holding you back from your ministry call? Perhaps you have been frustrated because a leader is not recognising your gift, or you don't have a mentor to help you grow.
If you can relate to that, I have a significant word for you today.
---
"That Tree used to be a Bonsai"
One day we were visiting the home of a pastor and admiring his garden. Near his driveway was a magnificent, spreading tree. He said that one day that tree would grow so large that its foliage would hang over the driveway.
Then, he said an amazing thing: "That tree used to be a bonsai."
In the Japanese art of bonsai, the small size of a container restricts the growth of a tree—it is a miniature of what it could be. The potential and the DNA exists for growth, but enlargement does not take place.
---
Why is my Prophetic Gift not Growing?
It is common for prophetic people with a ministry call to point to situations or people outside of ourselves as the reason for why we are not growing our gift, or progressing in our call the way we would like to. These include:
Our church environment
A pastor or leader
A spouse or family member
Lack of opportunities being given by others
Lack of available mentors
And so the list goes on, as we point to some factor that we believe is limiting us and preventing us moving forward.
We see that factor as the 'bonsai container' that is stopping our growth. And so, we remain stuck.
If you can relate to that, I want to encourage you today to take a shift of perspective.
Is it possible that the real limitation is actually in your own thinking? That the mindset—that someone or something external to you is holding back your gift and ministry—is actually what is disempowering you?
I believe that Father is encouraging someone today:
In spite of what it may seem, no one can hold you back. No external environment can hold you back; no spouse, family member, leader or pastor can hold you back. You have the sovereignty and faithfulness of God on your side.
You do not need to be a victim. You do not need to remain in a stuck cycle. The only one who can neglect or limit your gift is you.
---
Fan into Flame the Gift of God
The truth is that we personally have been given the responsibility and the ability by God to steward our gift and calling:
'Do not neglect your gift, which was given you through prophecy when the body of elders laid their hands on you. Be diligent in these matters; give yourself wholly to them, so that everyone may see your progress.' (1 Tim 4:14-15)
'For this reason I remind you to fan into flame the gift of God, which is in you through the laying on of my hands. For the Spirit God gave us does not make us timid, but gives us power, love and self-discipline.' (2 Tim 1:6-7)
Paul holds Timothy personally responsible for the growth and stewardship of his gifts and ministry.
So today, decide to take ownership for the growth and development of your prophetic gift and you will be amazed at what takes place.
---
Prophets and Teachers
At a recent David McCracken Ministries team meeting, we sat around our table discussing the meaning of 'Prophet', studying Ephesians 4, and encouraging each other to grow further in our prophetic ministry.
I came away from that meeting feeling stretched, challenged and honoured. What a privilege to sit around the table with prophets and teachers who are spiritual family to me. What a privilege to minister on this team. I feel humbled and grateful.
Years ago, such an opportunity was only a dream. God in His grace has enabled me to make important choices along the way:
To honour leaders, especially through the tough times
To submit to the process of adjustment and repentance when necessary
To serve in the small opportunities
To embrace the seasons of life
To step out of my comfort zone (obedience) when a door has opened up
To decide—over and over—to steward the gifts God has given to me
I have not always got this right, but thank God He has enabled me to get up again after falling over. And these are choices that I must continue to make every day. Which are you currently faced with?
---
The Parable of the Talents—and Spiritual Gifts
Jesus told the story of a man who went on a journey and left his riches with others to invest. We call it 'the parable of the talents'. (Matt 25:14-30) To one he gave five talents, to another two and to another one.
The responsibility to invest and grow that talent was left to the individual. And when he came back, the master looked to each person for the return on his investment.
The person to whom he gave one, failed to invest that talent, blaming a factor outside of himself—the temperament of his master—for his failure to multiply what had been given to him.
Those who were faithful to invest and grow the portion they were given, received more.
Today, decide that you are going to be like Timothy—you are going to fan into flame the gift that God has given to you. Nothing, and no one, can hold you back.
---
Which external factor have you been concerned has been holding you back in growing your gift? How has this article encouraged you to have a change of perspective? Leave a message in the comments section, on Facebook or on Instagram. If the blog comments box is not visible, click on this link and scroll down.
---
Related Posts
How to Develop Your Prophetic Gift: Where to Begin
6 Reasons Why You Should Develop Your Prophetic Gift
---
Enliven Prophetic School: Take Your Prophetic Gift to the Next Level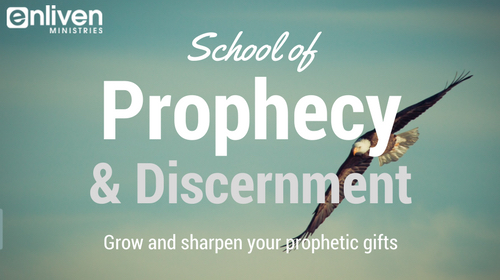 The Enliven Prophetic School is now open!
This self-paced, video lecture school is for anyone who would like to learn and grow in the gift and ministry of prophecy and includes classes for discerners as well.
Modules currently include:
Foundations of prophetic ministry
How to hear God's voice, begin and grow in prophecy
The Seer gift: how to grow in pictures and visions
Discernment and prophetic warnings: how to respond and share a prophetic warning
Prophetic Guidance Master Class
Bonus PDFs
You can currently join the prophetic training school for a small monthly subscription or make a single payment to join with no end date.
Visit the Enliven Prophetic School here.
---
© Helen Calder Enliven Blog – Prophetic Teaching
Enliven Ministries: A part of the David McCracken Ministries family