The spiritual gift of healing is the Holy Spirit-given ability to impart miraculous healing to the body or soul of a person in Jesus' Name.
'Now to each one the manifestation of the Spirit is given for the common good. To one there is given through the Spirit the message of wisdom, to another the message of knowledge by means of the same Spirit, to another faith by the same Spirit, to another gifts of healing by that one Spirit, to another miraculous powers…' 1 Cor 12:7-10a
Sometimes when we are in the early stages of a spiritual gift manifesting in our lives, we struggle with doubts or uncertainty.
It is not uncommon to experience challenges or come under spiritual attack in the very area God intends to use us.
In the Bible, trial leads to triumph; the presence of difficulty is an indication that God will use you in that area to minister to others. And if you can relate to this in the area of healing, be encouraged to persevere. Be faithful to steward the hunger and gift that God has given to you.
---
10 Signs of the Spiritual Gift of Healing
1. Desire to see People Healed
You feel more strongly about healing than other people seem to do. You are hungry to see people healed by the power of God and may have had that desire for a long time.
2. You Encourage Others to Receive Healing Prayer
You believe in praying for the sick and regularly encourage others to receive prayer. If someone shares they are unwell, your first instinct is to pray.
3. Prophecies or a long-term sense of God's call
You can look back to a time(s) in the past when you received the call of God to the ministry of healing
Significant Bible verses have spoken to you personally about your call to the healing ministry
You may also have received personal prophecies about God using you in the ministry of healing
4. You Gravitate Towards the Healing Ministry
Your interest in praying for the sick has led you, now or in the past, to join a team that prays for the sick. This could include a dedicated healing ministry, a healing evangelism team, a prayer ministry, or a church prayer or altar team.
Remember, you will have a unique healing gift – the way the Holy Spirit ministers through you may be different from others.
5. You have Received a Significant Healing
You have experienced firsthand the power of God to heal in your own life and that encounter with Him has increased your faith for God to heal others.
6. You have had Trials in the area of Health
You or others close to you have had severe trials in the area of your health, with illness and problems. These times have caused you to pursue God, His Word, and His heart concerning healing.
7. You have Been Through a Difficult Time in Your Healing Ministry
You used to pray for people and see them healed, but since then, you have been through a dry or difficult time. There have been wilderness times of testing, during which you have doubted that you have a gift of healing.
8. You are Drawn to Equipping in the area of Healing
You have studied the Bible to learn more about healing and know Scriptures about healing off by heart.
Opportunities for teaching, mentoring, and training in the area of healing, attract you! Your heart leaps when you hear of an opportunity to be better equipped to pray for the sick.
9. Leaders Acknowledge Your Healing Gift
Leaders and pastors have recognized your call and ability to minister in the area of healing. They have encouraged you to move forward in your gift or invited you to join a team that ministers in the area of healing.
10. People Have Been Healed Through you
The evidence of healing through your ministry is the ultimate sign that you have a gift of healing. People regularly experience a touch from God emotionally and physically when you have prayed for or ministered healing to them.
---
Do you Identify with Some Signs you have a Healing Gift?
Can you identify with many points in the above list, but do not have a strong track record of people being healed as you minister to them in Jesus' Name?
The Lord is inviting you to persevere, empowered by the grace of God.
Today your Father is encouraging you: Press through, for it is time for your spiritual gift of healing to emerge and touch many people.
My prayer is that this article will encourage many who have received a call from God to minister healing to rise up, pursue that call, and minister to the sick with greater fire and passion than ever before.
Be faithful with what you have and watch as God multiplies and uses your gift of healing.
---
Why we Pray for Healing:
The Bible's example: the Bible teaches it, Jesus did it, the disciples did it, and the early church did it (Luke 5:15, Acts 4:30, Luke 10:1-9)
Pastoral care: Ministering healing is an important part of expressing God's compassion (Matt 9:35 – 10:9, James 5:13-16)
Praying for healing encourages people to connect with God in times of need (Matt 14:34-36)
Prayer makes a difference (Matt 18:18-20)
Obedience: Jesus instructs us to pray (Mark 16:18, Matt 28:20
Evangelism: a sign for unbelievers (Matt 8:8-18, Luke 10:8-9)
A spiritual gift is a turbo-boosted, Holy Spirit-empowered version of an attribute that every Christian can walk in. You can step out and minister to people in Jesus' Name, whether or not you recognize a sign from the above list. Now, watch as God releases His healing power, for you are His vessel.
---
Notes: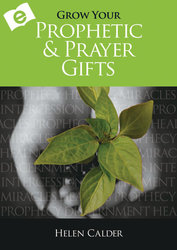 [1] I have compiled the above list from years of Bible study, observation, prayer leadership, and learning from the stories of those whom God has used in the ministry of healing. For more detailed information about the stages of growth in spiritual gifts including healing, along with Scriptural references, see my book, 'Grow Your Prophetic and Prayer Gifts.'
'Grow Your Prophetic And Prayer Gifts' will help you move forward in your gifts of prophecy, healing, and prayer – at whatever stage or season you are on the journey of growing your gift.
---
Related Posts:
7 Reasons Why You Can Pray For Healing
Discover Your Unique Healing Gift
8 Signs You May Have the Spiritual Gift of Discernment
3 Simple Ways to Pray for Healing
---
© Helen Calder  Enliven Ministries
Enliven Ministries: Prophetic ministry for a revival generation