When I was a child, my Dad was a photography enthusiast. Sometimes he allowed me to watch him at work in his darkroom, where he created prints and enlargements.
After exposing the photographic paper to an image using a negative, Dad placed the blank page into a tray of developing solution. I watched, transfixed, as an image miraculously appeared while he gently agitated the tray before passing the newly formed photo into the next solution. [1]
The trick of the developing solution was in applying the right time, along with continuous motion, for the picture to fully emerge.
It reminds me of the process of receiving a prophetic insight, or revelation, from the Holy Spirit.
Most of the time we will receive more, and the prophetic insight will become clearer, as we pause in God's Presence.
---
4 Things to Keep in Mind as you Grow in Prophecy
1. An Initial Revelation from the Holy Spirit may be Simple
Most often, when the Holy Spirit speaks, He communicates to through a light impression. It may come through a Scripture verse coming to mind, or being highlighted as you read the Bible. It may be a fleeting picture, a word, idea or a feeling.
People often tell me that they have trouble hearing from God and receiving prophetic revelation. As you grow in your prophetic gift, don't wait for something complicated! Embrace that simple insight.
In Acts 13, we read of how the leaders at Antioch received a simple instruction from the Holy Spirit—'Set aside Saul and Barnabas for the work I have called them to.' It was only a sentence—and yet responding to that word from God resulted in the launch of the Apostle Paul's missionary journeys.
One word, one impression from God is powerful.
---
2. There is Power in Pausing and Asking for More
Take a simple insight that you receive from the Holy Spirit and pause. Our God is a relational God and He loves conversing and interacting with us. Taking time with the Holy Spirit may mean simply waiting, focused, upon Him along with the prophetic insight He is giving to you.
Ask questions—seek Him for more information about it.
Allow time to 'develop' a picture or thought He gives to you. It may become clearer. Like adjusting the focus on a camera, you may see or receive more.
If not, that's OK too. Perhaps in that simple first impression you have all you need to know.
'The word of the Lord came to me: "What do you see, Jeremiah?"
"I see the branch of an almond tree," I replied.
The Lord said to me, "You have seen correctly, for I am watching to see that my word is fulfilled."' (Jer 1:11-12)
Many powerful prophecies in the Bible are within the context of conversation with God, or listening and responding to a flow of instruction. [2] In this chapter we read of simple visions received by Jeremiah that God went on to explain and expand upon.
There is power in listening further to what God has to say.
As we grow and mature in prophecy there may be times—such as in the context of a prophetic presbytery—when there is little time to wait and we must trust in the Holy Spirit to further 'develop' the revelation as we are sharing and unfolding it. However this is not the case most of the time when we are waiting on God.
---
3. Don't be in a Hurry to Share a Prophetic Insight
One of the misconceptions that those new to prophecy may have is to believe that they must share a word immediately when they receive something from the Holy Spirit. However, our Father does not put us under pressure. Condemnation, or fear of missing the moment or getting it wrong, are not from God's Spirit and should never be applied to our journey of growing in prophecy.
If the Holy Spirit brings something to mind in a church service, a prayer meeting, or whilst praying for someone, you do not need to share it instantly. And you don't need to worry about losing the prophetic insight—the Holy Spirit will help you recall to your mind what is of Him. (John 14:26)
As you seek to grow in prophecy, know that the Holy Spirit works in both faith and wisdom, and always in the context of honouring leadership.
Sometimes the wise thing to do is to wait and receive more, especially if the word is unclear, or if it relates to an issue of discernment. [3] Ask yourself, 'Is this the right time and place?' If the prophetic word goes beyond general encouragement to something more specific, ask, 'Is there a leader I should share this with?'
For example, words related to the vision of your church may need special consideration if they go beyond basic encouragement. [4]
---
4. Some Prophetic Insights Require a Longer Journey
It may take a longer period of time for the fullness of a prophetic revelation to develop. A prophetic dream or personal prophecy can be like this. We may not understand the prophetic insight at the moment it is given. We try to fit the prophetic insight, personal prophecy or dream into what we know in our current context. But it does not fit. The reason for that may be that it may be for a future time.
Sometimes a prophetic insight is an invitation from God to take an extended journey with Him.
---
Related Article:
Taking the Pressure off When you are Growing in Prophecy
---
Notes:
[1] The photos pictured are of my younger brother (left) and me, taken by my Dad more than 40 years ago.
[2] E.g. Jer 1; Ezek 37; Dan 10
[3] These articles may be helpful:
[3] See the post, 'Prophesying About the Future of Your Church.'
---
Enliven Prophetic School: Take Your Prophetic Gift to the Next Level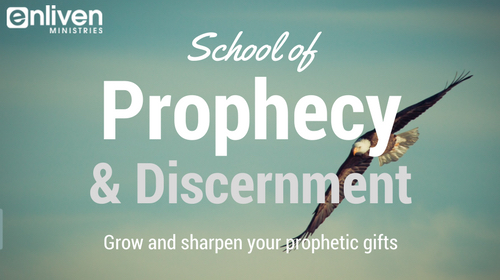 The Enliven Prophetic School is now open!
This self-paced, video lecture school is for anyone who would like to learn and grow in the gift and ministry of prophecy and includes classes for discerners as well.
Modules currently include:
Foundations of prophetic ministry
How to hear God's voice, begin and grow in prophecy
The Seer gift: how to grow in pictures and visions
Discernment and prophetic warnings: how to respond and share a prophetic warning
Prophetic Guidance Master Class
Bonus PDFs
You can currently join the prophetic training school for a small monthly subscription or make a single payment to join with no end date.
Visit the Enliven Prophetic School here.
---
© Helen Calder Enliven Blog – Prophetic Teaching
Enliven Ministries: A part of the David McCracken Ministries family